If there is only one word that we can use to describe 'Money Shot: The Pornhub Story,' it would have to be haunting owing to the way it gives us an insight into the dark side of the adult industry. After all, while sex work can be incredibly empowering and positive, this Netflix original essentially details the way it is also often an opening right into the world of trafficking as well as abuse. The latter is actually the reason why many like Laila Mickelwait want sites such as Pornhub to be shut down altogether — so now, if you're simply curious to learn more about her, here's what we know.
Who is Laila Mickelwait?
It was back when Laila was a young girl that she developed a keen interest in helping those who might not be able to help themselves, driving her to pursue a relatively fixed path in her education. She earned her Bachelor's in Political Science & Government from the University of California-Riverside before obtaining her Master's in Public Diplomacy from the University of Southern California. Though she then apparently took a few years for herself before finding her true calling as an advocate against sexual abuse, sex trafficking, and sexual exploitation in every way conceivable.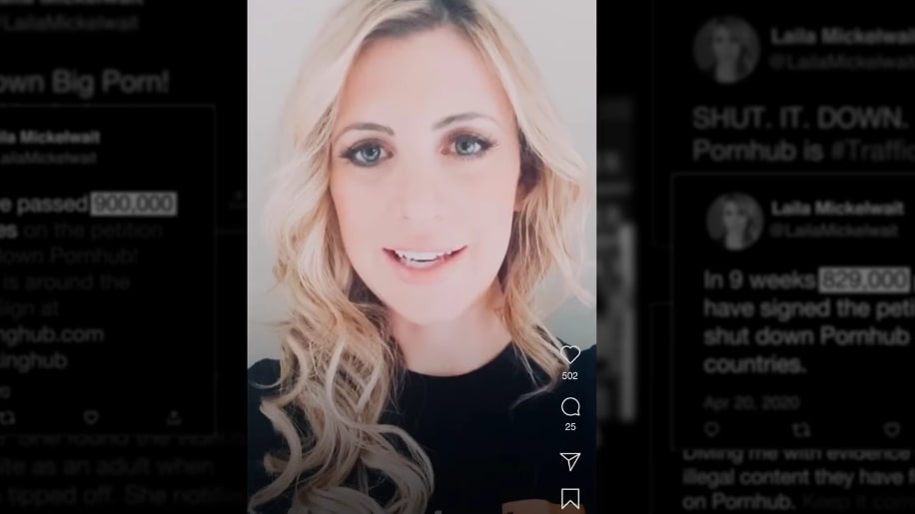 Laila actually joined the controversial Christian non-profit organization Exodus Cry in early 2012 as the Manager of Policy and Public Affairs, only to quickly rise up the ranks thanks to her grind. The truth is she'd evolved into the Director of Abolition in three years (February 2015), wherein her primary role was to work toward legislative reform by having a rather significant public presence. She thus presented on behalf of the group at schools, universities, corporate events, and conferences, all the while maintaining positive contact with actual lawmakers from across the globe.
However, despite the success Laila gradually garnered through Exodus Cry, she chose to part ways with them following a total of nine years to focus more on her own institutes and movements. She'd previously established New Reality International in 2007 as a non-profit to serve those suffering from poverty, disease, as well as injustice, so she continued running it till the end of 2020. The sole reason she ostensibly stopped is that her Traffickinghub Movement had started gaining a lot of traction around this time, plus she even launched Justice Defense Fund in January 2021.
Where is Laila Mickelwait Now?
Wheather it be as the Founder of the global Traffickinghub Movement or the Founder-CEO of the Justice Defense Fund, Laila continues to combat sexual abuse, sex trafficking, and sexual exploitation. It's imperative to note that the former's singular purpose is to shut down Pornhub while holding all its executives responsible for enabling, distributing, and profiting from its criminal video-based abuse. On the other hand, the latter is reportedly a non-partisan, non-religious organization dedicated just to advocating for laws that prevent online sexual assaults in any manner possible.
Laila has admittedly been active in this field for over a decade, and she has made it perfectly clear she has no plans of stepping away until what she believes to be true justice is finally served. "We're trying to shut down [Pornhub] because really, any other action is an injustice to victims," she once said. "A slap on the wrist for Pornhub is a slap in the face to the victims whose lives have been destroyed by this predatory company. So we need to see the real, full weight of justice – – that means Criminal prosecutions, Restitution for victims, and Laws implemented that would stop this from happening in the future. And I think that's what justice looks like."
Honestly, if you want to learn more about Laila's extensive research on this issue, you can check out her website, her social media, or any of the articles she has been featured in over the years. The publications for the latter actually include The New York Times, The Washington Post, BBC News, CNN, Bloomberg, Reuters, AP, CNBC, The Guardian, Fox News, among many others. As for her personal standing, from what we can tell, it appears as if the author, activist, and philanthropist currently resides around California alongside a happy little family of her own.
Read More: Michael Bowe: Where is the Attorney Now?