ABC's 'Shark Tank' season 14 episode 12 witnessed entrepreneur Sandra Velasquez present her line of skin care products that are derived from the popular and common prickly-pear cactus, Nopal. Sandra presented her brand, Nopalera, in front of the Sharks in hopes of getting an investment to increase her production and enter the nationwide market in order to compete with other luxury soap brands. Those who use soap on a daily basis know how drying it can get, but spending money on plastic bottled shower gels on a regular basis is not a very eco-friendly alternative to good soap.
Sandra attempted to resolve this problem, and the idea of Nopalera struck her. She realized that the common Mexican cactus, Nopal, can be used in soap bars to give a soothing and moisturized effect on the skin when combined with shea butter and essential oils for a fresh aroma. She took it upon herself to sell high-end and luxury skincare and bath products, which would sell in high-end stores like Barney's. Well, with such an interesting product on display, let's delve in and trace the company's growth, shall we?
Nopalera: Who Are They and What Do They Do?
The CEO of Nopalera, Sandra Velasquez, hails from San Diego and is a proud Mexican-American single mother. She completed her education at New York University and went straight ahead to fulfil her dreams. The entrepreneur is also a professional single who served as the lead singer of Pistolera's for 14 years. Sandra worked as a Sales Staff at Mast Brothers Chocolate in the early days of her professional career. She went ahead to hold reputable positions at companies including HiBAR, Van Leeuwen Artisan Ice Cream, Credo Beauty, Target, and others.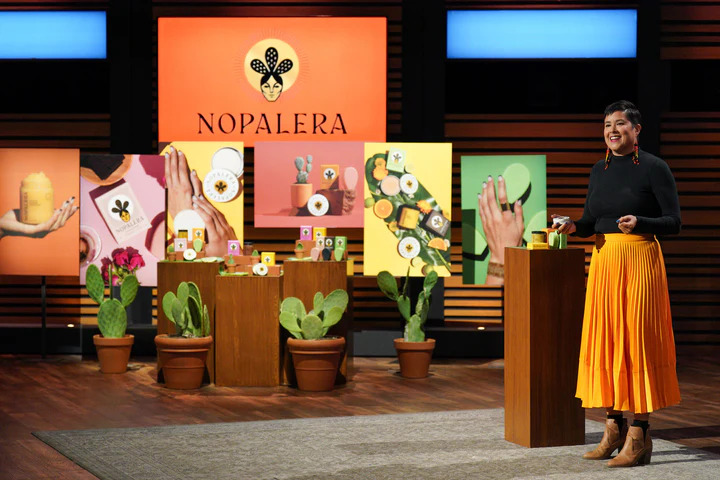 Sandra always knew in her heart that she wanted to make her community and roots proud by creating something of her own that stood out in a white-dominated market. To live up to the high costs in New York, where she moved to fulfil her dreams as a musician, Sandra also worked as the Dance Department Administrator at Columbia University's Barnard College and Julliard School.
While working with Van Leeuwen Artisan Ice Cream, Sandra got the real taste of starting a brand from scratch. The idea of Nopalera was created long before its inception in 2020. She started making soaps without the famous nopal cactus when her attention was caught by the prickly pear cactus just growing outside her window in San Diego at Sandra's parent's house.
She created her brand Nopalera which is a vegan and cruelty-free line of bath products made with natural ingredients, prickly pear oil, shea butter and others. Nopalera told the story of the Latin-American culture and the revolutionization of Latina-owned brands. Sandra wanted to crush the stereotype that everything found south of the US border was cheaper. She successfully changed the narrative and voiced her Mexican-American heritage through her brand.
Where is Nopalera Today?
Sandra launched her line of luxe cactus-based bath and skin care products during the pandemic. She was done with seeing $14 tagged luxury items at Barneys with only French and American names. She wished to change the Latin-American narrative and created a luxury brand whose target audience was a community that supported her cause. Though the brand was launched when the world was in a lockdown situation, Sandra received love and appreciation from her customers, and since then, the company has been growing every day.
The brand has made significant profits within two years of being in the market. Initially, Sandra was her own investor, where she built her entire business from scratch to reach her goal of selling her products nationwide at Barney's and Nordstrom. She launched her product and sold it to customers through Instagram and Facebook using a direct-to-customer approach. Shopify Capital funded her business and gave her $50,000 in return for 10% off daily sales.
With time the company grew, and Nopalera found itself on the shelves of over 350 independent retailers nationwide, including Nordstrom, Credo Beauty, and Free People. In the first year of launching, the brand generated around $100,000 in sales, and in the following years, the amount quadrupled. Currently, the company is worth over $2.7 million and has garnered nationwide attention. Nopalera sells six different products, including Cactus Soap, Moisturizing Botanical Bar, Cactus Flower Exfoliant, Cleanse, Scrub and Moisture Set, and Soap and Bar duo.
The price range of the products ranges from $14 to $71 based on the products. Their products come in aesthetically pleasing tin packaging for a better feel. Since its launch, Sandra has won different accolades, such as The New C-Suite, Cosmopolitan x digitalundivided, Latino Start Up Of The Year at Match-Up, 2022, Finalist at Black Ambition Prize, Winner of Clean Beauty Summer School, Winner of Valde Latinx Entrepreneur Grant, Target Takeoff Beauty Cohort, Credo Beauty, Credo For Change Cohort, and True Beauty Ventures Bridge Mentorship Program.
The Latina-owned brand has also been featured in Cosmopolitan, Women's Health, and other reputed publications. Individuals interested in the products can avail themselves of them on either the official website or Amazon. We are excited to report that Sandra is looking forward to developing and stocking test new products in the near future. It is lovely to witness Nopalera rise to the top, and we are confident that the company is headed for further success in the years to come.
Read More: Metric Mate Shark Tank Update: Where Are They Now?