In 'Oshi no Ko' episode 5 titled 'Reality Dating Show,' Aqua sets up a meeting between Kana and Ruby in which the latter asks the former to join her idol group. Although Kana is reluctant because of her acting career, she eventually signs the contract. Interestingly, Aqua is doing a reality dating show on Kaburagi's insistence. Since the director promised that he will reveal secrets about Ai's dating life, Aqua sees this as an opportunity to learn the identity of his biological father. Here's everything you need to know about the ending of 'Oshi No Ko' episode 5. SPOILERS AHEAD!
Oshi No Ko Episode 5 Recap
After the premiere of the season finale of her show, Kana continues to keep track of people's comments on social media about her performance. Interestingly, she notices that some of them even praise Aqua's acting as he played his part quite professionally despite the lack of experience. While reading these comments, she recieves a text message from him in which he asks her to meet him as he wants to talk about something important.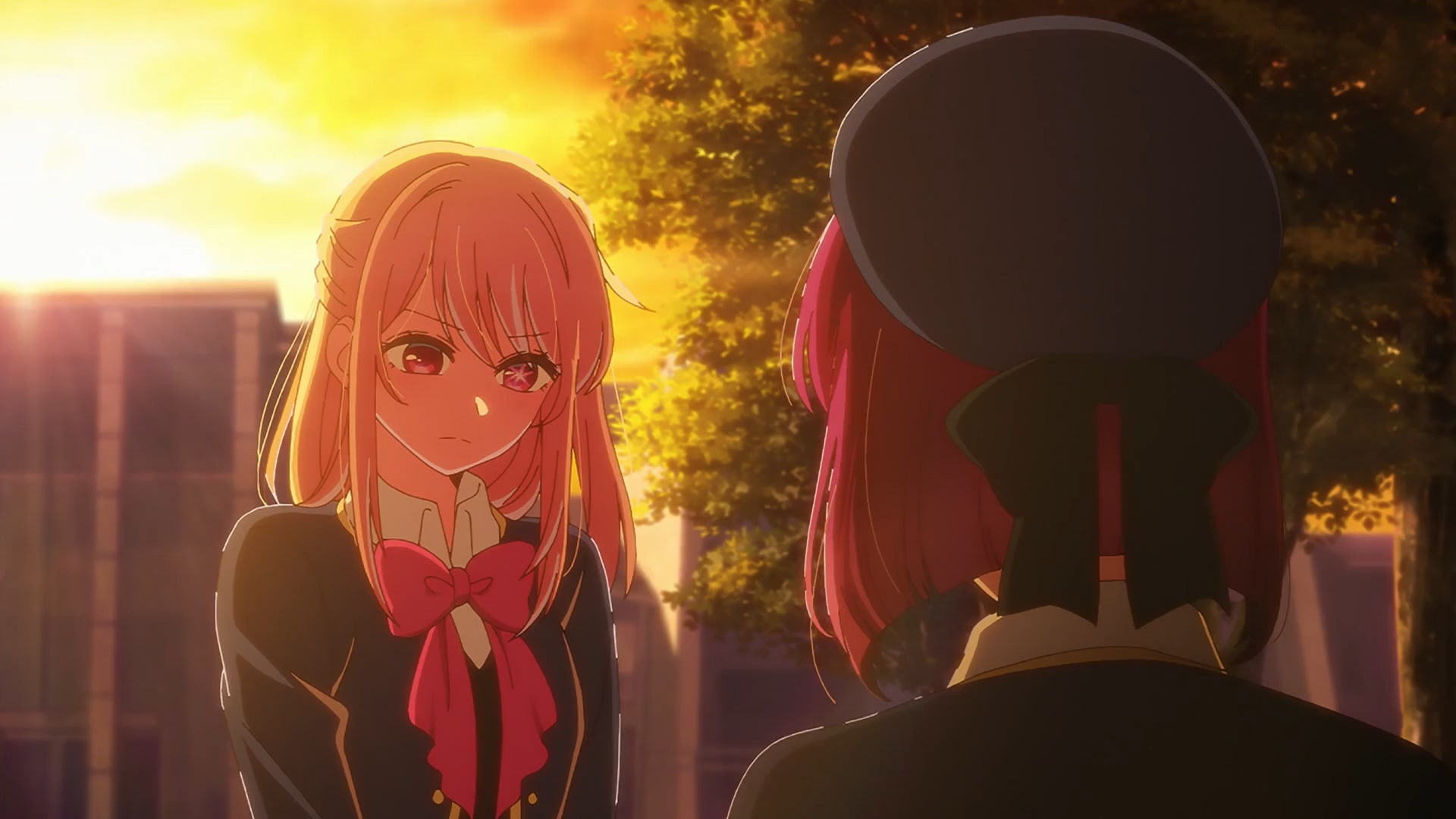 Kana feels that he may propose but when she finally shows up, Aqua reveals that it is actually his sister who wants to have a discussion with her. When they finally sit down to have a talk, Kana asks her to join her idol group that she is forming under Strawberry Productions. Although she says that she needs time to think about it, Kana feels that she obvious cannot do it as it can potentially ruin her acting career.
However, Aqua goes on one knee and manages to make her sign a contract with the Strawberry Productions even though she is quite reluctant till the last moment. Meanwhile, he has himself started working a dating show at this point. It turns out that Kaburagi managed to convince him for it with the promise that he will reveal secrets about Ai's dating life once the shooting concludes. Aqua feels that this could potentitally help him track down his biological father and unravel the mystery around his mother's death.
Oshi No Ko Episode 5 Ending: What is Miyako's Strategy to Make Ruby and Kana's Idol Group Famous?
While spending time with Kana, Ruby inquires how she used her free time when she did not get any acting job offers. Kana knows that Ruby is just bored and advises her to study something as it will probably help her get into a good college. She then goes on to explain that idol groups usually do gigs where they sing and dance at clubs or sometimes take media-related jobs as well. But since they have not even thought of a name for their group and do not have any songs as of now, they can't really do anything for now.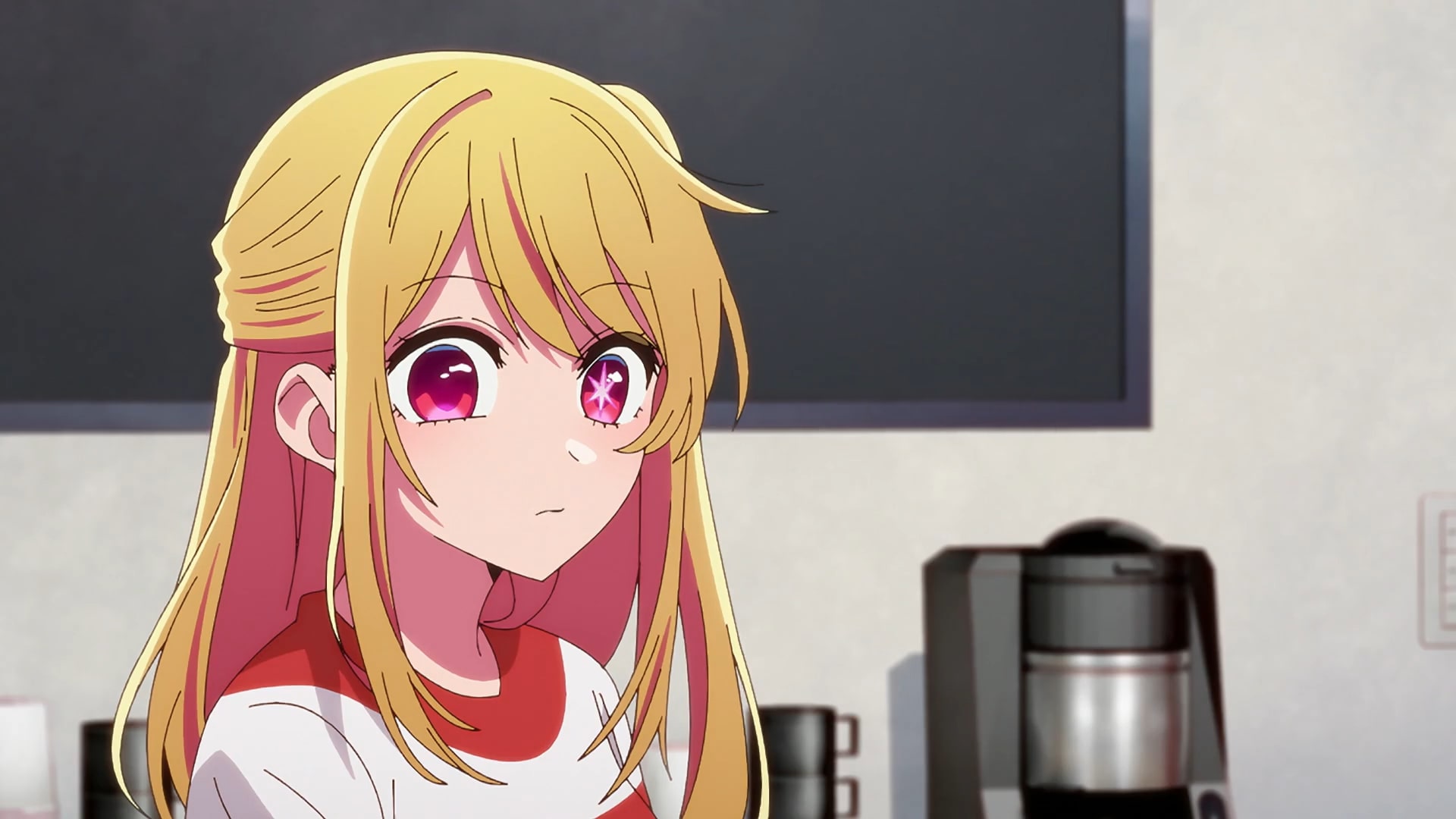 Ruby then points out that they still don't have any names yet because of Kana's stubbornness and the fact that she keeps making things extremely hard. It turns out that Kana is actually reluctant because she feels embarrassed about naming her idol group without any track record. That's when Miyako enters the room with a camera. She explains that idols previously used to hand out flyers for their concerts themselves when they started their groups to slowly gain some fan following. But in the modern world, things have changed and she feels that Ruby and Kana must gain popularity through social media.
Kana feels that this plan is not that good since they would never amass a big enough following through social media to sell tickets to their concerts. Interestingly, Miyako has already thought about this as well. She points out that Strawberry Productions actually manages some really popular influencers and today she has invited one of them to help Ruby and Kana. That's when a masked man bodybuilder walks into the room and Ruby recognizes him as Pieyon, the masked strength-training YouTuber. Kana does not appear impressed with him at all until Pieyon reveals that he earns 100 million yen every year through his social media presence.
Later, Pieyon has a brief discussion with Ruby and Kana to understand if they understand what it truly takes to make it as an influencer. Interestingly, he allows the duo to leverage the following of his YouTube channel through a collaboration in which Ruby and Kana have a face reveal following a difficult challenge. When Pieyon eventually asks them the name of their idol group, Kana tells Ruby that she can pick any name she likes. Interestingly, Ruby decides that they should be called B Komachi.