Created by Francesca Delbanco and Nicholas Stoller, the Apple TV+ series 'Platonic' revolves around a completely non-romantic relationship between a heterosexual man and a heterosexual woman. This is surprisingly rare as far as Hollywood films and TV shows are concerned. While 'When Harry Met Sally…' does explore the concept, it ultimately ends with (spoiler alert for the 1989 film) the two main characters starting a romantic relationship. According to the husband-wife pair helming 'Platonic,' their series doesn't follow the same formula, though it does make references to the classic romantic comedy. 'Platonic' reunites Stoller with the stars from his 'Neighbor' films: Seth Rogen and Rose Byrne. Even though they don't portray spouses as they did in the 'Neighbors' series, they succeed in recreating their easy, engaging chemistry.
In episode 4, titled 'Divorce Party,' Sylvia (Byrne) notices how depressed Will (Rogen) has become after learning that his former wife has moved in with her current boyfriend and throws a party commemorating his divorce. Meanwhile, Charlie (Luke Macfarlane) becomes concerned about his wife and tries to get her a new job. At the divorce party, things quickly go out of control. Here is everything you might want to know about the ending of 'Platonic' episode 4. SPOILERS AHEAD.
Platonic Episode 4 Recap
The episode begins with Will accompanying a much-younger girl, whose name is later revealed to be Peyton (Emily Kimball), to her apartment. As Will and Peyton start to grow intimate, Peyton's roommate comes out. Her awkward presence there soon ends the date, and Will has to make his way back to his own home. On his way there, he reads an update that his former wife Audrey has announced on social media: she and her current boyfriend Will are moving in together.
Elsewhere, Charlie and Stewart discuss Sylvia's outburst at the retreat, during which she ate Charlie's boss' speech. Charlie has decided to give his wife the number of Kirk Friedkin, who helps run a law firm, hoping that it will encourage her to start her career again. Stewart observes that eating paper is still better than getting a back tattoo or going on an 'Eat, Pray, Love' journey and warns Charlie not to be his usual intense self while handling the situation. Meanwhile, Sylvia attends a divorce party with Katie, thrown for a woman who has recently parted ways with her spouse. After a desperate Katie steals her speech, Sylvia begins speaking about her father, who thrived after his divorce. This fills almost everyone there with optimism. When one of the people there asks about Sylvia's mother, she almost dismissively mentions how the divorce completely destroyed her life, and she never recovered.
Reluctant to make the call to Friedkin, Sylvia calls Will and visits his place. Learning that he isn't doing well because of Audrey's Instagram updates, she decides to host a divorce party for him. That evening, Charlie asks her whether she called Friedkin, prompting Sylvia to assure him she will. The party is held at a restaurant; Andy (Tre Hale) and Omar are in attendance, as is Reggie, who brings his frat friends.
Soon, the party devolves into utter chaos as Andy and others decide to head to a strip club. When Sylvia decides to leave because the last thing she wants is to see middle-aged men lustfully staring at women a few years older than her daughter, Will begs her to stay. He has no intention to a strip club with a bunch of frat boys, but if Sylvia is there, it will be fun and nice. Ultimately, Sylvia decides not to leave and ends up doing cocaine, only to discover that it has Ketamine mixed in it.
Platonic Episode 4 Ending: Will Peyton and Will End Up Together?
Will has no idea that there is Ketamine in the drug and berates Andy, who brought the drug, before helping Sylvia and taking her to his house, where she rides out the aftereffects. When Sylvia has gone home, Will messages Peyton, and she immediately replies, surprising him
Although Will and Peyton are not yet in a relationship, there is definitely potential there. It's very possible that they might start dating in future episodes, with Peyton helping Will steer clear of his self-destructive tendencies. Not all relationships need to have a happy ending. This one can just provide Will with enough optimism that he regains his capacity to self-heal.
Why Doesn't Sylvia Call Friedkin?
Sylvia interprets, not erroneously, her husband giving her Friedkin's number as a desperate and unsubtle attempt to help her. She knows that he is concerned about her but believes that accepting his help will mean that she is acknowledging that she has problems, and she isn't prepared to do that yet. It has been over a decade since she practiced law, and she seems to genuinely think she was never good at it.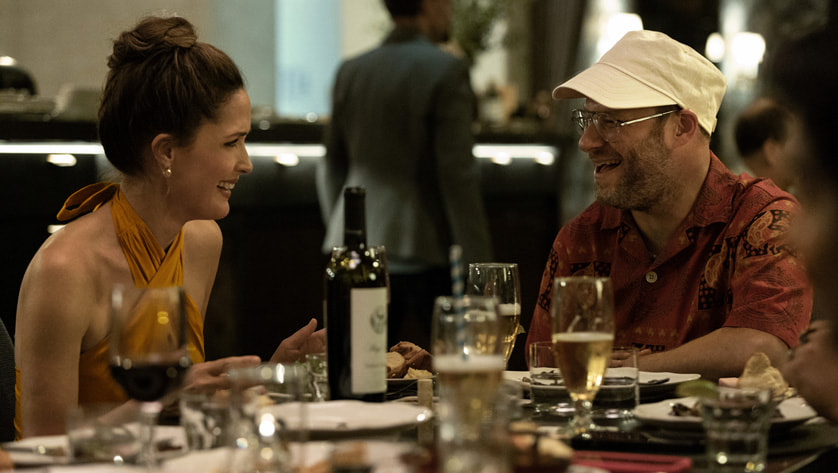 A part of her hesitation stems from this lack of self-confidence as well. Beyond the brief spells of regret, Sylvia largely seems content with the life she has as a mother. Her reconciliation with Will added an extra layer to it, but she isn't ready for anything beyond that. Charlie most likely recognizes this but realizes she is quickly inching toward a self-destructive path. He tries to stop it without vocalizing his growing sentiments against the friendship between Will and Sylvia. This is especially ironic given it was he who encouraged the reconciliation.