Created by Courtney A. Kemp, 'Power Book II: Ghost' is the second entry in the sprawling 'Power' franchise. It revolves around Tariq St. Patrick (Michael Rainey Jr.), the son of James St. Patrick. After Tariq kills his father, his mother takes the blame so he can have a normal life, but his father's legacy haunts Tariq until he starts selling drugs at the university he attends to protect his family. In 'Power Book II: Ghost' season 3 episode 7, titled 'Deal or No Deal,' as the war with the Russians gets ugly, Monet decides to find an alternate person to blame for Lorenzo's death to calm things down. Elsewhere, Tariq and Lauren continue to meet secretly, and Brayden learns devastating secrets about his family-owned investment firm. Here is everything you might want to know about the ending of 'Power Book II: Ghost' season 3 episode 7. SPOILERS AHEAD.
Power Book II: Ghost Season 3 Episode 7 Recap
The episode begins with the Russians massacring a group of people that worked for the Tejadas. The lies that Monet told to cover her tracks increasingly prove to be too costly. Monet meets with Gordo and tells him to stay away from Dru, but he has no reason to heed her threats.
Tariq and Lauren continue to meet in secret, with Tariq trying to convince Lauren that she can trust him. Elsewhere, Keke reveals to Brayden that she is very aware of the drug network he and Tariq have built on Wall Street. With the escalating attacks from the Russians, Monet calls an emergency meeting, during which Tariq reveals that the federal government is investigating him. When Monet demands that he provide suggestions on the matter at hand, Tariq speculates that he can always reach out to the NYPD through Rashad and inform them about the next big drug shipment the Russians will receive.
Monet likes the idea and greenlights it, and that leads to a massive loss for the Russians. Saxe and Davis try to get the latter's brother released from prison. When conventional methods don't work, Saxe has Wendy replace a member of the parole committee with someone willing to take a bribe and pays that man. Theo is released from prison for the first time in years but is furious at his brother. He claims that he sacrificed his entire life for Davis, and now, by getting him released, Davis has put his career and freedom at risk.
Monet seemingly grows close to Kai, a drug lord with whom the Tejadas have a very complex relationship, much to the dismay of her children. Dru, who has become especially volatile since his father's death, doesn't want his mother anywhere near Kai. Monet asks for Kai's help to put down the Russians, but the latter declines, claiming that it is not a good time for him to declare war on the Russians.
At Stansfield, Salim's behavior becomes increasingly erratic since their break-up, embarrassing Diana. She confronts the man and lets him know that she knows, despite his claim, he was not raised by a working-class black mother. Instead, he was brought up by an affluent white couple. This subdues Salim, and he stops speaking about Diana's family.
Monet sets one of her elaborate plans in motion. She reaches out to Kai, offering him a partnership and knowing he is romantically interested in her. She goes to meet him at one of his clubs and claims that Lorenzo pushed her out of their business after his release from prison. Suddenly, gunshots can be heard from outside. Monet tries to attack a distracted Kai, but he manages to overpower her. This is when Cane walks in and shoots him in the head. When Cane is not looking, Monet plants a phone on Kai's body, implicating him in Lorenzo's murder. Afterward, the Tajedas deliver Kai's head to the Russians as a peace offering.
Following her separation from Tariq, Effie struggles to pay her tuition. Although she explicitly told him not, Cane pays the fees, and Effie seems thankful about it. Brayden discovers that his uncle Lucas has turned Weston Holdings into a Ponzi scheme. His father has no idea about it, though Keke does. Lucas reveals that he has been aware of Brayden and Tariq's drug business from the beginning and warns his nephew of the consequences if he tells anyone about what is going on at Weston. As the Feds continue to gather evidence against him, Tariq learns from Lauren that Saxe is the mole.
Power Book II: Ghost Season 3 Episode 7 Ending: Is Gordo Dead?
Yes, Gordo is dead in the third season of 'Power Book II: Ghost.' After Kai's death, Dru thinks that his father has been avenged. However, he checks Gordo's phone out of curiosity and discovers that Gordo was apparently on the other end of the interaction with Kai. Without giving it much thought, he grabs his gun, walks into the washroom while Kai is showering, and shoots him.
It is pretty clear that Monet sets everything up and uses her children to do her dirty work. Kai wasn't involved in Lorenzo's death. By implicating him, she ensures her children will not be suspicious of her. On the other hand, Gordon was involved. He killed Lorenzo as revenge for his father's death. By having Dru kill him, she not only eliminates a threat but also effectively gets her son freed of that relationship.
Why Does Diana Get Arrested?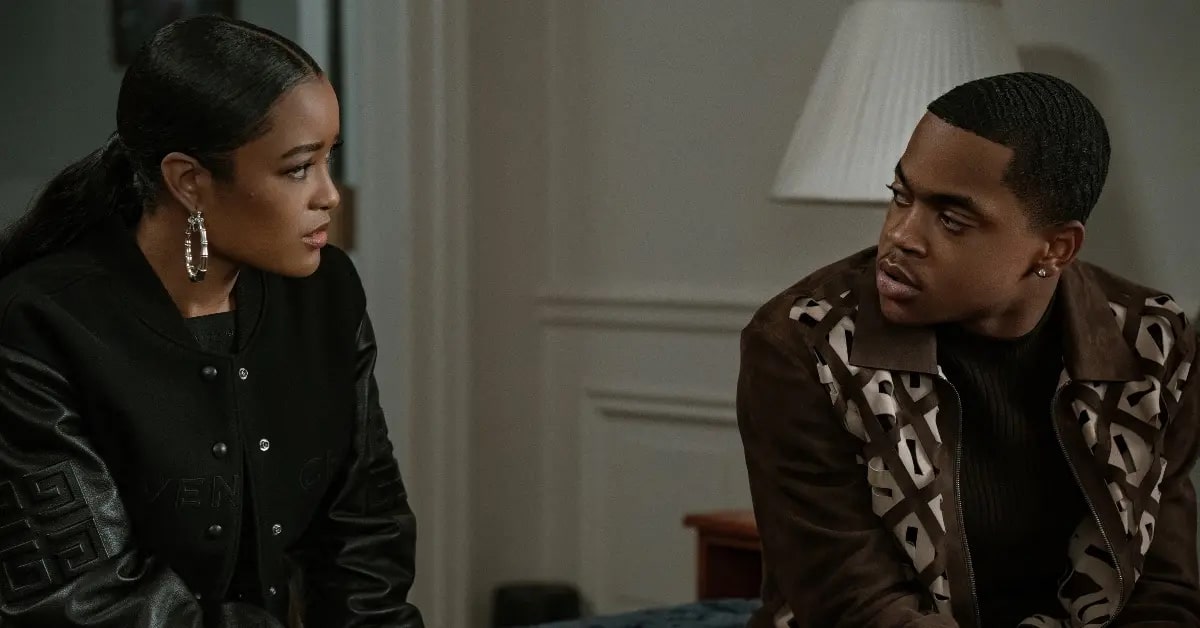 Toward the end of the episode, Rodriguez and Sullivan lead a raid on the Tajeda household. When it seems Monet or one of her sons will be arrested, the cuffs are placed on Diana. Like most people, Sullivan and Rodriguez likely consider Diana the weakest link in her family. They probably hope that they can use Diana to build cases against the rest of her family. The authorities already have evidence connecting Diana to the expansive drug ring run by Tariq and Brayden. They seek to exploit that to bring down not only Tariq's operation but also that of the Tajedas.
Read More: Power Book II: Ghost Season 3 Episode 6 Recap and Ending, Explained