There is much to be learned about how murky plots for power can often get, especially with religion and faith in the mix, a lesson well detailed in Peacock's 'Krishnas: Gurus. Karma. Murder.' Among the various individuals who found themselves dangerously harmed in mysterious circumstances, the fate of Russell "Randall" Clark Gorby is surely an intriguing one, given his past association with the Hare Krishna community that was based in New Vrindaban, West Virginia. For those eager to explore more about the circumstances, worry not because we have your back!
How Did Randall Gorby Die?
Randall Gorby had long been associated with New Vrindaban, as he helped out the community in a way that few could. While the Hare Krishna community wanted to expand their area, the local farmers and landowners were far from happy about potentially dealing with the religious group. This is where Gorby came in. Acting as a middleman, he was the one to actually buy the land in the region surrounding New Vrindaban and then gave the land to the community.
Needless to say, Gorby had developed some strong connections with people higher up in the ladder of the New Vrindaban community, including Thomas Drescher, AKA Tirtha Das Swami. However, when the latter was implicated in the murder of Stephen "Steve" Bryant, which took place in Los Angeles, California, Gorby's connection with Drescher landed him in hot water, especially since the man indeed had some crucial information.
Apparently, Drescher had asked Gorby over a telephone call to meet him in Ohio. During the requested meeting, Drescher allegedly confessed to having killed Bryant after he surveilled the man for some time. However, before Gorby could give his statement completely, he became a victim of a gas explosion. One morning, his house caught on fire, and he was severely injured and rushed to the hospital. Fotunately, Gorby did not succumb to his injuries at that point. The tragedy happened on May 28, 1986, the day after Drescher was arrested.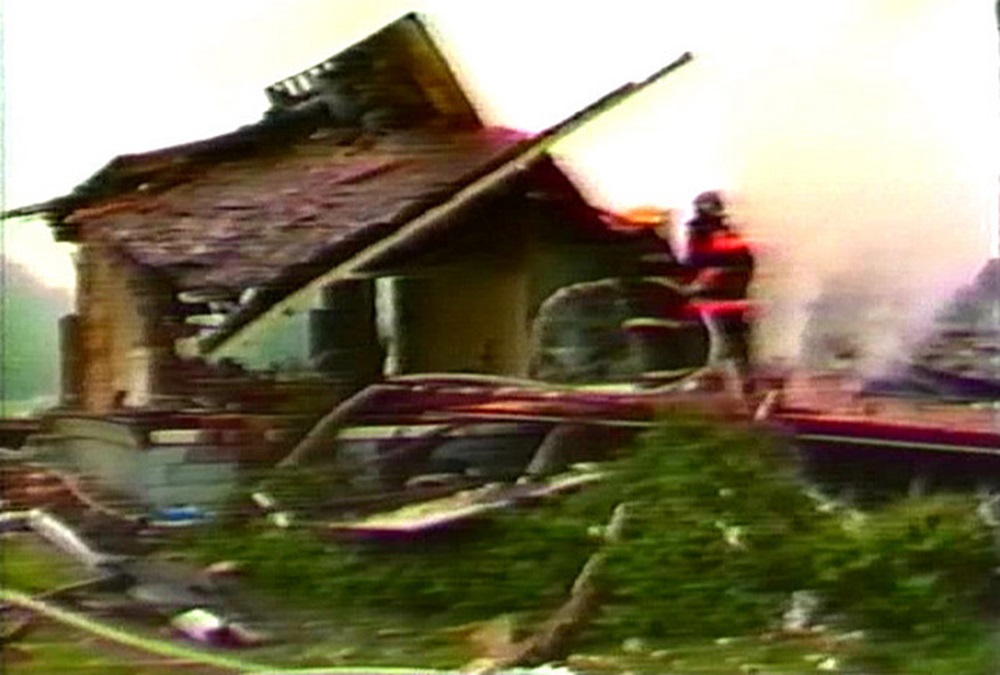 However, the circumstances behind the explosion itself were quite curious, as the law enforcement noted that the natural gas pipe to his house had apparently been loosened enough to leak. The investigators felt that anyone who knew Gorby intimately would be well aware of his habit of smoking early in the morning, and a spark of fire from the same on a fateful morning likely was what triggered the explosion.
Having survived one fatal accident, Gorby's death in June 1990 shook many. As it turned out, the then 68-year-old man's body had been found in his pick-up truck in the woods mere miles away from Elkins, West Virginia. The police also found that a hose had been attached to one end of the truck's exhaust pipe, with the other end inside the vehicle itself. The harmful emissions from the exhaust pipe led to Gorby's unfortunate demise.
Who Killed Randall Gorby?
Officially, the police stated that they did not suspect Randall Gorby'd death to have been due to any foul play. However, people who apparently had interacted with the deceased man over the days preceding his time claimed that Gorby had seemed fearful for his life. He had reportedly disclosed to a distant relative that he felt like he was being watched and followed. As such, his apparent decision to take his own life struck many as odd.
Given how crucial Gorby was in the conviction of Thomas Drescher, which would ultimately also lead to Keith Ham or Kirtanananda Swami Bhaktipada's incarceration, many have theorized that Gorby's death might not have been as it has officially been perceived. Nevertheless, no official investigation seemed to have been made into this particular case. Hence, there are no official suspects that one can connect to this particular tragedy, with no surety about whether or not this was indeed done by someone who wanted Gorby dead.
Read More: Where is Thomas Drescher Now?