Netflix's 'Uncorked' is a delicious take on the age-old story about generational conflicts and following one's own path. The film marks the directorial debut of Prentice Penny, who serves us a full-bodied blend of some zesty wine and Memphis-style barbecue in this refreshing father-son drama. To spice it all up, he infuses it with a dose of Hip-Hop, creating a unique amalgamation of cultures.
'Uncorked' centers around Elijah, a scattered but driven young black man passionate about wine, who dreams of becoming a sommelier some day. His father, Louis, however, wishes for him to inherit the family barbecue restaurant that has for years helped their community. But as Elijah decides to follow his own path, he struggles with his relationship with his father. Through Penny's fresh take on this familiar and heartening tale, 'Uncorked' offers a striking fusion of different worlds coming together, in more ways than one. SPOILERS ALERT!
Uncorked Plot:
The film follows Elijah, a middle-class young black man from Memphis, who works two jobs, helping his family run the restaurant, while also selling wine at the local store. One night at the store, he meets Tanya, a customer looking for white wine. He impresses her with his knowledge by selling wine to her through Hip-Hop references, and the two soon begin to date.
Elijah simultaneously works at the family barbecue restaurant, but evades responsibility as his father, Louis, wants him to take over. We learn that he dreams of being a master sommelier, just like his boss at the wine store. Louis, however, does not take his passion seriously because of Elijah's past efforts at doing different things and never following through. His mother, Sylvia, supports his dreams, and helps Louis run the restaurant. We also learn that she is going through cancer remission.
Elijah applies for the master exam, and enrolls himself in sommelier school, simultaneously managing his shifts at the restaurant. But this becomes increasingly difficult due to an exchange program in Paris. Having spent all his savings on the course, he finds himself stuck as it still demands more money.
Sylvia arranges for the entire family to come together to contribute a part of the expenses. Despite everyone's support, Louis still can't make peace with Elijah pursuing his dream of being a sommelier instead helping with the family business. Things become all the more complicated when a tragedy strikes, forcing Elijah to rethink his decisions. The rest of the film follows his relationship with his father, and how he strives to fulfill his dream despite the bumps on the road.
Uncorked Review: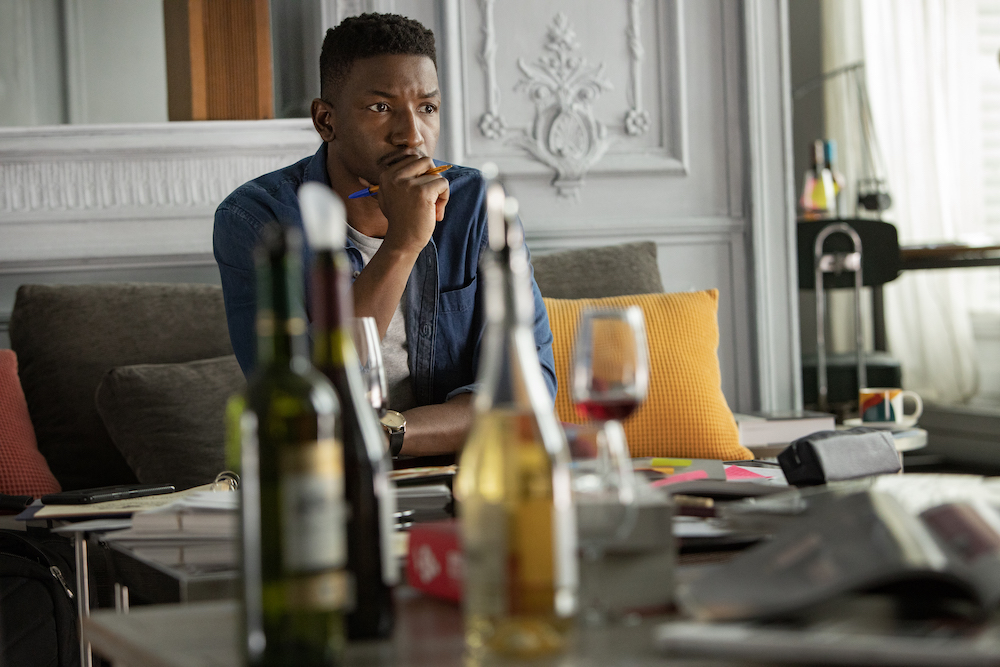 'Uncorked' stands out brilliantly in certain ways, but it also falls flat in others. One of the most memorable aspects of the film, as mentioned earlier, is the amalgamation of cultures it presents to us. This becomes relevant as it not only infuses wine with barbecue, it also brings together generations, and regional and racial heritage. The film stands out remarkably in the ocean of black narratives, as it breaks away from the stereotypes, but in a subtle, light-hearted way.
While there is racial tension present throughout the narrative, it is remains understated. And this works for the film. Elijah lives in a black neighbourhood, and his family restaurant community-oriented. In one of the scenes in the film, Louis calls the place "historic" as Frankie Beverly had a stroke there. It is also impossible to not notice how Elijah stands out amongst his classmates in the all white sommelier class.
Louis, subtly but steadily, throughout the narrative brings up racial prejudices. In one of the scenes he complains about cookies, while in another, he reveals he once wanted to teach so that more black kids could read. In yet another one, he mentions how his pop could never get a loan in the 1960s as he was a black man. But these conversations happen in passing, and never once dominate the narrative. Simply because, while 'Uncorked' makes us aware of these racial differences, it does not limit its characters to their race.
The film is further elevated by the dynamic performances of its cast. While Mamoudou Athie does a great job as the leading man, it is Niecy Nash's Sylvia and Courtney B. Vance's Louis that dominate the screen effortlessly. The two have a charming chemistry, and shine in their roles as both spouses and parents. Nash 's performance in particular is unforgettable, and it is Sylvia's character that you actually take back with you.
One of the things I wasn't particularly happy with, however, is that 'Uncorked' feels a little too all over the place. A major reason for this is its subplots that feel abridged, and almost unnecessary. This, unfortunately, becomes 'Uncorked"s greatest flaw. The biggest example of this is Elijah's relationship with Tanya (Sasha Compere) which is not fleshed out enough. Tanya's character dominates the screen during the early scenes, but then practically vanishes in the second-half. Despite the potential of the character and Compere's performance, Tanya is ultimately reduced to being a plot device.
For a film that centers around wine, 'Uncorked' doesn't let its characters breathe. It also misses its potential of being visually stimulating especially as it revolves around food and drinks. While it does have some striking shots, it does not completely live up to what it could have been aesthetically. 'Uncorked' is in no way bad, but it is a film that could have been better. It certainly has the right premise and performances for that to happen. But the film ultimately finds itself stuck as a heartwarming Netflix guilty pleasure that had the potential to be so much more.
Rating: 3/5
Read More: Best Food Movies on Netflix