Let's talk about Roz Hernandez, a paranormal researcher whose presence in Hulu's 'Living For the Dead' has helped her earn many fans. The love she has gained due to the reality show can not only be attributed to her captivating personality but also to her skills when it comes to learning every single detail possible about the case that the group embarks on. After all, knowledge is the best tool there is, and Roz ensures that the cast is never caught unaware. Those eager to learn more about her worry not because we have your back!
Roz Hernandez's Background
In the Hulu show, Roz Hernandez reveals how her father used to work as a clown, a profession she also had partaken in for some time. Her clown persona was called Rainbow, something she could not help but joke about in season 1 of the series years later. Roz admitted that being a clown allowed her to escape the reality she used to find herself trapped in, claiming that she felt uncomfortable in her identity as a male, and being a clown certainly released some of the stress.
For a certain amount of time, Roz used to do drag; however, it is a profession she has since retired from. Now a proud transgender woman, she is comfortable in her own skin and prefers to use she/they pronouns. Additionally, she is always ready to help those who might find themselves struggling with the same issues as her. Based in Los Angeles, California, Roz shared in February 2022 that she had been sober for seven years, an accomplishment that one cannot help but commend.
Roz Hernandez's Profession
A comedian, Roz Hernandez is an active part of the entertainment industry, especially thanks to her podcast show 'Ghosted!' The program had initially been conceptualized by Roz herself but had been paused for some time. However, on July 17, 2023, it was revived and has been going strong ever since. All the parties involved with the process certainly seem happy about the partnership, as Roz continues to entertain the masses with a unique blend of comedy and paranormal.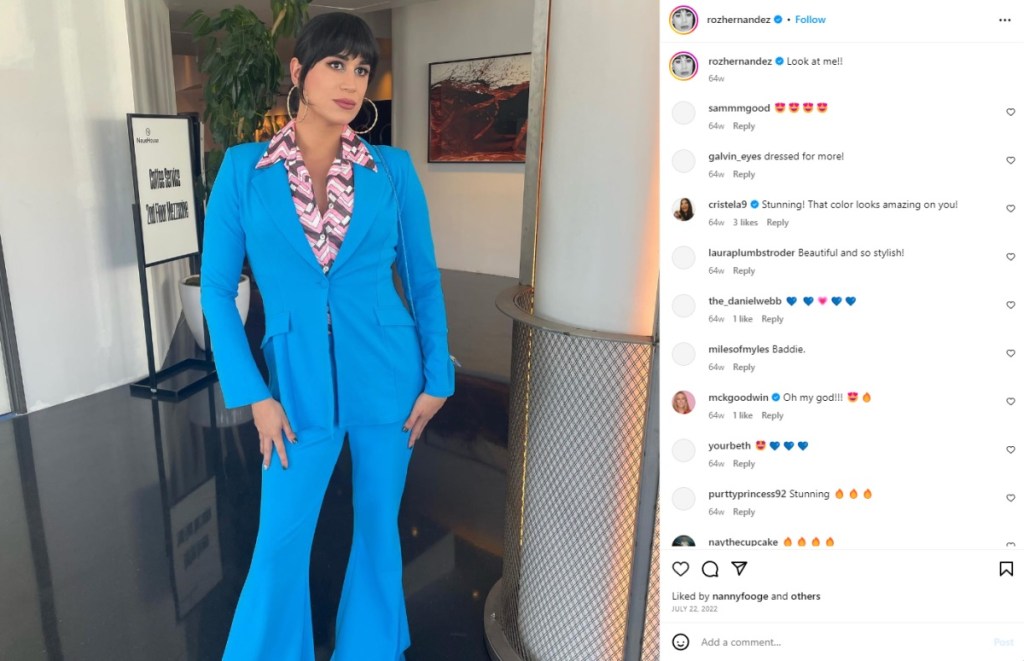 Additionally, Roz often performs at stand-up comedy shows incorporating humor derived from real-life events as well as her observations of society. The star also makes content for platforms like TikTok, Instagram, and Cameo, which has only boosted her fame. As of writing, she has over 40K followers on Instagram, though she is not similarly active on TikTok. Additionally, Roz has made numerous appearances on various other podcasts and was even a part of 'Moon Manor' and 'Besties.'
Is Roz Hernandez Dating Anyone?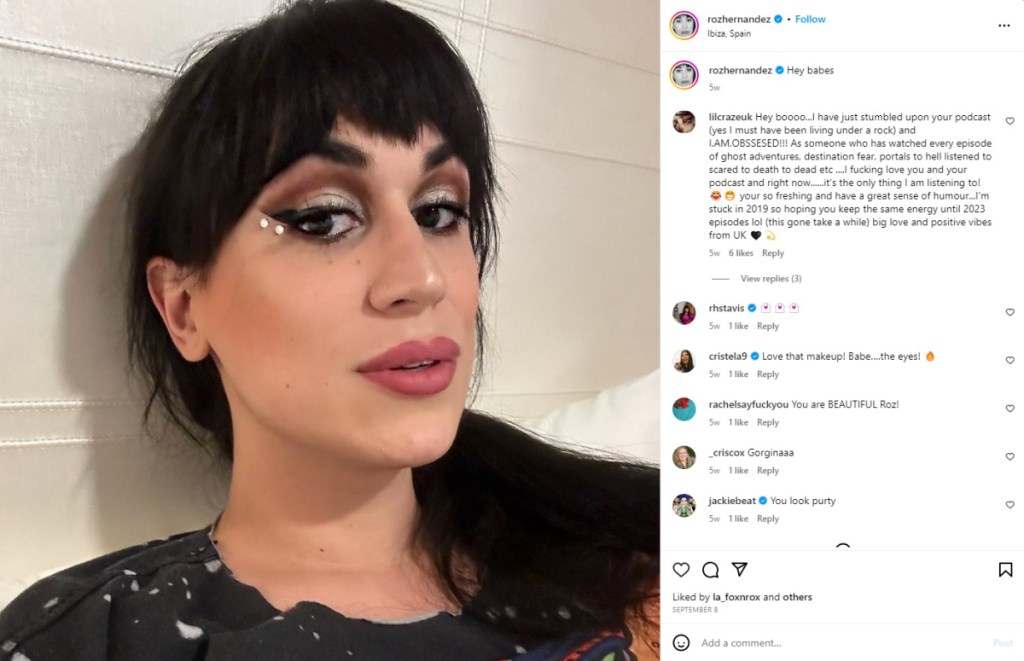 Presently, it does not seem like Roz Hernandez is dating anyone. A self-proclaimed "aspiring lesbian," the Hulu star has never shied away from her status as a part of the LGBTQ+ community member. She often showcases her support for those within the community and is a huge fan of the drag culture, likely due to her own participation in the same in the past. Whether or not Roz is dating anyone, she is certainly open to new experiences and is always grateful for the love and support her fans have provided her over the years.
Read More: Logan Taylor From Living For the Dead: Everything We Know