World Wrestling Entertainment (WWE) has been home to some of the most iconic and beloved wrestling personalities over the years. One such figure is Rena Lesnar, better known to the wrestling world as "Sable." Sable's journey through WWE was marked by groundbreaking moments, controversies, and a unique blend of athleticism and charisma that captivated audiences during the Attitude Era.
However, her life in and out of the squared circle has been nothing short of extraordinary, especially in her relationship with her husband, another WWE star, Brock Lesnar. For those who are curious about the whereabouts of the former WWE diva, we have put together everything we know. So, let's dive in!
Why Did Sable Leave WWE?
Sable's relationship with WWE was characterized by several departures from the company, each driven by different circumstances and motivations. In 1996, she made her WWE debut as the manager of her then-husband, Marc Mero. Her stunning looks and captivating presence quickly caught the attention of fans, and she transitioned into a singles wrestler. Her ascent led to her winning the WWE (then WWF) Women's Championship in 1998, becoming one of the most prominent wrestlers of her era.
However, in June 1999, Sable's WWE career took a dramatic turn when she dropped her title and left the company. Her departure was marked by controversy as she filed a lawsuit against WWE, seeking a staggering $110 million in damages. She alleged sexual harassment and unsafe working conditions behind the scenes, painting a disturbing picture of the company's environment. During the legal proceedings, Sable gradually reduced her monetary demands and ultimately reached an out-of-court settlement with WWE in August 1999.
After a brief hiatus, she made a triumphant return to WWE in 2003, marking the beginning of her second tenure with the company. It was during this comeback that Sable crossed paths with Brock Lesnar, a powerhouse wrestler who would later become her husband. At the time, she was married to Marc Mero. However, she and Brock began seeing each other, which eventually led to her divorce from Marc in 2004. Soon after this, Sable and Brock started dating officially. Their relationship blossomed, and in August 2004, she chose to leave WWE once again.
In March 2004, 5 months prior to her retirement, Brock had left WWE as well and was concerned about Sable's career. In his autobiography, "Death Clutch: My Story of Determination, Domination, and Survival," Lesnar expressed a strong desire for her to leave WWE before they tied the knot. He believed that the long-term effects of the wrestling business were not conducive to a healthy relationship. She complied with Lesnar's request, leaving WWE once more, but this time, it was a conscious choice made out of love and a commitment to their relationship.
What Happened to Sable?
Sable and Brock Lesnar's journey as a couple continued after she left WWE, with their engagement in 2004. However, their engagement was called off in early 2005. Despite the brief setback, the couple reunited and rekindled their relationship in January 2006, after Lesnar proposed to Sable in the Orlando airport by the waterfall inside. On May 6, 2006, she and Brock officially tied the knot, celebrating their love in a ceremony that united two prominent figures in the world of professional wrestling. Until 2007, she was also part of Lesnar's NJPW career before he parted ways.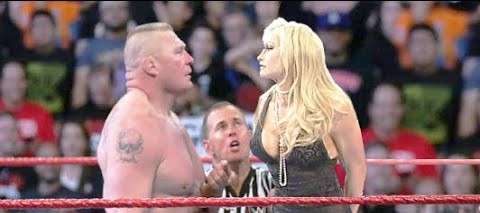 Together, they have two children, Turk and Duke, born in 2009 and 2010, respectively. Their blended family includes children from their previous relationships, with Brock having twins (a boy and a girl) and Sable having a daughter. Amidst their quiet and private life, Brock surprised Sable on their fifth wedding anniversary with a memorable prank. In an appearance on ESPN's Highly Questionable in 2016, Lesnar recounted the amusing story. He gifted his wife a new wedding band for their anniversary but played a trick on her beforehand.
Lesnar told Sable to keep her existing wedding ring at home to prevent it from getting stolen during their tropical vacation. While they were away, he had the people looking after their children pretend that their son had swallowed the wedding ring. They even showed Sable an X-ray of a child's stomach with a wedding ring inside, found on the internet. For two days, she searched diligently for her wedding ring in dirty diapers, believing her son had swallowed it. Finally, when they returned home, Lesnar revealed the prank and gave her the new wedding band as a heartfelt gesture.
Unlike many celebrities, Sable does not maintain social media profiles, opting for a more private existence. Her focus has been on her family, and she has found contentment in a quieter, rural setting. Today, Sable and Brock Lesnar have settled into a peaceful life on a farm in Maryfield, Saskatchewan, Canada, away from the hustle and bustle of the city and the wrestling world.
Sable has made occasional public appearances over the years, such as celebrating birthdays with Brock Lesnar and attending events like Jets games, but her reclusive lifestyle suggests that she has prioritized her family and personal life above all else. Over the years, she has continued to support her husband through his second WWE and UFC career. It seems unlikely that the star wrestler will return to the ring as it came out that Torrie Wilson wasn't even allowed to mention her name during her Hall of Fame induction speech. However, fans of the WWE Universe have continued to push her to be added to the Hall of Fame.
While Sable may have left the wrestling ring behind, her legacy as a pioneering WWE Diva and her enduring love story with Brock Lesnar continues to be part of her enduring legacy in the world of sports entertainment. As fans remember the iconic moments of her wrestling career, Sable herself has found happiness in a quieter, more secluded chapter of her life, and we wish her nothing but the best!
Read More: Where Is Roman Reigns From WWE Right Now?