"You should enjoy the little detours to the fullest. Because that's where you'll find things more important than what you want." This quote is from a well-known anime that goes by the name of 'Hunter X Hunter'; but it also very well defines the entire first season of 'Samurai Champloo'.
Shinichiro Watanabe is only known for two anime series — one is 'Cowboy Bebop' and the other one is 'Samurai Champloo' and a lot of similarities can be noted between the two. One major similarity is the plot, which is distributed into various different sub-plots that slowly build-up towards an overarching main story. Another noticeable similarity between the two is the indulgence of hip hop culture through both audio and visual depictions to make them more appealing to the Western audience.
Historical fiction is one genre that I completely despise because it often leaves you in the middle, wondering whether or not you should judge the show based on the genuineness of its deceptions. The only kind of historical fiction that I don't mind watching is the one that does not try to be accurate and 'Samurai Champloo' hits the right spot with that. It takes place in the Edo-period of Japanese history and then creates a meta-style by mixing it up with hip hop and the bohemian culture.
The plot, as a few haters might say, diverts from the main motive that is "to look for a Samurai who smells like Sunflowers" but what they don't realize is that 'Samurai Champloo' is not really about the destination but more about the journey of the characters. They do eventually reach a conclusion but it's the sub-plots that truly drive the entire character development.
Even the animation is always in tune with the anime's theme and offers thick linework that represents graffiti. There is also one episode where an influence of psychedelic has represented really well with a burst of colorful illusions. There are other scenes that are suddenly juxtaposed with people beatboxing and even the transition effects of one scene to another is almost like a DJ scratching his disks. There is an episode that centers around two side characters and their obsession with graffiti. While this may not directly contribute to the end story of the main characters, it does add value to the main underlying theme of the anime — "rebelling against the social norms and authority."
'Samurai Champloo' has both style and substance and is the kind of show that can be enjoyed by almost anyone. It offers some very clever comedy (even in the English Dub), some really cool, unorthodox sword-slashing action and a dense plot. Not to mention, the music in the anime is just phenomenal and blends hip-hop with some lo-fi Japanese beats that perfectly suit the whole theme that is being explored. Even the opening and closing themes that are mostly done by Nujabes are enough to set it apart from all other anime in this genre. All in all, 'Samurai Champloo' is almost as perfect as an anime can ever be and in the end, it leaves you completely fulfilled with no loose ends. What more can you ask for?
Samurai Champloo Season 2 Release Date: When Will it Premiere?
'Samurai Champloo' season 1 was released on May 20, 2004 and finished airing on May 19, 2005 with a total of 26 episodes. The ending of the first season of 'Samurai Champloo' is very conclusive if you compare it with that of 'Cowboy Bebop'. Watanabe never really came out with another season of 'Cowboy Bebop'; so it seems very less likely that 'Samurai Champloo' will have a season 2.
There are absolutely no loose ends or unanswered questions at the end of the show and also, it ends on a note where it looks like the writers want the viewers to imagine what happens next to the main characters; something like the end of 'Inception'. As much as I hate the fact that it came to an end, I absolutely loved the way it was executed and personally, I would love to imagine that Fuu, Mugen, and Jin did meet again somewhere along the road much later. Optimistically, I can definitely see 'Samurai Champloo' season 2 release sometime in 2021 or 2022. We will update this section as soon as we hear more.
Samurai Champloo English Dub:
The English subbed and dubbed versions of 'Samurai Champloo' are available on Funimation, Crunchyroll and Amazon Prime.
Samurai Champloo Plot:
The story starts off with Fuu Kasumi, who is a waitress at a very small, peaceful tea house. A bunch of rowdy self-proclaimed samurai walk into the teahouse one day and start harassing Fuu. Fuu panics and calls out to another samurai, Mugen, in the tea shop for help. Mugen tells her that he will only help her if he gets 50 dumplings for defeating the guys who are harassing her; she instantly agrees. This is where Mugen steps in and easily defeats the guys with his unorthodox style of fighting that seems to be inspired by break dancing.
A ronin samurai named Jin then steps in and Mugen instantly picks up a fight with him as well. Though Jin's style is more focused towards the traditional samurai sword slinging, unlike Jin, he still gives him tough competition. While they're at their own combat, they end up destroying the whole tea stall and burn the whole place down. They also end up killing the local magistrate's son. The two are then captured and are set to be executed for their crime but Fuu somehow manages to rescue them. She then hires the two as her bodyguards and though she has no place to go back to, she tells them that she wishes to find a samurai who smells like sunflowers. Jin and Mugen somehow agree to her request and join her in this unforgettable adventure.
Samurai Champloo Characters:
Mugen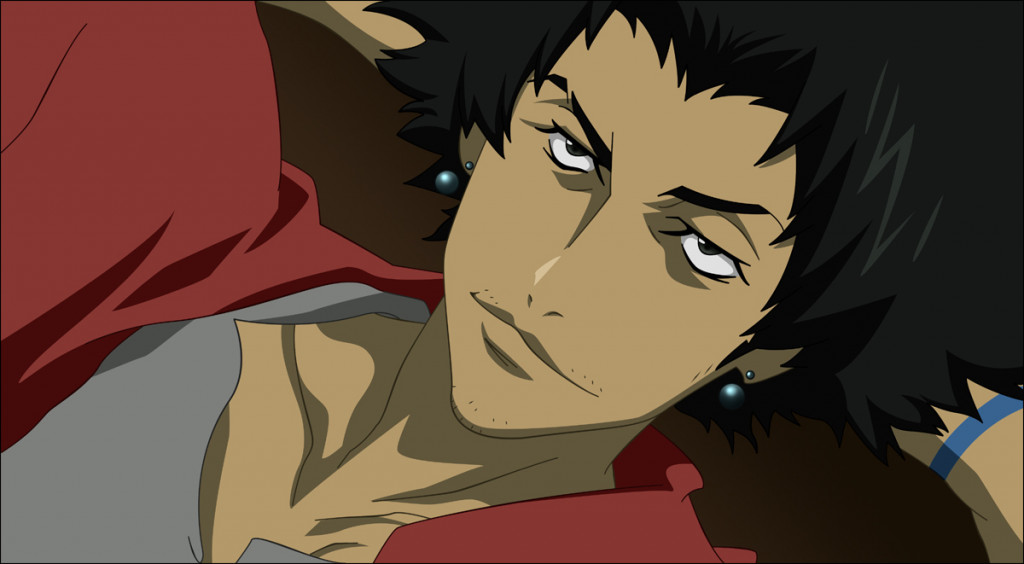 Mugen is wild, rude, vulgar and an egoist who thinks he owns the world. But he is also quite a badass and his sword slinging style is unlike any other. His fighting style is known as "Champloo Kendo" wherein the Champloo, also spelled as Champuru, comes from an Okinawan term that means stirred together. It refers to his unique fighting style that, unlike Jin, is not confined to the disciplines of the samurai and is more of a mix of many styles. Mugen has black messy hair similar to an afro and he wears clothes that seem more from the future, contrasting Jin whose clothes are a representation of the past. Mugen also has blue striped tattoos across both his forearms and ankles. There is no back story about these but they could have some links to Mugen's past as a fugitive.
Jin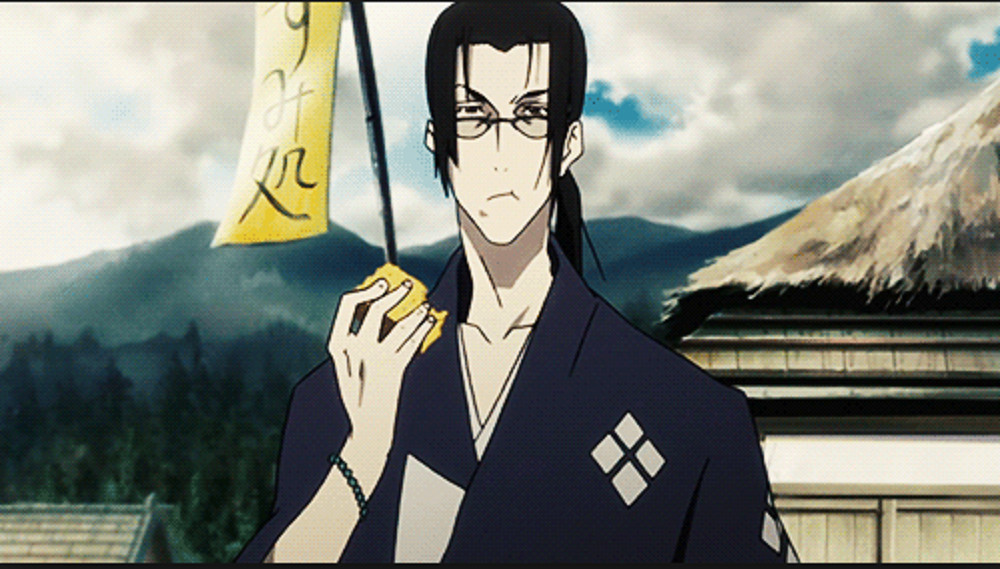 Jin, unlike Mugen, is really smooth on the edges and shows no signs of aggression or vulgarity. Jin's fighting style is also completely confined to the disciplines of Kenjutsu, coming from a prominent dojo. In the present, Jin is a ronin samurai, who is a vagabond, pretty much like Mugen. His personality initially reflects his utter stoicism towards everything around him but later in the show, he shows much more emotions towards certain things. Jin wears tiny glasses all the time along with a traditional blue Haori. He speaks very little and can rarely be seen with a smile on his face.
Fuu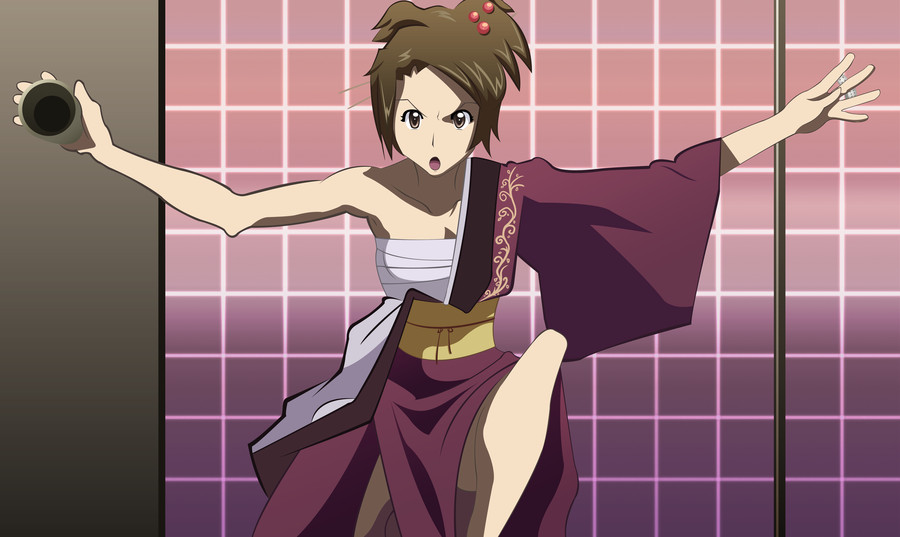 Unlike Mugen and Jin, Fuu has no fighting skills but she's really good at finding solutions, especially when she's hungry. In spite of having quite a rough past, Fuu is always full of life and is optimistic towards everything. She is the one who initially brings Mugen and Jin together and along the way, even holds them back from fighting each other. Though she usually speaks her heart out, Fuu has a deep underlying secret from her past that is linked to her quest in finding the samurai who smells like sunflowers. Fuu carries a squirrel with her all the time that hides inside her pink floral kimono. She usually keeps her brown hair tied up in a ponytail with many strands falling off on her face from the sides. She often tries to act all smart and lead the trio but usually ends up making a fool out of herself.
Read More in Anime Preview: Naruto Season 6 | Assassination Classroom Season 3