Reeled in a whirlwind journey of wilderness, Sarah Kate Reynolds traverses the highs and lows of survival in Netflix's 'Surviving Paradise.' The reality television series features a group of unsuspecting individuals whose tropical paradise soon turns into a quest to hold onto their spot. As Sarah Kate tries to form alliances to get a spot in the luxurious villa, several intense themes emerge. Given her use of skill and tact to persist in the competition, fans have been curious to know her latest whereabouts. So, if you're wondering the same, look no further because we've got all the answers right here!
Sarah Kate Reynolds' Surviving Paradise Journey
Channeling the charm of a Southern belle, Sarah Kate or SK entered the competition to win the top spot and gain lifelong friendships along the way. The former cheerleader managed to make a strong alliance with Lellies, Sisco, Linda, and Alex from the get-go. However, after Lellies didn't choose her as an insider in the first swap, Sarah Kate felt that all her strategies and plans were backfiring. Ultimately, she found comfort in an alliance with Tabitha, Justin, and Aaron. Their quad became much stronger, which further allowed her a chance to secure a spot in the villa.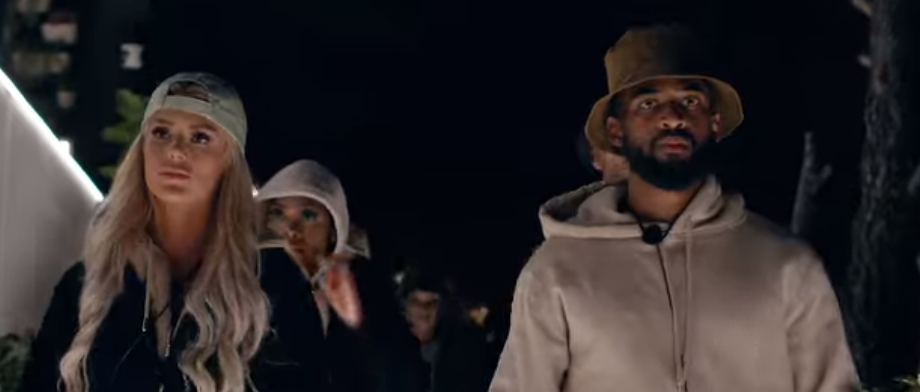 However, despite yielding different strategies and allying with different members, Sarah Kate's journey was not easy. Not only did she repeatedly lose a chance to enjoy the amenities of the villa, but she also struggled emotionally. During this time, she found a trustworthy bond with Justin Assada. Ultimately, Justin comforted her and assured her that she'd get to her goals in due time.
Eventually, she found a spot in the utility-decked villa after Sisco and Shea completed a survival mission and sacrificed their spot in the villa. Having been successful in fishing, the outsiders had a choice to send three members to the other end. Finally, Aaron, Sisco, Shea, Copan, and Justin decided that the women should get a chance to live in the villa. Consequently, things began looking up for Sarah Kate until a surprise elimination was conducted.
The insiders who had spent a limited amount of time in the resplendent villa were asked to pick up a mysterious crate without knowing what lay inside. For some, the option included 'Stay in the Villa,' for others, it was 'Go Back to Camp.' Alas, the box that Sarah Kate chose was different from all others. She selected the 'Elimination' crate, meaning that she'd have to convince one of the outsiders to either take the box or reject it. To her surprise, she was pitted against Justin, a person she'd come to share an unbreakable bond with. Ultimately, she broke down into tears and pleaded with him not to take the box. Her selfless act eventually led her to become the first person to be eliminated from the competition.
Where is Sarah Kate Reynolds Now?
Aside from holding her own in the cut-throat competition, Sarah Kate continues to map her journey to success outside, as well. Away from the thrill of survival and tact, she enjoys her life with her loved ones. From solidifying her business to entering a new phase in her personal life, the television personality continues to create new milestones. Most recently, her long-term partner, Landon Goesling, bent down one knee and popped the ultimate question to her. In a video post recording their beach proposal, Landon captioned his heartfelt feelings for his fiance. He wrote, "Here's to forever with my best friend. 8.17.23"
Entering a new phase in her life, Sarah Kate is now involved in the planning of her upcoming nuptials. From attending the latest festivities of her impending matrimony to being heavily involved in its details, the bride-to-be continues to embark on new adventures. Besides this, Sarah Kate is also an entrepreneur and runs her entrepreneurial venture of swimwear attire. The Louisiana State University graduate designs and manages the operations of SK Swim. In addition to releasing new collections from time to time, she even models for the brand. Her swimwear store includes a variety of categories to choose from. The brand offers women's and men's tops, bottoms, and coverups.
While her entrepreneurial venture keeps her occupied, it isn't the only thing that the television personality is involved in. She is a TikTok and Instagram creator, as well. Naturally, creating content for her followers is also a high priority for Sarah Kate. Fans and readers can even find the latest links to her outfits on her social media account. Furthermore, she also has a dedicated Amazon Storefront for people who want to shop for similar looks. Having modeled with Nfinity Athletic and Southerm Marsh Collection in the past, Sarah Kate continues to create new milestones in her multi-faceted career. She has even worked with Lukka Boutique as a Part-Time Sales Associate in Louisiana. Naturally, it stands to reason that several great personal and professional achievements still await her.
Read More: Aaron Blake: Surviving Paradise Contestant is Now a Microsoft Consultant