As a survival competition series living up to its title in nearly every way imaginable, Netflix's 'Surviving Paradise' can only be described as equal parts entertaining, enthralling, and exciting. That's because it revolves around a diverse group of strangers as they try to crawl their way out of hell and into luxury, only to then still have to out-scheme one another to actually stay there. So now that the first iteration of this incredible production has landed on our screens in full, let's find out precisely where each of these complex and intriguing individuals are today, shall we?
Sarah Kate Reynolds is Now Engaged
Although Sarah Kate (or SK) was the first to be eliminated under the most shocking circumstances, it's evident she doesn't regret a single aspect of how she went about the game anymore. After all, it did help her further evolve into a strong, independent, kind, and honest woman while also balancing her career as an entrepreneur as well as a rising social media influencer. Yet, arguably the most thrilling thing to happen to this swimwear brand owner since filming came to a close in the summer of 2022 is the fact she got engaged to the love of her life, sports marketing/talent agent Landon Goesling, on August 17, 2023.
Francisco "Sisco" Williams is a New York-based Personality Today
If we're being honest, even Sisco's elimination in episode 6 was quite surprising considering a mid-game newcomer was the one to give him the boot after spending only a few hours together. Nevertheless, even though he couldn't exactly come to terms with it, he was ultimately happy that people from his crew ended up making it all the way and won the massive $200,000 cash prize. As for his own personal standing, well, this Queens, New York resident is still doing his best to give back to his mother by working hard as a social media figure, model, and rising self-made man. We mean, he used to be homeless at one point and now he's in the homes of millions through television.
Tabitha Sloane is Now Thriving as a Model and Philanthropist
Despite the fact Tabitha was one of the strongest players, the intense way they approached situations rubbed people the wrong way, and their own lack of trust in others eventually became their biggest downfall. Yet, it's imperative to note that what we saw was just one side of them because the truth is this Indiana-based model does care about people, especially those from their own communities — Black, queer, women. That's why they launched Out + About in 2022 as a safe, intentional space for LGBTQ+ individuals to express who they really are as well as meet others like them. We should also mention it appears as if Tabitha is currently in a happy, healthy, long-term relationship with a woman named Kyra Beck.
Alex Dourassof is Living His Best Life in Miami Today
While Alex is a native of France, he has been calling Miami, Florida, his home for a long while, especially as he completed his education at local state universities before settling down as a professional. In fact, this Florida International University Business and Full Sail University Entertainment Business graduate used to be a marketing, social media, as well as real estate specialist until 2022. However, he's now paving a path for himself as a model, possible actor, plus social media influencer — he has since even appeared in the music video for Sami Edelson's single "How U Feelin.'"
Aaron Blake Chambers is Now a Proud Corporate Professional
Like Tabitha, Aaron was one of the strongest players owing to his sheer genuinity at every step of the way, but alas, it ultimately inadvertently became the very thing that came back to bite him. Regardless, he doesn't regret any of his actions or decisions in the game one bit because he got to walk away with his head held high and his integrity wholly intact – he played as who he was. Coming to his current standing, from what we can tell, this Prairie View A&M University MBA graduate (2017-2021) resides in the Dallas/Fort Worth Area, Texas, where he proudly serves as a Consultant for Microsoft.
Copan Combs is Still Helping Students in Oklahoma
If there's only one way we can ever describe Copan, it would have to be nice owing to the way he always put others first, even if it wasn't the best option for him since he wanted to play with virtue. His selflessness was definitely rewarded, but it just wasn't enough to keep him in the villa for good, so he walked away with a smile before eventually returning to cast his winning vote for someone who held similar values. And now, this television personality is back in Oklahoma, where he has his dream job of helping students figure out their life path by serving as an Admissions Counselor at Oklahoma State University (his alumnus).
Hayley Smith-Rose is a Radio Host and Professional DJ Today
Although Hayley was as kind and genuine as Copan at almost every step of the way, it didn't work out too well for her because she couldn't build a strong, unwavering alliance with them. She thus got the boot just prior to the finale, but the truth is she'd already won countless hearts amongst her peers and global audiences, making it clear her reach is now wider than ever before. Hence, of course, it goes without saying this Maine resident's career as a DJ, Hot Radio host, 'Fever Dream Diaries' podcast co-host, plus Haylstorm Hangs YouTube broadcaster/interviewer is only just beginning.
Justin Assad's Reality Journey is Seemingly Far From Over
A Massachusetts native through and through, Justin was also a powerful player, just to be beaten by the strategizing as well as personal motives of others in a way that can only be called cutthroat. Nonetheless, like his "bro" Aaron Chambers, he doesn't regret the way he carried himself one bit since he was honest, loyal, and trustworthy — things that actually make a difference in the long run. As for his present standing, from what we can tell, this Assumption University graduate is an Enterprise Account Executive at Dell EMC, a model, plus a public personality who is even rumored to be on the cast of 'Perfect Match' season 2.
Evangeline "Eva" Desjardins is Now a Photographer
Even though Eva didn't have a very lasting stint on this survival show, she did win countless brownie points for giving up her space in the villa on her own towards the end so as to protect others. Yet little did she know she wouldn't be able to make her way back, resulting in her elimination shortly after — she was so close to the end, but the others simply had much more of a personal impact. Therefore, today, she is back in her home state of Florida, where she's ostensibly thriving as a creative artist, old books lover, poetry enthusiast, as well as professional photographer specializing in the beauty of humans.
Kelso Pierce Prefers to Lead a Quiet Life Today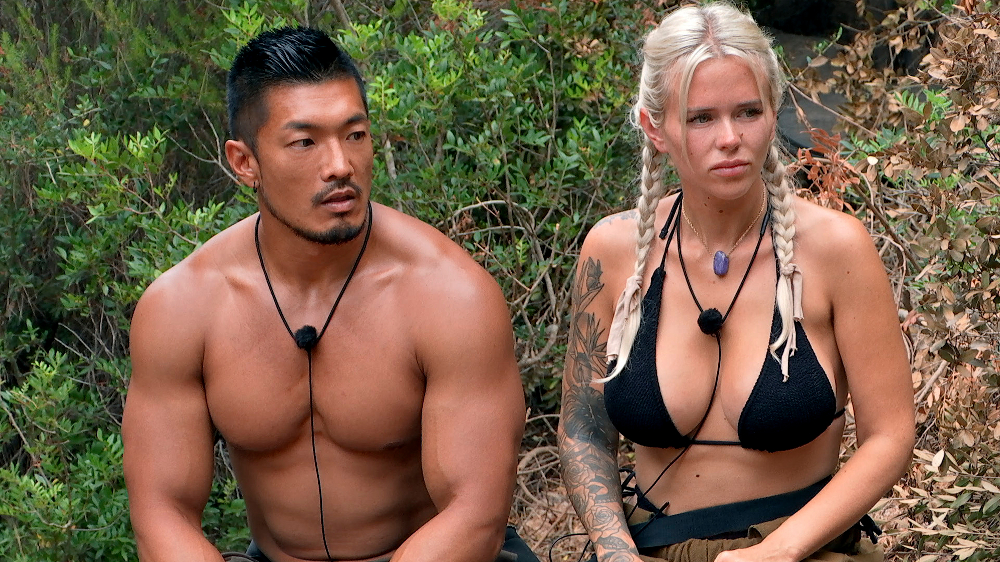 Like Eva, Kelso didn't have much of a story in the production either because he was a mid-season joinee who'd failed to make an immediate drastic impact, resulting in him never stepping into the villa. Though, if we're being real, his personal journey is quite intriguing on its own considering he was adopted from Korea at six months by caucasian parents, following which he was raised in Huntsville, Alabama. He then enrolled in the military straight out of high school, and today, he seemingly leads a rather quiet life near his hometown as an entrepreneur, fitness enthusiast, outdoorsman, plus world traveler.
Taylor Brielle Olympios is Now an Influencer-Entrepreneur
Well, before we dive into Taylor's current standing, we should clarify that if you think you've probably seen her somewhere before, you're right because she was actually on ATV's 'Next Influencer' season 3 back in 2022. And now, she's a true influencer through and through, traveling the world, having a good time, showcasing the same through her TikTok as well as Instagram public profiles to earn her living. Moreover, she's the co-founder of a custom jewels, apparel, plus home décor brand by the name Aura Sugar Co. alongside her sister and a friend, and she's seemingly behind the curated luxury designer vintage shop Elleven15 Vintage.
Gabriel "Gabe" Dannenbring is a Tik-Tok Famous Teacher Today
While there's no denying Gabe turned the entire show upside down the moment he first came across our screens, he genuinely doesn't do the same in any other aspect of his life. After all, despite the fact he's a competitive being who dreams of owning a Corvette one day, he's also a teacher and takes his responsibility of educating youngsters very seriously. Therefore, although he can, admittedly, easily earn a stable income through his social media platforms these days, he has no intention of leaving behind his position as a Science Educator at Sioux Falls School District in South Dakota.
Shea Foster is Now a Private Jet Broker
Although Shea's stint in 'Surviving Paradise' primarily revolved around his romance with Taylor Brielle Olympios, no one can deny he also did a great job handling himself with his unwavering charisma. It thus comes as no surprise he was not only amongst the four finalists but was also confirmed to be the runner-up, losing the title 6-4 with no other competition but the uber-selfless Linda Okoli. So now, having wholly recovered from a 2021 car accident that had actually left him temporarily paralyzed, this former collegiate track athlete has now moved on to serve as a Private Jet Broker at the travel company V2 Jets.
Lellise Santiago is a Public Figure and Entrepreneur Today
If we're being honest, it genuinely appears as if Lellise lives up to the big dreams and big personality she indicated in the original production in real life too. It's hence no surprise she's an actress, businesswoman, model, and television personality who has actually appeared in more than a handful of music videos over the years. As for her personal standing, this New York-based Bad B**ches Don't Crease (BBDC) brand owner is in a happy, healthy, long-term relationship with musical artist Kris Kasanova at the moment.
Linda Okoli is Now Planning Her Career Aspirations
Having played the game with sheer integrity every step of the way, Linda's genuinity, selflessness, as well as kindness earned her the deserving title of the very first Paradise Survivor. But then, staying true to this, when given a choice between raising the prize money to $250,000 all for herself or splitting the existing $200,000 pot with anyone of her picking, she decided to go ahead with the latter and gave $100,000 to her best friend in the villa Lellise to help with her father's medical bills. Coming to what she still plans on doing with her share, this proud public personality is seemingly holding onto it until she can figure out a way to launch an organization offering different kinds of aid to kids being bullied.
Read More: Is Netflix's Surviving Paradise Scripted or Real?