'Sex Education' is easily one of the best coming-of-age stories Netflix has ever produced. The series works with a brilliant ensemble cast that includes the likes of Asa Butterfield, Emma Mackey, Gillian Anderson, Ncuti Gatwa, and several others. It builds a spider-web of interconnected narratives with the kids of Moordale High exploring themselves and each other. What's rare and brilliant about the show is that it lets each one of its characters shine and gives them space to grow. This can be seen particularly well in the third episode as Aimee (Aimee Lou Wood) steals the show.
The second season of Netflix's 'Sex Education' seems to be growing increasingly mature with its subjects, and more honest and sensitive than ever in the way it deals with them. It explores the varying depths of sex education that our gang at Moordale High slowly discovers. Sex is not all physical, there is so much more that it brings with itself. And 'Sex Education' deals with this in an honest and heartwarming way. If the last episode looked at sexual pleasure, this one peeks into fear, trauma and humiliation associated with it.
SPOILER ALERT!
Sex Education Season 2 Episode 3 Recap: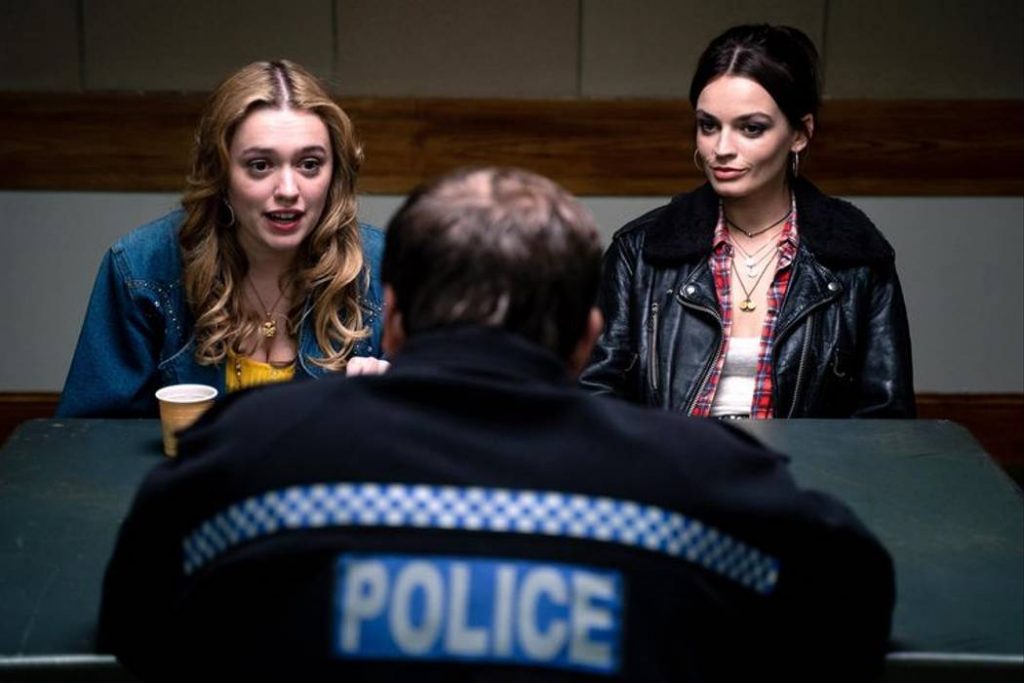 It is Maeve's birthday and she hates birthdays. Aimee decides to surprise her with a cake that she bakes. But she is assaulted by a man who masturbates on her in the bus. Maeve convinces her to go to police, but Aimee is hesitant, not realizing it is an assault. They head to the station where the officers help them file a report. Aimee holds back her tears, but ends up having a breakdown in her room. The next day, she avoids the bus as she sees the same man in it.
Jean is still in school, giving sex-ed to the students which Groff dislikes. It is also bad for the sex-clinic business. Otis is generally uncomfortable with his mother being in school. There is also the big family dinner with Otis, Jean, Jakob and Ola which eventually leads to Otis bursting out in anger at Jakob and the whole situation. Jean asks him to apologize the next day, which he does.
Malek goes to Jean for some advice because of Olivia's habit of covering his face during sex. She suggests that it might be some ghost fetish. Olivia confronts Otis and confesses that she thinks she has an "ugly cum face" which she doesn't want Malek to see. Otis in turn tells her that she needs to trust Malek and let them see each other at their ugliest.
Jackson decides to try out for the Romeo Juliet musical. Vivienne helps him with the words and rhythm and tells him to think of someone he loves to get the emotion right. Jackson thinks of Maeve while performing, and gets the role. Meanwhile, Adam is back in town and tries hard to make things better at home. Groff is not sympathetic and makes him work at Browns' Store. While all of this is going on, Rahim asks Eric on a date and the two eventually end up at an arcade and share their first kiss. But the two run into Adam working in the store as Rahim lives just above it.
Maeve's mother gets beaten up by her boyfriend when she told him she has other kids. So, she shows up at Maeve's caravan. The episode ends with Otis gifting Maeve a five-year diary from which he ripped off all the birthdays pages. Maeve almost tells Otis that she likes him but stops herself.
Sex Education Season 2 Episode 3 Review:
It seems like everyone in the third episode is struggling with their feelings in one way or another. We have them finding ways to express themselves and deal with their emotions, both positively and negatively. There so many unsaid words that our characters are struggling with.
We have Aimee dealing with her assault and her inability to talk to her mother about it. Then, there is Otis who feels like he is stuck in an endlessly uncomfortable situation with his mother at school and Jakob at home, especially because of his relationship with Ola. We also have Maureen trying to talk to Jean about her relationship with Groff but ends up changing the topic. And of course, there is Maeve who recently realized she is not over Otis and wants to tell him but stops herself. Olivia, too, instead of talking to Malek, covers his face because she feels vulnerable.
At the same time, Jackson decides to audition for the play and finds himself expressing his feelings by acting which takes everyone by surprise. It is also refreshing to see the budding friendship between Jackson and Vivienne. While things feel tensed and awkward between Adam and Eric. All in all, we see all our characters in a state of vulnerability which is dealt with in an immensely warm and realistic manner. The episode doesn't have the usual cringe humour of the previous ones, but deals with far more intense as well as important issues.
This is the first time 'Sex Education' addresses the issue of sexual assault. It is also interesting that it does this through Aimee's character, as she is kind, but slow, and easily one of the most lovable characters in the series. It becomes important that Aimee doesn't initially realize that she has been assaulted. Her reaction isn't what's usually typically portrayed on screen. But this makes it all the more honest – as it is one filled with confusion, fear, and humiliation.
The episodes of the second season seem to be growing increasingly mature and we see our characters exposed to new situations. But this time, it goes deeper than sex. The season tackles everything that comes with it, mostly the intricacies of intimacy that leaves one feeling exposed. It is also refreshing to see the season explore more of the adults' relationships. It has a way of making us realize we're all really on the same boat.
With everything that the third episode explores, we can expect an interesting arc to be built around Aimee and Maeve's friendship, as well as around Jackson and Vivienne's bond. Of course, some trouble in paradise is bound to happen as Maeve realizes her feelings for Otis, and Adam sees Eric with Rahim. We will have to wait and watch how the rest of the season deals with all of these.
Read More: Where Was Sex Education Filmed?