One of the most refreshing aspect of 'Sex Education' is the way it breaks the archetypes surrounding its characters. In the previous season, we found our sexually prude sex expert, in Otis. But this time, it branches out and breaks the moulds of its other important characters. We see Maeve as more than just a "bad girl" stereotype. She is brilliantly bright, fiercely independent, but also the most empathetic character we see this season. With Jackson's and Viv's unlikely bond, the series explores this further, making theirs the warmest friendships we see this season.
Speaking of friendship, we have Otis and Eric stuck in similar dilemma where they have to choose between what their hearts want and what they think is right. But what will they choose? The fifth episode the second season of 'Sex Education' is all about choices, and well, their consequences. Unfortunately for our friends in Moordale, this proves to be quite tricky as they may be stuck either way.
SPOILERS ALERT!
Sex Education Season 2 Episode 5 Recap: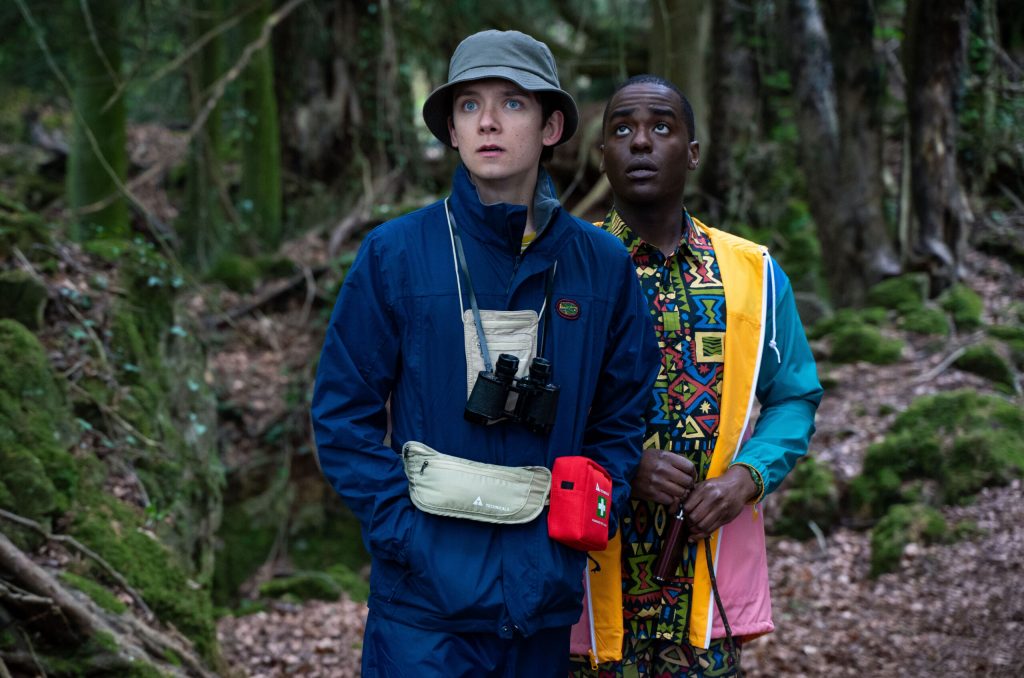 Otis and Eric take a break from the drama in their lives and leave for a hiking trip in the woods with Remi. But things go horribly wrong as Remi pretends to know what he's doing. The three get lost in the woods during a heavy storm, and finally end up at a hotel.
Ola has dreams in which she's kissing Lily that she can't stop thinking of. She takes a sexuality quiz online and learns that she could be pansexual. Meanwhile, Jackson helps Viv with Dex and takes her to the shop where he works. Viv successfully gives Dex her number. Jackson and Viv share a heartwarming conversation on their way back. We also realize that Aimee is unable to get physically intimate with Steve after the incident in the bus, but shrugs it off.
Maeve attends Erin's NA meeting but leaves midway in anger as she feels Erin is still making excuses. She runs into Isaac who makes her come for the dance lessons the brothers teach. Maeve awkwardly dances with an old man and later has warm and interesting conversation with Isaac. When she goes back home, Erin breaks down while Maeve hugs her.
Jean is still having space issues with Jakob and lashes out as he makes her a pan-shelf. She finally confesses that she kissed Remi. She then goes back to her vagina workshop which has Maureen in it. Jean gives a Maureen a vibrator, which Maureen makes use of in her bathroom. Later, she tells Groff that she wants a divorce.
In the hotel, Eric finally tells Otis about Adam, explaining the reason why he's been ignoring Rahim. Otis doesn't take it well, and the two exchange some harsh truths about their relationships. But they eventually deal with it maturely. Otis also consoles his father when he realizes Delilah left him. It is only the next day that he learns that his father cheated again, and ends up feeling hurt.
Jean comes to the rescue and takes the boys home. The friends finally make their decisions, with Otis messaging Maeve that he can't see her anymore, and Eric choosing Rahim over Adam. But things take another turn, when Ola breaks up Otis, telling him that they do not love each other. She goes over to Lily's and kisses her, but Lily doesn't take it well.
Sex Education Season 2 Episode 5 Review:
When Ola tells Otis towards the end of the episode, "It shouldn't be difficult, Otis. We're sixteen", it sums up everything the episode's trying to do. While our boys try take the rational step in something as irrational as love, compromising on what they really want. But isn't that what's growing up all about? We all make choices. The different choices our characters make ultimately that connect the entire episode together.
What makes the series so honest and warm is the way each one of them tries to do the best they can. But as the season progresses, we often realize that these are missteps. But with our favourite Moordale kids getting a piece of real-life, they soon realize their decisions will not always have good consequences. And in the process, they will end up hurting the ones they love. And it's the same with our hapless adults in the episode.
While Otis and Eric try to do the logical thing, Ola decides to follow her heart. Both of which leaves the characters in unpleasant situations. Even though we don't see it yet with Eric, who chooses someone who isn't ashamed of who he is and who he loves, it is obvious to predict that Eric's feelings for Adam won't suddenly die. Maureen, like in the previous episode, offers a really strong performance in the limited scenes we see her in. We can see the genuine hope and happiness in her face when she realizes she can still experience pleasure. She too finally takes the decision of separating from Groff for her own happiness.
Another theme the episode tackles is the relationships the kids share with their parents. And well, that their parents are just as messed up as them. This we see particularly well with Remi and Erin. One of the strongest lines of the episode has Maeve telling her mother, "We don't end up in bad situations. We make bad choices". But at the same time, Maeve understands that it's only human to make bad choices. Despite all the hurt she feels, she hugs her mother.
A pleasant surprise this episode is the beginning of Maeve and Isaac's friendship. It's also important to note how the series portrays a person with disability, and it doesn't feel forced. Isaac is bluntly honest, empathetic, but also ruthless, nowhere defined by his disability. The season also has a slowly building arc on the #MeToo moment as we have Aimee dealing with the consequences of her assault. This episode we see how it takes a toll on her physical relationship with Steve. It is also impressive how subtly and honestly the series deals with this.
A definite highlight of the episode is the unlikely friendship between Jackson and Viv which slowly and actively breaks the archetypes of the "jock" and the "nerd". We learn the complexities of these characters, and despite their limited scenes, they completely steal the show with their warmth and depth. But now that the Moordale gang has made certain difficult decisions, we can definitely look forward to them experiencing the consequences of these actions.
Read More: Where Was Sex Education Filmed?