'Sex Education' took everyone by a storm when it first released last January on Netflix. It quickly became one of their most successful original shows, and for all the right reasons too. It is easily one of the best and most fun shows on youth we have seen in the past years. The series takes us on a journey of warm but hilarious sexual explorations with its brilliantly crafted characters, and everything that comes with it.
The season 2 premiere of 'Sex Education' brings us back to the awkward misadventures of Otis Milburn, our favourite sexually prude sex expert. This time, we have Otis exploring his own sexuality for the first as he tries to understand love and sex better. As always, there is cringe but there is also warmth. And with all the curiosity and confusion, comes a deep sense of honesty that is refreshing to watch. But there is so much more in store for us. Sex and change are in the air this season, and it seems like our Moordale gang is slowly growing up. SPOILERS ALERT!
Sex Education Season 2 Episode 1 Recap: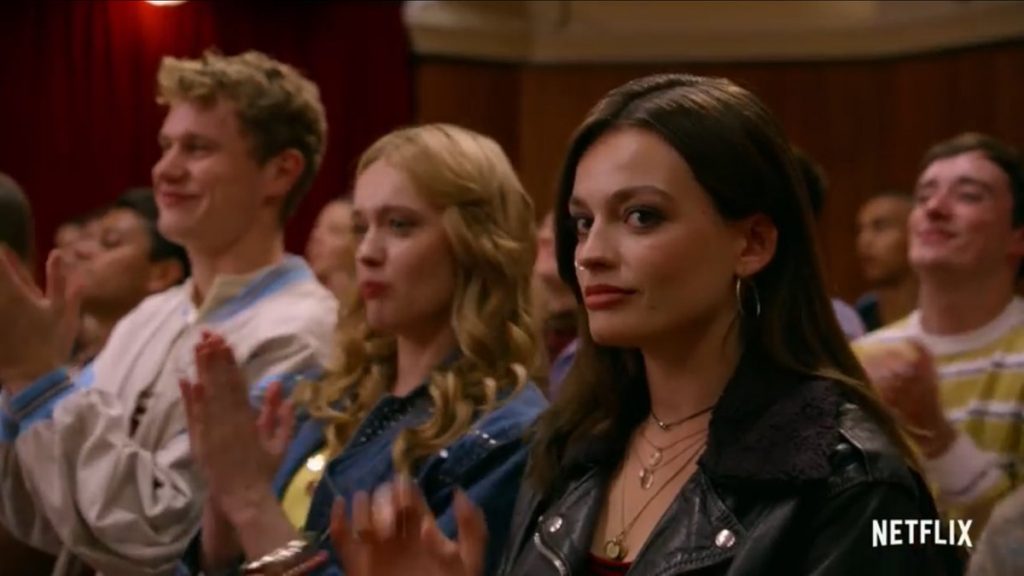 Life moves on for our Moordale gang despite the turbulence they experienced in their junior year. Turns out, Otis has a bit of a "wanking problem". He has recently realized "the power of your own penis", but it ends up putting him in embarrassing situations. We also learn that Jean and Jakob are secretly dating, while Otis is also dating Ola. This inevitably puts the two pairs in a weird spot in one hilarious scene at Jakob's house.
It is Ola's first day in Moordale high, Lily's her chaperone and the two start hanging out. The day stars with a bang as there is a Chlamydia outbreak in Mooredale. Otis does not want to continue with the sex clinic without Maeve, but Eric convinces him to help the students. Otis decides that there isn't a Chlamydia outbreak but a mass hysteria about one. It is believed Fiona from the acapella group spread the STI and is slutshamed for the same even though she is clear. Eric and Otis decide to work together to find out where it all started. They eventually figure it out with some help from Maeve and one crazy girl fight between the girls from the acapella group.
Headmaster Groff is under pressure from the Chairman and calls for an emergency parents assembly. Looking at the lack of knowledge, Jean Milburn takes over addressing the need of correct tools for the students' sex ed, which impresses the parents. Later, the Chairman contacts Jean and asks her to revamp the curriculum.
Maeve works at the pretzel shop in the mall, where she runs into her mother, Erin. The two catch up and Erin tells her that she is clean of drugs and dating a nice man. She speaks of how she is making efforts, but also admits that the man doesn't know about Maeve and her brother yet. Maeve, later, confronts the headmaster and speaks of her potential but he declines. So, she decides to read out the essays she wrote for others to everyone in school. Miss Sands takes a stand for her and tells Groff to re-enroll Maeve.
Jackson's shown practicing but he is unable to focus. He is still hung up on Maeve, but also distressed about his mothers fighting. In an impulsive moment, he puts his hands between the weights, causing himself a metacarpal fracture. We're also introduced to two new characters, Rahim, the new hot French kid, and Maeve's new neighbours, Joe and Isaac. The episode ends with Otis and Maeve deciding to get back to business after Maeve is back in school.
Sex Education Season 2 Episode 1 Review: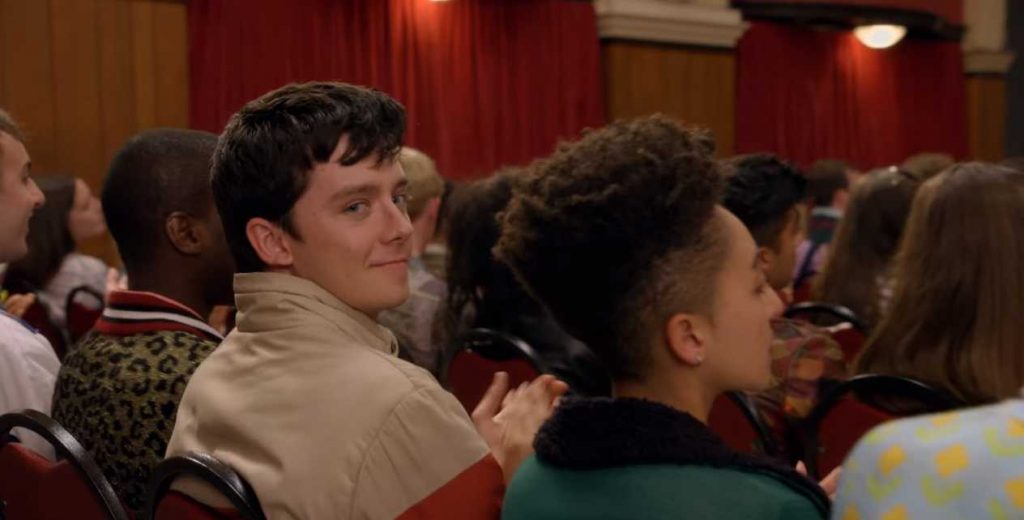 The premiere of the latest season of 'Sex Education' is as crazy, honest, and hilarious as ever. It dives right into the misadventures of Otis Milburn and the Mooredale gang. We learn about Otis's "problem" as he becomes the master of his own device. The initial scenes end up being a series of hilarious masturbation situations Otis finds himself in. It is evident right from the premiere that this season will be all about growing up and adapting to change, and it gets right to it.
Otis is in a relationship, and exploring his sexuality for the first time – something that seemed like a far-dream in the majority of the last season. Maeve is actively getting her life back together and seems more determined than ever. But given her history, and her bumping into Erin, we can assume that there is some intense family drama in store for us.
With Maeve and Otis back in business together, I think we will also be seeing a messy love triangle between Otis, Maeve and Ola. Another conflict that could potentially arise is Jackson and his struggles. We learn that our "golden boy" isn't as shiny as everyone expects of him, and with the way the season begins, he seems like a ticking time bomb if he doesn't healthily confront his issues soon.
Eric finally seems to have a new love interest with Rahim joining school. But we can definitely expect some complications as we're yet to meet Adam. We can certainly also expect Ola and Lily to develop an interesting friendship with whatever we have seen so far. Hopefully this season, we will also learn more about Ola's sexual explorations.
The episode is an absolute delight to watch with its hilarious but honest take on sex and growing up. The series has the rare ability of letting each of its supporting cast breathe, stand out, and shine. It does get a little over-the-top, and certainly doesn't have a filter. But that doesn't really matter as the series is essentially a warm sex comedy which deals with the coming of age of its very diverse characters, allowing each of them space to grow into something more. Despite its flaws, I can certainly say that 'Sex Education' is one of the most important shows about growing up in the past years, and with the way it begins its second season, it is definitely here to stay.
Read More: Sex Education Season 1 Recap