QVC has gained immense popularity because of the wide range of products it introduces to its viewers. With shopping choices ranging from home decor to fashion, it has been able to offer a wide variety of materials that make shopping irresistible. The hosts are the face of the network and Sharon Faetsch is one of the hosts who has been able to amass a solid fan following over the years with her appealing personality and skills. Even though it has been a long time since she has been a part of the network, fans are curious to know her whereabouts. If you are interested in more details about the former QVC host, we have got you covered. Let's get into it, shall we?
Who is Sharon Faetsch?
Sharon Faetsch worked as a singer for about six years before she made her mark as a host in the entertainment industry. Born in New York in 1974, Faetsch was raised with her sister, Barbara, and was trained in classical music for 7 years during this time. She started working with Farrington Entertainment and Productions as an actor and a singer in 1999. She was cast in the super hit Paramount Pictures production 'Star Trek: The Experience' and was busy with this project till 2002. Alongside, she had been working as an actor and performer at Excalibur Hotel & Casino in Las Vegas from 2001 to 2003. She can also be seen in Kelly Shwarz's 2001 film titled 'The Sin.'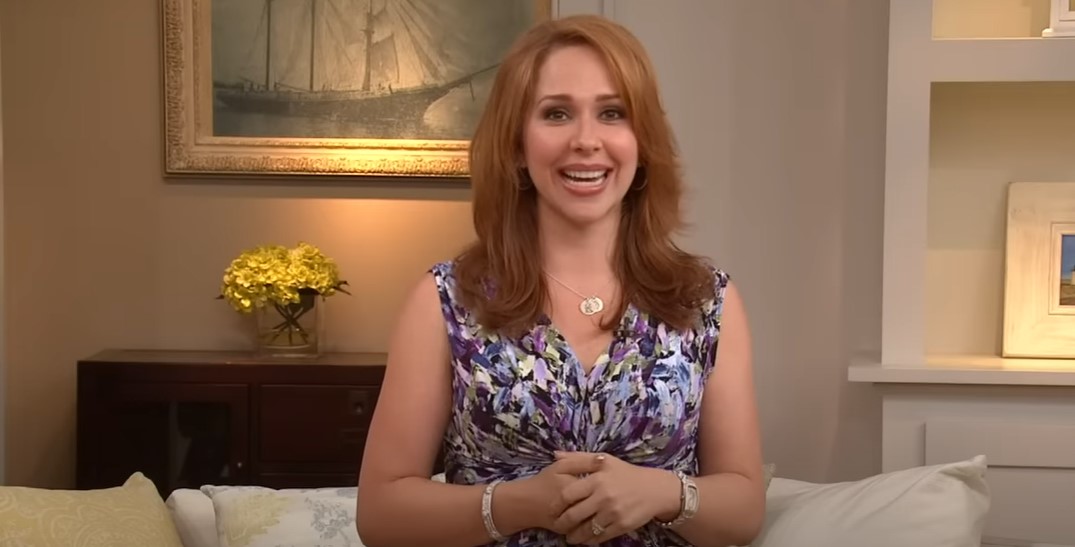 Interestingly, Faetsch auditioned as an anchor for QVC in 2002 also but she missed the chance because of her wedding. It was in 2003 that she was offered the role of a host at QVC, which paved the way for her unprecedented popularity and success. She quickly caught the eye of the viewers with her sweet and warm disposition and her great sense of humor. Faetsch gathered a lot of love for the food shows that she hosted but also sold fashion, sports gear, and jewelry over the course of 18 years that she spent with the network. Along with this, she also appeared in QVC's sister channel, QPlus, and gave admirable fashion tips.
After years of entertaining the audience, Faetsch announced her retirement from the show in the first week of November 2018. While her fans speculated about the reasons for her departure, she spilled the beans on her decision to leave by sharing a heartfelt post on Facebook that read: "At 11 and 9 years old, my kids certainly aren't getting any younger, and I want to spend more time just being a mom. QVC has been such a wonderful place to work and I will always remember the amazing time that I spent here. My last show will be on Wednesday, November 21st." Naturally, Faetsch was given a heart-warming on-air farewell and her co-stars heaped praises on her while bidding adieu to their longtime friend.
Where is Sharon Faetsch Now?
While leaving the show in 2018, Sharon Faetsch had promised her fans that she would keep them updated with her life through social media, but we did not hear from her for about 4 years. However, much to the delight of her fans, she made a comeback with a delightful Instagram post for Thanksgiving in November 2022. Faetsch made a reappearance on the QVC channel with Mary Beth Roe and David Venable for two shows consecutively in the first week of May 2023 and has appeared on the network a few more times in collaboration with Oak Valley Farms of the Rastelli family of brands.
She currently lives in Philadelphia, Pennsylvania, with her husband of 21 years, Langdon James, and their two kids, Kaylee and Desmond. The television host and actress also has a fur baby the entire family dotes on — a Great Dane named Porter. Her husband is a comedian and the founder of BuzzTown Digital Marketing, a digital marketing firm. Sharon continues to enjoy quality time with her kids and is watching them grow up, as she has always wanted. Apart from sharing her professional endeavors, Sharon Faetsch often shares tidbits from her life behind the camera.
The host shared a heartfelt post for her daughter on the latter's 16th birthday in 2023 and also had an adventure-filled day with her son for his 14th birthday. They had an immersive experience as they raced against the clock to find their way out of an escape room. The mother of two also went indoor sky-diving with her kids and shared snippets of them having the time of their life on Mother's Day. From what we can tell, Sharon is having very fulfilling years with her family and is awaiting many more fruitful years together. There are lots in store for this inspiring woman!