'First Wives Club' by showrunner Tracy Oliver is a TV adaptation of a 1996 film of the same name with a race-swapped cast, released in 2019. The story follows three women, Ari, Bree, and Hazel, who become sisters-in-suffering after each of their marriages fall apart. The trio harnesses its girl power and they band together to support one another in tough times and exact revenge on their ex-husbands. The show is a light-hearted drama comedy that follows flawed but dependable friends, who help each other have fun in life. The revenge dynamic adds a zing to the feminist buffet served by the series, which is bound to leave fans wanting more shows like 'First Wives Club.'
8. Lipstick Jungle (2008-2009)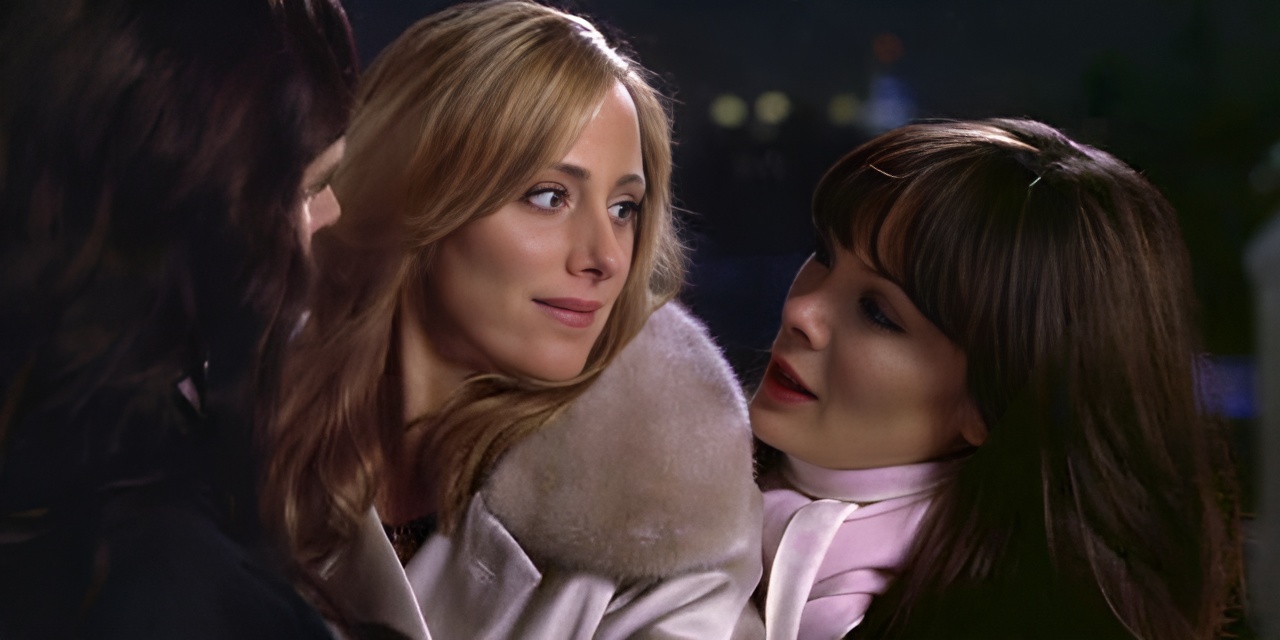 Three of New York's most powerful women, Nico, Wendy, and Victory, are always there to support each other through thick and thin and also to just have a great time in New York City. Nico is the editor-in-chief of Bonfire magazine, Wendy is the former president of Parador Pictures, and Victory is a fashion designer.
The drama comedy series, by showrunners Eileen Heisler and DeAnn Heline, induces infectious smiles as the three navigate their crazy lives, and fall in and out of romances, while always having each others' back. The women challenge gender stereotypes and break through the glass ceiling without losing an ounce of feminine charm. The show has much in common with 'First Wives Club,' especially in having feminist messaging while being an absolute comedic treat to behold.
7. Insatiable (2018- 2019)
Having been ruthlessly bullied at school for being overweight, 17-year-old Patty Bladell returns one summer having completely slimmed out. As the former looks of loathing turn into those of jealousy and desire, Patty realizes she is free to choose her path in school, and she chooses revenge. Wanting to make those who bullied her suffer through what she had, the newly formed diva takes a path of mutual destruction.
Lauren Gussis's 'Insatiable' tells a sympathetic tale of the struggles of being outcasted and the lengths one will go to for revenge upon gaining the power to do so. If you laughed gleefully at the revenge plots in 'First Wives Club,' 'Insatiable' will take you on a hysterical trip to a crazed power fantasy that manages to remain grounded in its portrayal of characters and their flaws.
6. Kevin Can F**k Himself (2021-2022)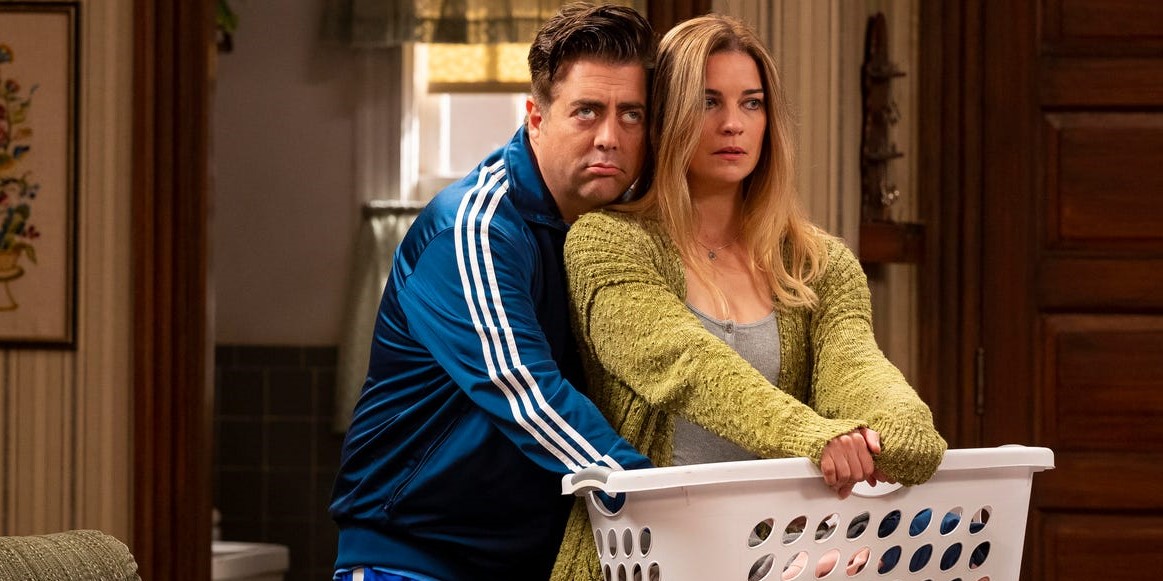 The series by Valerie Armstrong follows a seemingly simple married woman, Allison McRoberts, with a pleasant sense of humor and a settled life. But beneath the surface, she is boiling with rage at the injustices in her life, all of which are personified in her man-child of a husband, Kevin. Confiding in her best friend, Patty, she resolves to kill her husband, and if that doesn't work, to flee somewhere she won't be found. The show is a cathartic letter written to those feeling stuck in their lives, afraid of taking any extreme measures to escape their dilemmas.
Where 'First Wives Club' has its protagonists taking control of their lives and getting back at those who have wronged them, Allison decides to follow a similar path, but one which takes her on a darker road. The series blends conflicting genre tropes, as the story goes from a wife in a sitcom with a multi-camera setup, to a woman on a mission with a single-camera setup of crime dramas.
5. The Great (2020-2023)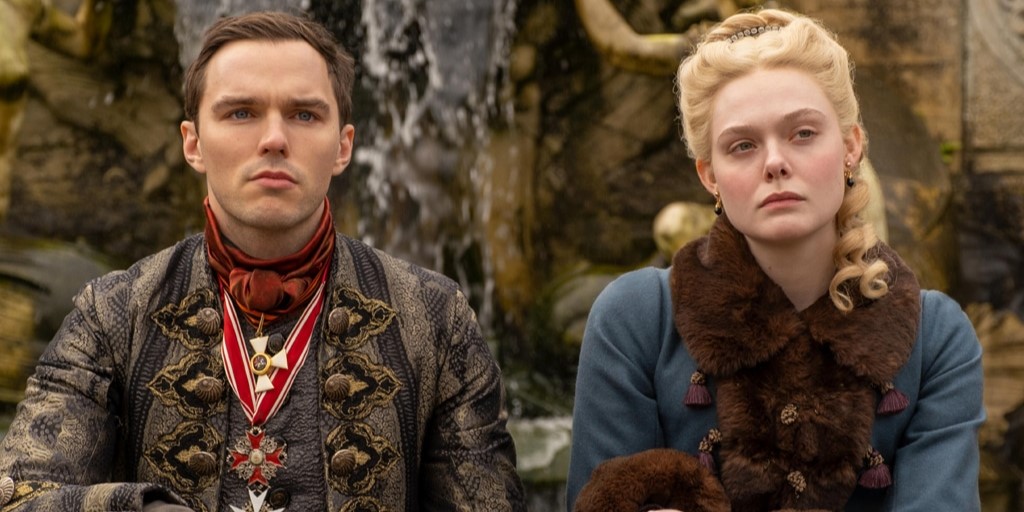 'The Great' helmed by creator Tony McNamara is a satirical comedy on the life of Queen Catherine the Great of Russia, the nation's longest reigning female ruler. The narrative follows a young Catherine (Elle Fanning) married to Emperor Peter III. She struggles with enacting reforms, being opposed by commoners and nobility alike, while in couple's therapy with her dimwitted husband (Nicholas Hoult).
The series derives its power from great writing and the deadly rivalry between the empress and former emperor. Despite its absurdity and silliness, the series takes on deeper topics of governance, religion, idealism, and enlightenment. If you liked the trio discussing and challenging the norms in Tracy Oliver's show, 'The Great' will take you into a story filled with discourse of outdated traditions, and changes brought about by a feminist powerhouse.
4. Dollface (2019-2022)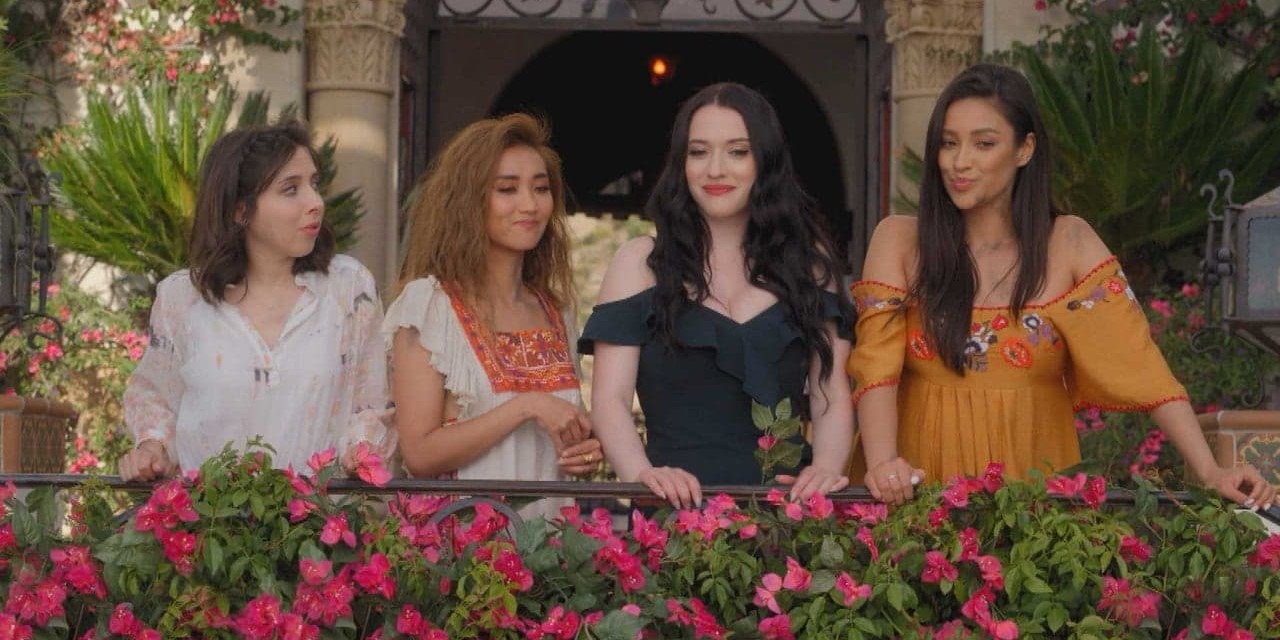 'Dollface' by creator Jordan Weiss, tells the story of a woman going through a breakup with a parallel plot of surreal sketch-like meta-commentary on boyfriends, rebounds, long-term goals, and the importance of friends. Jules Wiley (Kat Dennings), is dumped by her boyfriend of five years, which makes her realize that she has no life of her own. Having lost touch with all her friends and her own ambitions, Jules peevishly sets about reclaiming her life, one awkward encounter at a time.
The show stands out with a sense of self-awareness for its genre, which takes the form of a woman with a CGI cat head, who explains to Jules her own situation and provides general knowledge regarding the struggles of life as a single woman. If you found the comedic exploration of the women's world entertaining in 'First Wives Club,' Dollface will add to it with self-deprecating humor and a group of friends that are supportive and sassy in equal measure.
3. Don't Trust the B—- in Apartment 23 (2012-2013)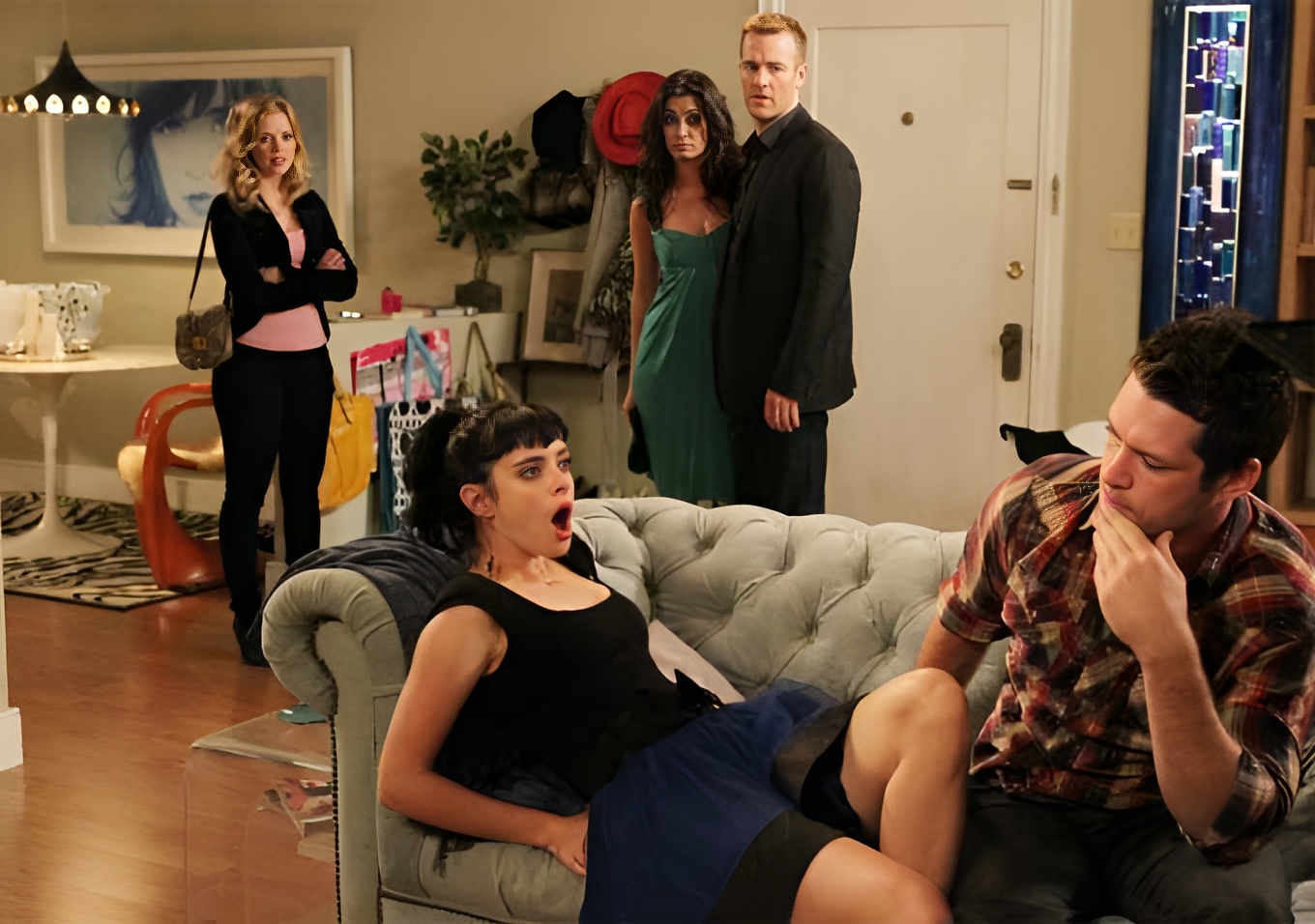 June, a sweet and trusting small-town girl who's moved to New York for work, takes up residence with a sly vixen, Chloe (Krysten Ritter). June is overjoyed at first, until she realizes Chloe is stealing from her, and responds in kind by selling off the furniture. Not expecting retaliation, the swindler ups the ante by seducing June's boyfriend and having her walk in on them. In another unexpected twist for Chloe, a weeping June thanks her, for saving her life from being wasted with the cheating man.
They become close friends and have hilariously audacious adventures as Chloe shows her the ropes of city life. Creator Nahnatchka Khan brings us a drama-comedy series that benefits greatly from its lead women having polar opposite personalities. Fans of 'First Wives Club' are sure to find a scandalizing funny, yet heartwarming show in 'Don't Trust the B—- in Apartment 23.'
2. The Marvelous Mrs. Maisel (2017-2023)
Midge Maisel (Rachel Brosnahan) is living the dream she had planned throughout her life. She is the perfect wife, supporting her husband in everything he does, while managing the household, and bringing up their two children in 1950s Manhatten. Her idyllic reality is shattered when she discovers that her husband has been cheating on her with an airhead secretary. She is now forced to take another look at her life, and walks onto the stage of a comedy club in a drunken stupor, ranting about her misfortunes. The evening's uproarious applause set her on the path of a comic in the male-dominated world of stand-up comedy.
The Amy Sherman-Palladino creation finds its pivotal point in its titular character. Midge is quick-witted, sharp, and relatable. The authentically portrayed backdrop of 1950s Manhatten lends a suave sophistication to the show, while all its characters put on brilliant performances. Fans of 'First Wives Club' who enjoyed its empowering narrative, will revel in the discourse of 'The Marvelous Mrs. Maisel' as the titular character rediscovers herself and takes complete charge of her own story, having her revenge by living her life to the fullest.
1. Harlem (2021-)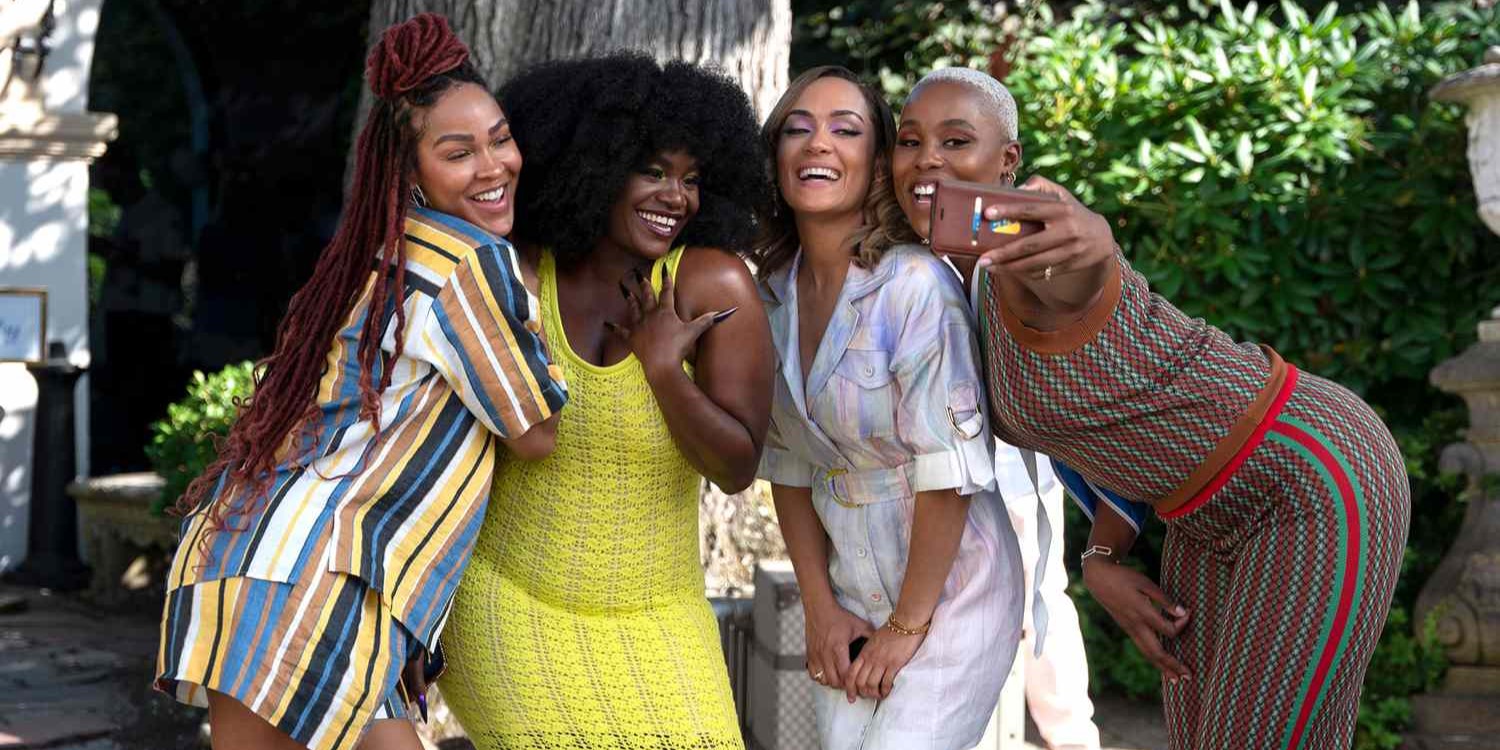 From Tracy Oliver comes another show thematically similar to 'First Wives Club.' 'Harlem' follows a quartet of friends who met in university, and regularly gather to share their woes and triumphs while living in Harlem. In showcasing the issues encountered by our leads in managing their love lives, the show manages to hit a sweet spot of ridiculous yet believable instances. Through its all-Black lead cast, 'Harlem' delves into the dynamics and diversity within Black communities, presenting humorous insights.
It examines the challenges of contemporary Black dating, notably for Black women, from the scarcity of educated men of color to the internal criticisms faced when dating outside their race, a disparity more pronounced for Black women than men. The show shines brightest not just in its bedazzling outfits, but also in its writing and sharp humor. All the actresses seem to be perfectly at home in their roles, their performances elevated by astute direction. Fans of 'First Wives Club' will without a doubt fall in love with 'Harlem.'
Read More: Best Movies About the Complexity of Women