ABC's '20/20: She Was Almost Home' covers the aftermath of the abduction and murder of 20-year-old Sierah Joughin in Delta, Ohio, in late July 2016. She was kidnapped while cycling with her boyfriend of seven years, who had departed for home, sparking a nationwide media campaign and the involvement of several local and federal law enforcement agencies. If you're curious to learn more about the case, including how Sierah was killed and her killer's identity, we've you covered. Let's begin then, shall we?
How Did Sierah Joughin Die?
Sierah "Ce" Catherine Joughin was born to Sheila Vaculik and Tom Joughin in Sylvania, Ohio, on February 11, 1996. An Evergreen High School graduate, she was embarking on her junior year at the Junior College of Business at the University of Toledo (UT), actively participating in the business fraternity Alpha Kappa Psi. Volleyball was her persistent passion — from high school to intramural play at UT. At the time of her murder, Sierah was dedicated to an internship at ICE Industries, where she aspired to build a career in human resource management post-graduation.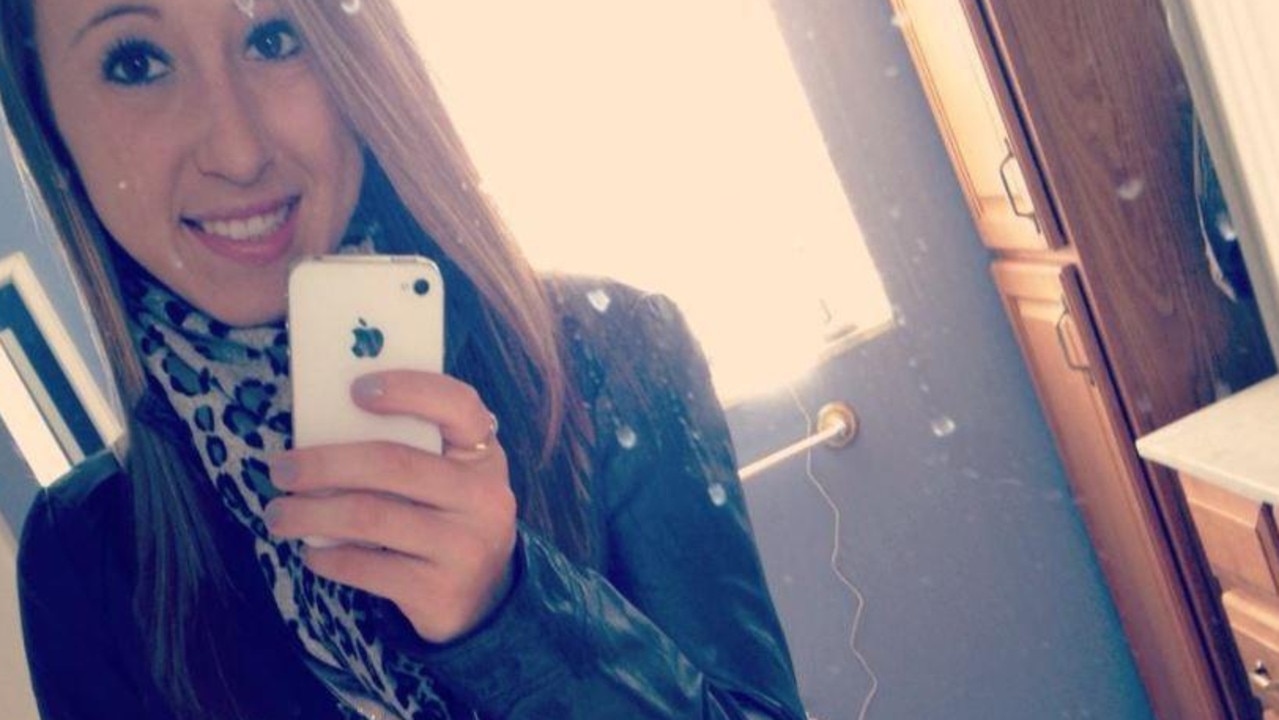 She was profoundly grateful for the opportunities that came her way, consistently making the most of each. Her great sense of humor complemented her vibrant spirit as Sierah's zest for life extended to her love of travel, highlighted by her memorable journey through Italy. She cherished both rural and urban living and had a deep affection for horses. Family and their cherished traditions held significant importance in her life, and she treasured the moments they had spent together at Coldwater Lake. The 20-year-old interned at her uncle's metal stamping business in July 2016.
News reports state Sierah had been cycling alongside her boyfriend, Josh Kolasinski, on July 19, 2016, until they went their separate ways near County Road 6 around 6:45 pm close to Evergreen High School in Metamora, Ohio. Her family reported her missing that same evening when she failed to return home. Law enforcement discovered her purple bicycle a short distance from her last sighting, deep within a cornfield. Contemporary media reports quoted erstwhile Fulton County Sheriff Roy Miller disclosing signs of a struggle where her bike was found the same day.
The authorities discovered the 20-year-old's remains in a shallow grave in a field along County Road 7 in Delta, Ohio, on July 22. She was hogtied and had a large plastic toy in her mouth that functioned as a gag. Police sources state the officials found Sierah wearing an adult diaper. After conducting an autopsy, the medical examiner determined Sierah died of asphyxiation caused by the gag and ruled out any evidence of sexual assault. Though the precise time of death remains undetermined, the doctors announced her demise at 9 pm on July 22.
Who Killed Sierah Joughin?
Police sources stated Sierah's boyfriend, Josh, had shared a Snapchat photo of their ride on July 19. Notably, the image captured her wearing a Fitbit fitness band, which authorities made efforts to trace. Also, they revealed that one of the "pings" from her cell phone was near the Michigan border, several miles from the location of her bike's discovery. The police ruled Josh out as a suspect at the commencement of the probe, and he fully cooperated with them. Due to the questionable circumstances surrounding her disappearance, the FBI joined the search efforts.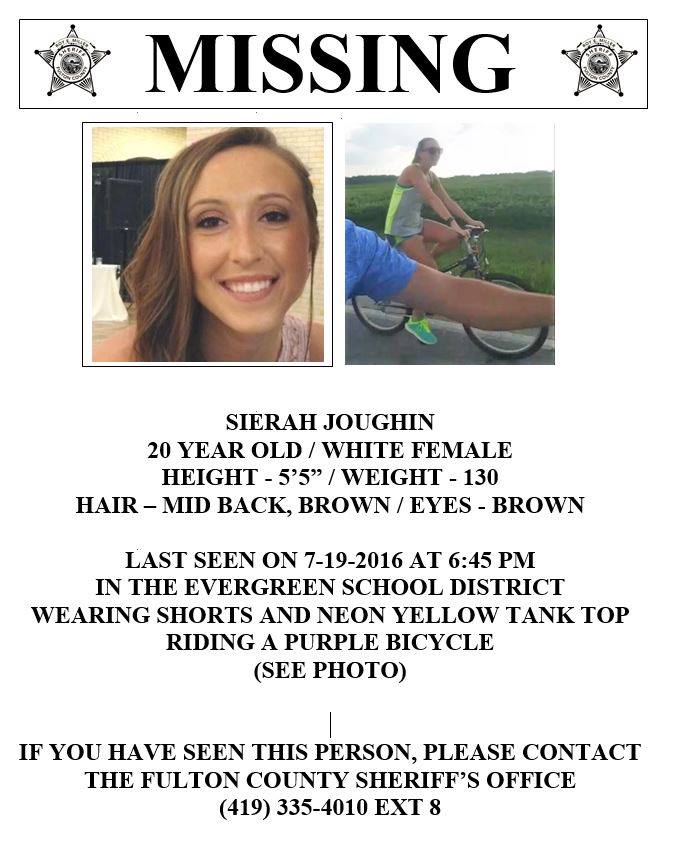 The Fulton County Sheriff's Office contacted the neighboring states' law enforcement agencies while they coordinated hundreds of volunteers as they rallied to search the fields. Sierah's family created a Facebook group titled 'BRING SIERAH HOME!!' in late July 2016 with around 2,500 members, reflecting the community's collective concern and support. As law enforcement officials asked the public for help, an anonymous donor increased the initial $25,000 reward to $100,000 for any information that brought her home safely.
The authorities discovered several items that did not belong to Sierah at the same spot where they found her bicycle. The list of objects included a pair of men's sunglasses (which yielded a positive male DNA match), a screwdriver, and a box of automotive fuses. Additionally, a passing driver came across a motorcycle helmet with a bloody handprint on its surface and handed it over to the police. As officers canvassed the area, they quickly stumbled upon James Dean Worley's residence, who reportedly had a prior conviction of kidnapping and violent abduction.
James had been incarcerated in 1990 for the abduction of Robin Gardner, then 26, who had been cycling along a rural road — a mere 20 miles from where Sierah went missing. Court documents suggested he forcibly collided with her using his truck, causing Robin to be flung into a nearby ditch. James then feigned assistance, stopping his vehicle, but ultimately struck her on the head and forcibly pulled her into his truck. As Robin began to scream, he retrieved handcuffs from his glove box. But she managed to escape by leaping from the truck.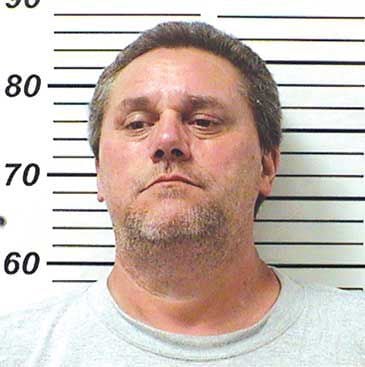 Reports suggested a vigilant motorcyclist, who had noticed her distress, rescued her. However, James was let off leniently as he served just three years of a four-to-ten-year sentence. James informed authorities that he had been on his motorcycle during Sierah's ill-fated bike ride. He explained that his motorbike had broken down, losing his helmet, screwdriver, sunglasses, and fuses when he pushed the motorcycle into a nearby field, presumably intending to make repairs. An additional witness in the vicinity recounted observing a passenger van driving recklessly.
The witness promptly relayed the license plate number to the authorities. Upon further investigation, it was revealed that the license plate was linked to James, and the police obtained a search warrant for his three-acre family. While raiding his residence, the detectives uncovered a hidden, makeshift dungeon in a secret chamber concealed behind stacks of hay, where they stumbled upon a chilling assortment of items. Inside, they encountered a freezer, its interior lined with carpet containing blood and women's underwear, handcuffs, rope, and tape.
Amidst the substantial body of evidence against him, it came to light that James' phone had been present where Sierah's bike had been found for a continuous two-hour period on the day of her disappearance. Furthermore, the investigators noted markings on his arms and legs, and the weeks leading up to the attack revealed unsettling internet searches on his part, using terms such as "hitchhiker, helpless, gag, rape, hogtied" concerning pornography. He was arrested on July 22 — the same day Sierah's remains were located a few hours later.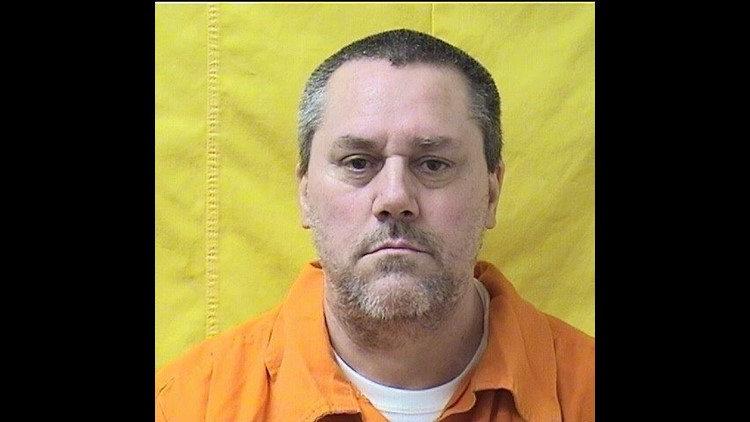 James was indicted on nineteen counts, including kidnapping, abduction, aggravated robbery, possession of criminal tools, tampering with evidence, abuse of a corpse, and possession of weapons while prohibited from doing so. He pled not guilty to all charges while the prosecution demanded the death penalty for the aggravated murder charge. He was found guilty of seventeen of the original nineteen charges on March 28, 2018, and was sent to death row. He was also sentenced to 11 years imprisonment for kidnapping, eight years for felonious assault, 11 months for possessing criminal tools, and 36 months each for tampering with evidence and having weapons under disability.
Read More: Where is Sierah Joughin's Boyfriend Now?