Prime Video's 'Sitting in Bars with Cake' follows the story of Jane and Corinne. Jane is an introvert who has trouble talking to strangers, while Corinne is an extrovert who loves to go out and connect with people. Jane loves to bake, and when Corinne notices that her cakes attract strangers to her in the bar, she encourages Jane to bake cakes and take them to the bars to help her talk to men and maybe find someone she can date.
It starts out as a fun adventure, but when Corinne is diagnosed with a terminal illness, the cakebarring takes a new meaning for the friends. Seeing the two friends go around with cakes all over the city, you might wonder if someone could do that in real life. Is Jane based on a real person? Let's find out.
Is Jane Based on a Real Person?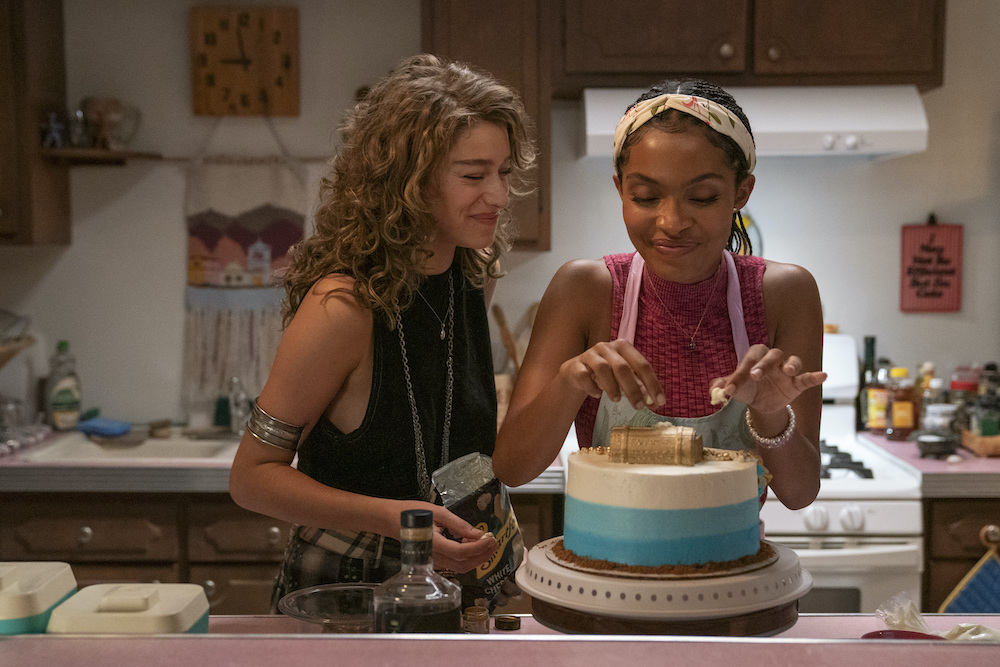 'Sitting in Bars with Cake' is inspired by the cookbook of the same name by Audrey Shulman, who also wrote the screenplay for the movie. She based the story around her own and the cakebarring adventure she had with her best friend, Chrissy. Jane's character is partially based on Shulman as the film takes some liberties and adds a couple of fictional aspects to the film.
Like Jane, Shulman lived in LA with her best friend from college. She loved to bake, but unlike Jane, Shulman worked in the entertainment industry. At that time, she was a development coordinator for an unscripted television production company. But she was still an introvert. The idea of cakebarring was proposed by Chrissy in 2012. That year, Shulman baked a cake for her, and they went to a bar to celebrate Chrissy's birthday.
"We were at Edendale celebrating with our friends back in the summer of 2012, and I was cutting and serving a cherry cake I had made for her. I suddenly realized that all of the guys around us were eyeing me and eyeing my cake. I started offering them pieces, and by the end of the night, I had talked to more guys in an hour than I had all year. It was like romantic-comedy gold, starring the cake as the very unexpected ice breaker," Shulman revealed.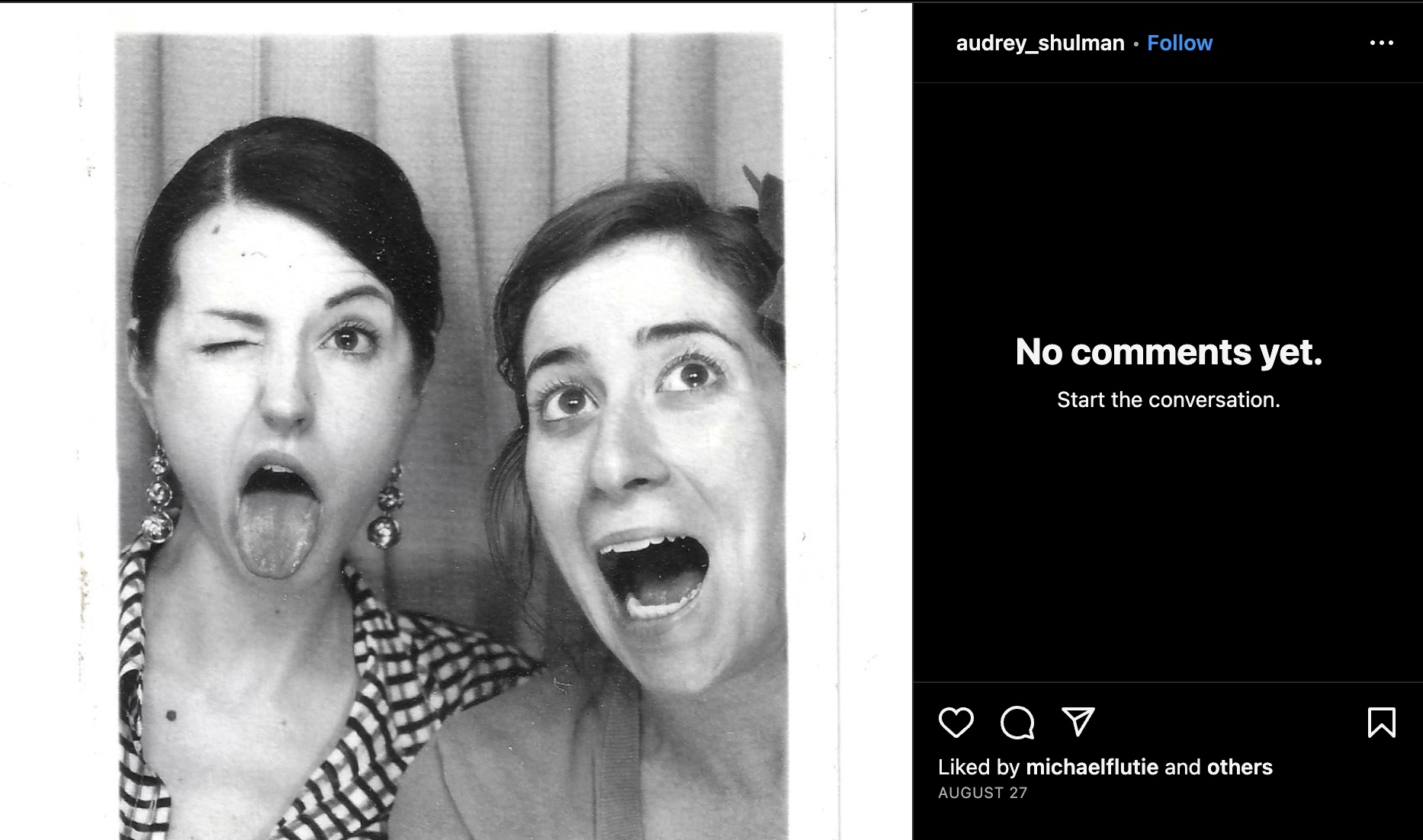 Chrissy joked that Shulman could do this to find a boyfriend. Over the next year, when she was still single, Shulman gave in to the idea and decided to go for 50 cakes in 2013. She found the recipes in cookbooks, online, or through other people. While she was not so confident about it initially, she saw that cakebarring made her more confident and seemed to bring out the best in the people around her. She met all sorts of men during this time, like musicians, fraternity boys, skateboarders, IT workers, an adult filmmaker, a rocket scientist, and a Bulgarian table tennis player. For a brief time, she dated a guy and put the cakebarring on hold.
In June, Chrissy was diagnosed with brain cancer. Later, when Shulman broke up with the guy she'd been dating, Chrissy advised her to take up cakebarring again and complete the goal of 50 cakes. Shulman described it as a "very scary and uncertain time" for them. "We were driving to bars at all hours of the night instead of staying at home and crying. We were decorating cakes when we could have been researching brain cancer statistics on the internet. We were learning how to be with boys at the same time as we were learning how to be with oncologists. It was such a crazy time, but it kind of all melted together cohesively. It was like this fearless year for both of us," Shulman added.
She calls Chrissy, who passed away in 2015, "the biggest champion of the whole project." With her, Shulman completed the goal of 50 cakes. While she was still single by the end of it, the cakebarring and the blog she'd been writing about brought her opportunities to write for The Huffington Post, featuring on The Rachel Ray Show, and landing a book deal.
Where is Audrey Shulman Now?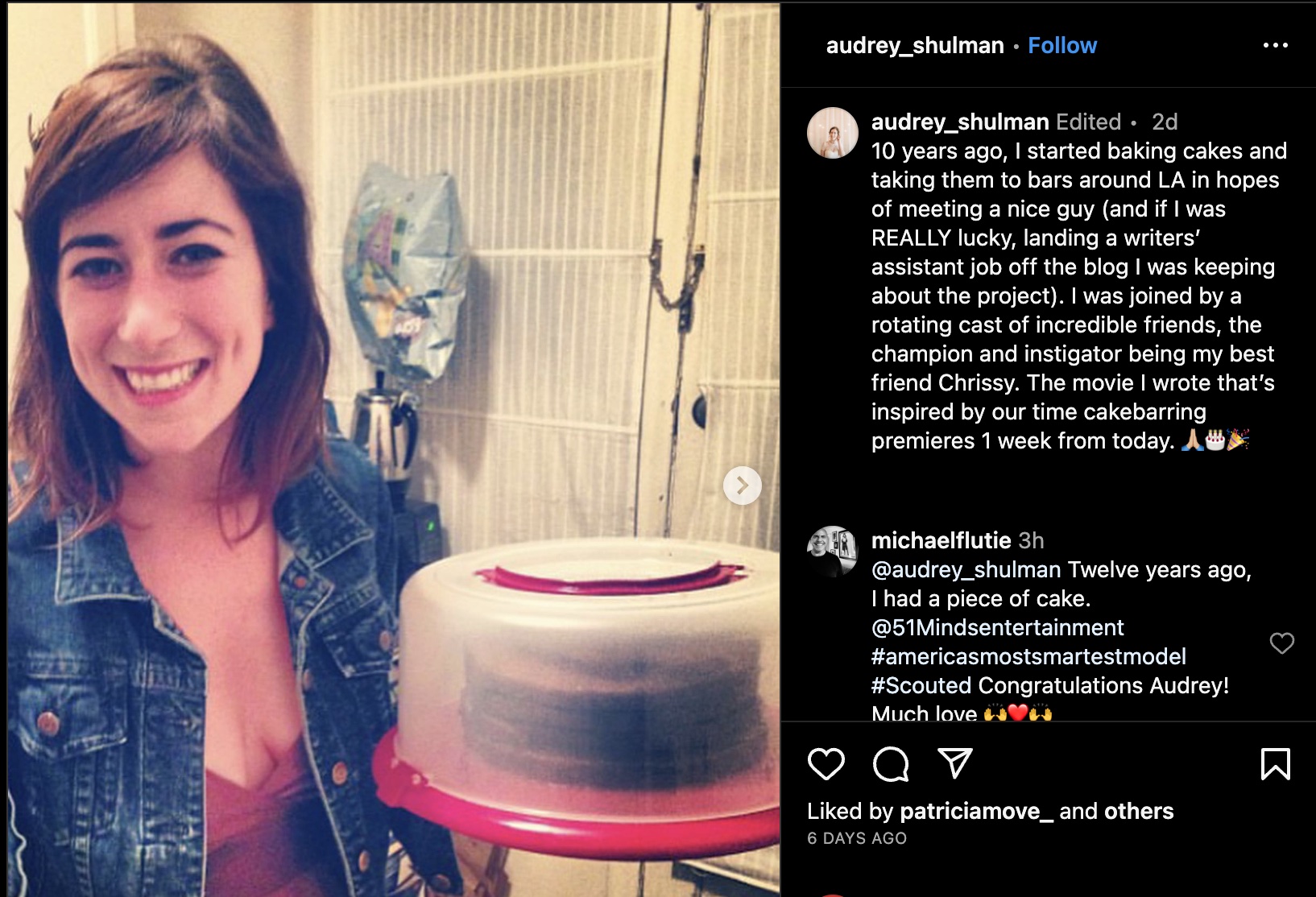 Audrey Shulman lives in Los Angeles, California, with her husband, Jamie, who is a TV producer. She met him while working on her book. Someone who had read her blog reached out to her about setting her up on a blind date. Five years later, they got married in Vermont.
Hailing from Nashville and a graduate of Bennington College, Shulman is a screenwriter for Crown Media Family Networks and a member of the Writers Guild of America West. She has worked as a writer at the Disney ABC Television Group and NBCUniversal and has also written for Hallmark movies. Her writings have appeared in Jezebel, The New York Post, and The LA Times and featured on 'On Air With Ryan Seacrest.' While she has made a name for herself with cakebarring, she doesn't have any formal education as a baker. She loved to bake for her friends and family and learned from watching her mother make all sorts of things.
While cakebarring had started as a project to find a boyfriend for Shulman, it made her realize that she had all she needed, even if she was single. "Chrissy and I had led a very happy coexistence in LA for four years and a happy friendship at college for four years before that – boyfriends were never part of the equation. My life was full and fulfilling, and it could always be so. There was no big empty space waiting for a man," she said.
Read More: Where is Sitting in Bars with Cake Filmed?