The Trish Sie directorial, 'Sitting in Bars with Cake,' is a romantic comedy-drama movie that centers upon two best friends named Jane and Corinne in their twenties. While the former is an introverted but extremely talented home baker, the latter is the ultimate extrovert. With Jane's exceptional talent at their disposal, Corinne manages to convince Jane to bake cakes for a year and bring them to bars in order to meet new people and develop confidence, which is also known as cakebarring. While the two best friends are busy cakebarring, their life turns upside down when Corinne gets diagnosed with a life-altering disease, making the pair go through a challenging period of time.
The Amazon Prime production features heartfelt onscreen performances from a talented ensemble cast, comprising Yara Shahidi, Odessa A'zion, Martha Kelly, Ron Livingston, and Bette Midler. The drama film is a colorful celebration of female friendship, the unexpectedness of life, and finding happiness in the most unexpected of places, all of which are an integral part of society and real life. With so many connections to reality, the viewers are bound to wonder if 'Sitting in Bars with Cake' is rooted in reality or not. Well, if your mind has been curious about the same, allow us to fill you in on all the details!
Is Sitting in Bars with Cake a True Story?
Yes, 'Sitting in Bars with Cake' is based on a true story. In particular, the drama film is inspired by the eponymous book by Audrey Shulman, which in itself is based on her own personal blog. The original blog and the subsequent novel were actually based on the author's real-life experiences. During a conversation with the Los Angeles Times in early December 2013, she shared quite a few details about the origin of the blog.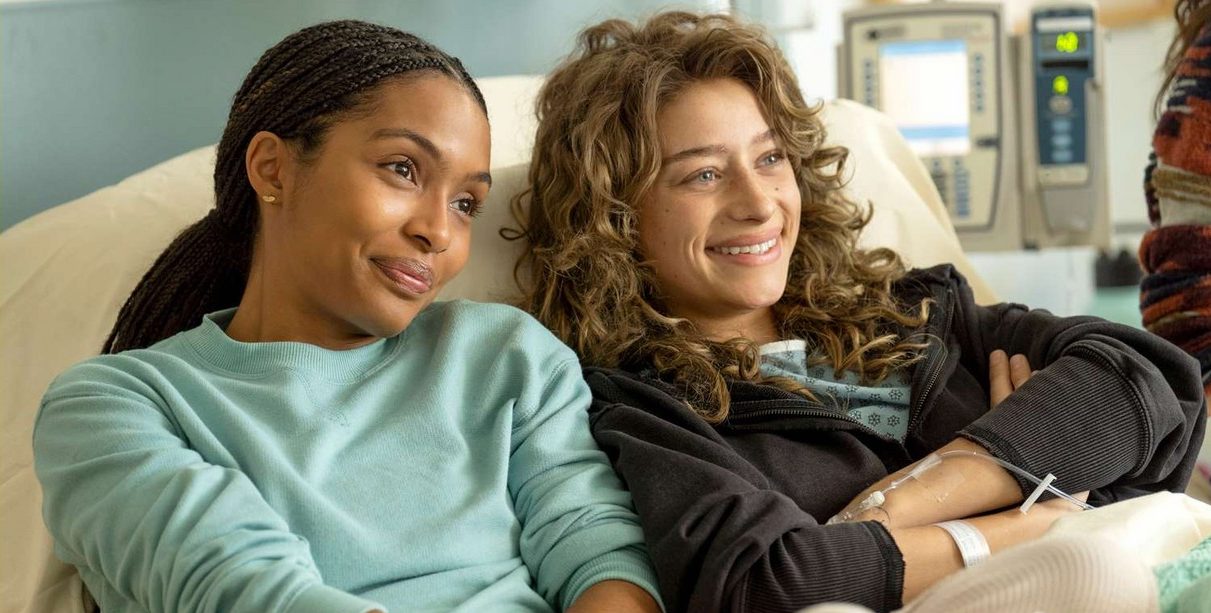 Shulman opened up, "The idea for the blog happened when my best friend suggested it as a joke after I accidentally baited a bunch of boys with her birthday cake. We were at Edendale celebrating with our friends back in the summer of 2012, and I was cutting and serving a cherry cake I had made for her." She recalled that all the guys around her started eyeing her and her cake, which led to her offering them pieces of the cake, and by the end of the night, she had talked to more guys in an hour or so than she had in the entire year.
The author further expanded, "My best friend joked as we were leaving that all I needed to do to find a boyfriend was sit in bars with cake. The rest of the year went by and I was still single, so she pushed me to actually do it and write a blog about it. Come January 2013, I set out with the intention of doing one cake per week. It seemed like a manageable goal, but I fell behind in the spring when I started dating someone. Once things didn't work out, I was baking one or two cakes a week to catch up so I could still try to have 50 recipes completed by the end of this year."
However, there are some differences and modifications that the filmmakers made in the movie adaptation. For instance, the protagonist in the film is named Jane, instead of Audrey Shulman. Although most parts of the movie and the book or blog are alike, including her friend being diagnosed with brain cancer, to whom the film is dedicated, the part where she lost her is excluded from the book but the filmmakers encouraged her to include this true part in the movie. It is known that in reality, Shulman's experiment, which she dubbed "cakebarring," was quite successful and it made her socialize quite a bit.
As a matter of fact, now that Shulman has moved on from cakebarring and is happily married to someone whom she met outside of cakebarring, she still gives due credit to the method as it instilled some much-needed confidence in her to actually have a boyfriend, get married, and even have a baby. Thus, with all the above-mentioned things in mind, we can reiterate the fact that Amazon Prime Video's 'Sitting in Bars with Cake' is based on the real-life events that Audrey Shulman experienced and shared in her blog and eponymous novel.
Read More: Best Food Movies on Netflix