There is no denying that nostalgia sells. The recent boom of revivals in the entertainment industry only proves this further. After all, the masses, and particularly us millennials, love to reminisce our childhood in the glory days of '80s and '90s. You know, all that sweet nostalgia that reminds you of the simpler times. All of which is, of course, successfully capitalized on through films and shows across genres and media.
The past years have seen horror revivals with 'It', sci-fi revivals with 'Star Wars', and even cartoon revivals with the recent 'Pokemon' film and the upcoming 'Scoob!'. So there could really not have been a better time to bring back every '90s kid favourite blue hedgehog from Sega. 'Sonic the Hedgehog', then, not only lets us video games fans see a redesigned Sonic racing onto the big screen. But it essentially introduces the younger crowd to the super-fast, and honestly adorable, blue hedgehog and his adventures.
'Sonic the Hedgehog' is a fun-filled family film than it is a faithful adaptation of the Sega video game. While it is certainly too soon to comment on whether or not it will get a sequel, there is a possibility that it might. The response from critics was largely mixed to positive. But getting a sequel majorly depends on how the film performs over time. So could there be a 'Sonic the Hedgehog 2'? Here's everything we know.
Sonic the Hedgehog 2 Plot: What Can It Be About?
'Sonic the Hedgehog' centers around Sonic, who escapes to Earth from an alternate dimension to save himself and his powers. He lives a quiet existence on Earth for years until an accidental power outage makes him a government target. This eventually leads to Sonic teaming up with Tom Wachowski in order to evade capture from the tyrannical Dr. Robotnik.
This sets the duo on adventure which essentially includes collecting Sonic's rings, and stopping Robotnik from using Sonic's powers for world domination. The film, in many ways, ends up becoming the origin story of Dr. Robotnik and his first encounter with Sonic.
There are multiple reasons for us to believe that there could be a sequel to 'Sonic the Hedgehog'. And the film's end credits even tease it. In fact, the ending sets up a sequel, hinting that there is more in store for us. It hints that the follow-up would feature the beloved Tails. Along with, of course, Dr. Robotnik, who, as we can guess, will eventually transform into the "Eggman" we know him to be.
Another major hint is the name of the town in Montana where Sonic hides. It's called Green Hill, which is the first level of Sega's Sonic the Hedgehog video game. The ending then reveals that Robotnik ends up at Mushroom Hill, setting up future adventures. In original video games, Mushroom Hill is introduced in "Sonic and Knuckle". If the makers stay true to the source material, the sequel could also introduce us to Knuckle.
Sonic the Hedgehog 2 Cast: Who Can Be In It?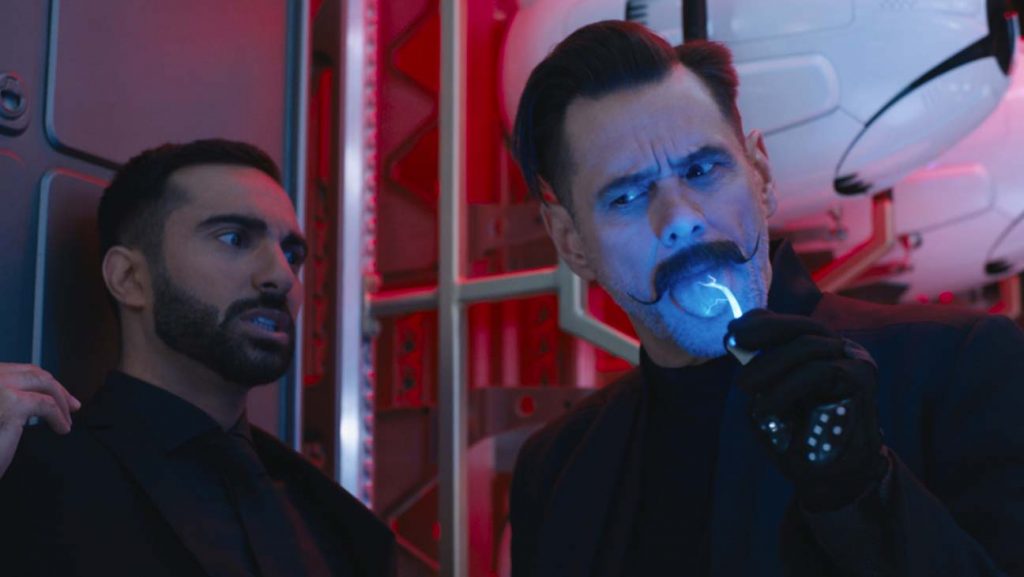 'Sonic the Hedgehog' has Ben Schwartz voicing Sonic, and stars Jim Carrey as Dr. Robotnik, along with James Marsden as Tom Wachowski. The film also stars Tika Sumpter, Adam Pally, Neal McDonough, Frank Turner, and Natasha Rothwell.
For the sequel, we could certainly expect Schwartz, Carrey and Marsden to reprise their original roles. 'Sonic' also offers us a dose of sweet nostalgia with Carrey's performance as the caricaturesque villain. In an interview with Jake Hamilton, Carrey expressed his interest in reprising his role as Robotnik:
"I wouldn't mind going to do another one because it was so much fun, first of all, and a real challenge to try to convince people that I have a triple-digit IQ… There is so much room, you know, Robotnik has not reached his apotheosis."
Sonic the Hedgehog 2 Crew: Who Can Behind It?
'Sonic the Hedgehog' marks Jeff Fowler's feature directorial debut, with a screenplay written by Pat Casey and Josh Miller. The film was produced by Neal Moritz, Toby Ascher, Toru Nakahara and Takeshi Ito, and distributed by Paramount Pictures.
The film was initially supposed to release back in November 2019. But the trailer of the film led to an overwhelmingly negative response from fans on Sonic's design. Fowler took to twitter to inform the fans that Sonic will be redesigned. The team then collaborated with Tyson Hesse, who have previously worked on the franchise, to create a more appealing version of Sonic. The redesign was met with great appreciation.
For the sequel, we could certainly expect Fowler to return to the director's chair. In fact, in a recent interview he expressed his interest in working on a follow-up:
"We had so much fun with this movie and I think audiences are gonna love it, and hopefully they're going to be asking us to make more, which I would do in a heartbeat."
Sonic the Hedgehog 2 Release Date: When Can It Premiere?
It's too soon to say if and when a 'Sonic the Hedgehog' sequel could happen. But it certainly seems like its cast and crew want to turn into a franchise. They also have so much more to explore, as 'Sonic the Hedgehog' ultimately ends up becoming a sort of origin story. So, it ultimately really depends on how much the film collects, and whether or not the studio is willing to greenlight a follow-up. If at all we get the 'Sonic the Hedgehog' sequel, it wouldn't make sense to expect its release date to be sometime around 2023.