In 'Spy x Family' season 2 episode 2 titled 'Bond's Strategy to Stay Alive,' Bond has different visions of the future which he tragically dies. Naturally, it scares him but the most frightening one for him is the one in which passes away after eating food cooked by Yor. In order to ensure that he survives, he decides to find Loid and runs away from home. Elsewhere, Damian's obsession with earning Stella to become an imperial scholar comes back to bite him as he gets into trouble with Henry Henderson, the housemaster.
Bond Helps Loid With His Mission
On another ordinary day at the Forger household, Anya is told by Yor to focus on her homework instead of watching TV all the time. After she goes back into the room, Bond suddenly has strange visions of the future in which he dies in a number of ways. He feels depressed and goes to Anya to say goodbye but is instead told not to disturb her as she is busy with work. Bond feels dejected, when Yor notices him she recalls that there is no dog food in the house. Since Loid won't be coming back home early, she decides to cook a meal for him on her own. Bond is terrified and has another vision of dying after eating the food cooked by Yor.
As he thinks for a while, Bond realizes that he won't have to die if Loid returns home early and cooks the meal himself. In order to make sure that he survives, Bond feels that he needs to help him in his work so that he can be free sooner. Therefore, he runs away from the house. But finding Loid turns out to be a taxing task and he spends hours just wandering different locations in the city- often ending up in some sort of trouble. Finally at some point in the evening, while looking at the city from a tower, Bond finds what he has been looking for.
Meanwhile, Loid is on a mission to steal the sample of the truth serum that is developed by Born Industries, Gerrulimus. However since this is an urgent assignment, he does not get the chance to do thorough research and background checks. Not that he is there, Loid plans to capitalize on his experience alone to complete the mission. Just when he is about to infiltrate, he is approached by Bond. Loid is surprised but eventually decides to keep his pet with him as he appears to not listen to him. All of a sudden, Bond starts leading the way and Loid recalls that Born Industries was involved in Project Apple, so his dog probably knows more about the shady company than him.
Eventually, Bond helps Loid reach the research room where the truth serum is kept. But he suddenly has another vision that the researchers are returning again for some work. He warns Loid and thanks to his intervention, the spy is able to hide. When the researchers are finally in the room, they find a note that says that the truth serum is stolen. One of them panics and opens the locker to check but is confused to learn that everything is safe and sound. All of a sudden they get ambushed by Loid and Bond who knocks them all out. Loid manages to get a sample of the truth sample and promises to treat Bond with a delicious meal- something that he has wanted all along.
Damian Learns a Valuable Lesson on the Field Research Trip
Damian is obsessed with the idea of becoming an imperial scholar, so he has been staying up late to study as much as he can. One morning, he wakes up quite late and is told by the housemaster Henry Henderson to help the Dorm Mother with her work. Emile and Ewen do not like the idea of watching his friend work alone so they deliberately get into trouble so that they get the same punishment to make sure that Damian is not alone.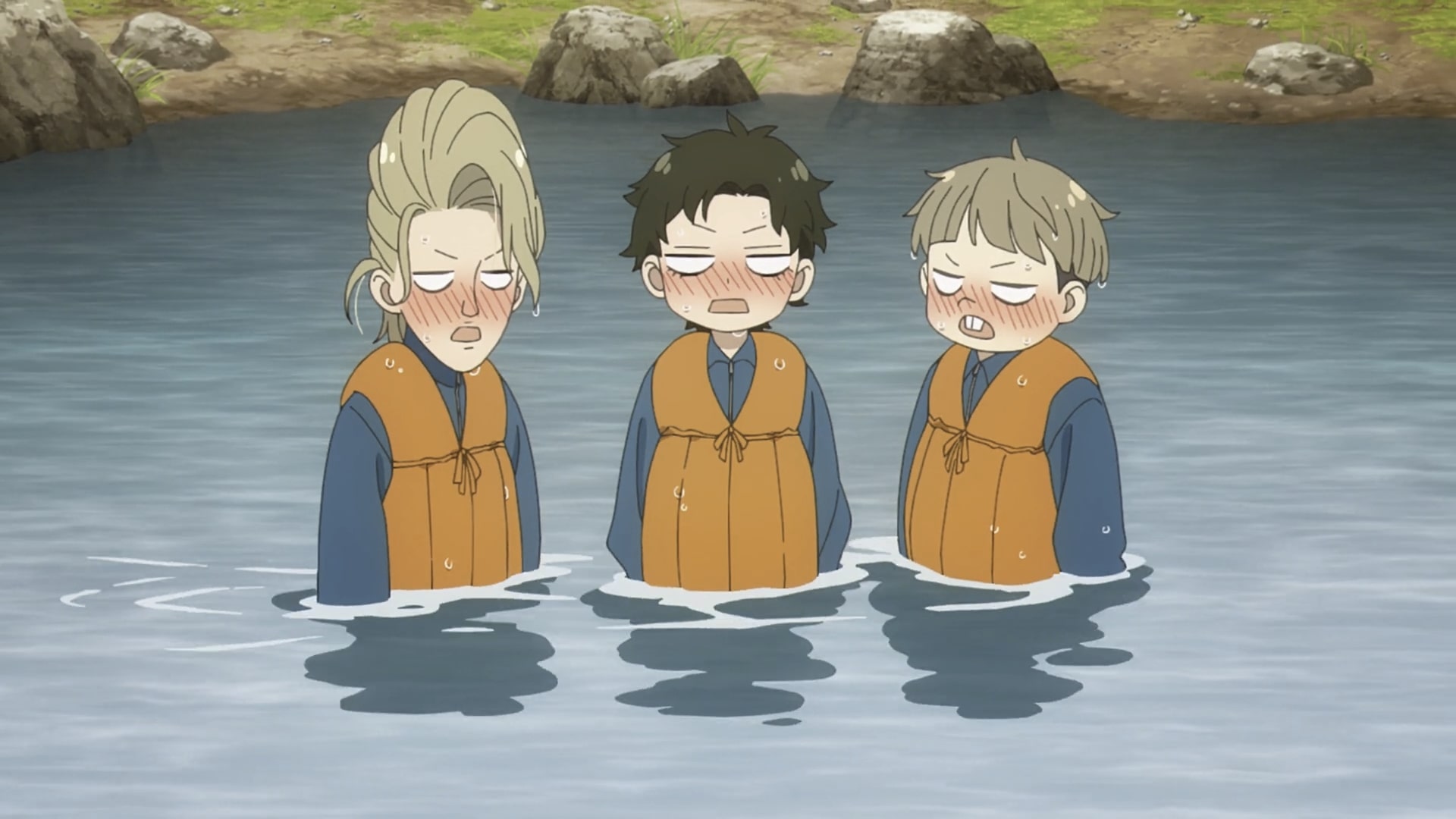 Henry has noticed that Damian is pushing himself too much and to ensure that he unwinds and gives himself time to relax, he tells Mr. Green to take the trio on a field trip. Mr. Green understands the real reason behind Henry's punishment and takes the three friends for boating. While the experience is exhilarating, they end up falling in the lake and their clothes get wet. They set up a fire to heat themself and later that evening decide to catch fish for their meal. When Damian finally gets to have his meal, he is shocked by how delicious it tastes even though he is not afforded the usual luxury that surrounds him all the time.
While this is a memorable experience in itself, things only get better as they hike through the jungle under countless stars. The scenic view is moving and when they reach a lake, they are in awe as the reflection of the stars makes it seem as if they have descended on the earth. This final experience makes Damian let loose and enjoy the present moment as he finally has the realization that life is not just about Stella Stars or becoming the next imperial scholar.
Read More: Spy x Family Season 2 Episode 1 Recap: Anya Save Yor's Life