'Shark Tank' season 14 episode 16 witnessed entrepreneurs John and Manya Clark and family present Tandm Surf, their unique solution to having a fun time in the water with friends and family. While the product is made in such a way that the inflatable surfboard becomes an easy option for anyone with any level of experience to enjoy the waves of the ocean. Tandm Surf appeared earlier in 2021, in season 12, episode 17 of the show, where they pitched their idea of Tandem Boogie to the Sharks.
The Sharks loved the idea, and since then, the family rebranded their company to Tandm Surf, a better and newer version of Tandem Boogie. A lot of things have changed since their last appearance on the show. Well, let's take a look at the product and trace the company's growth, shall we?
Tandm Surf: Who Are They and What Do They Do?
Tndm Surf was the brainchild of John and Manya Clark to enable others to enjoy themselves and create lasting memories while surfing the waves of the sea. Everyone, regardless of skill level, can use this product to engage in water activities with a buddy at their side. Together with their three kids, the couple has spent most of their life surfing and paddleboarding. In order to elevate the experience even further, they created a buddy board, which ultimately became their business.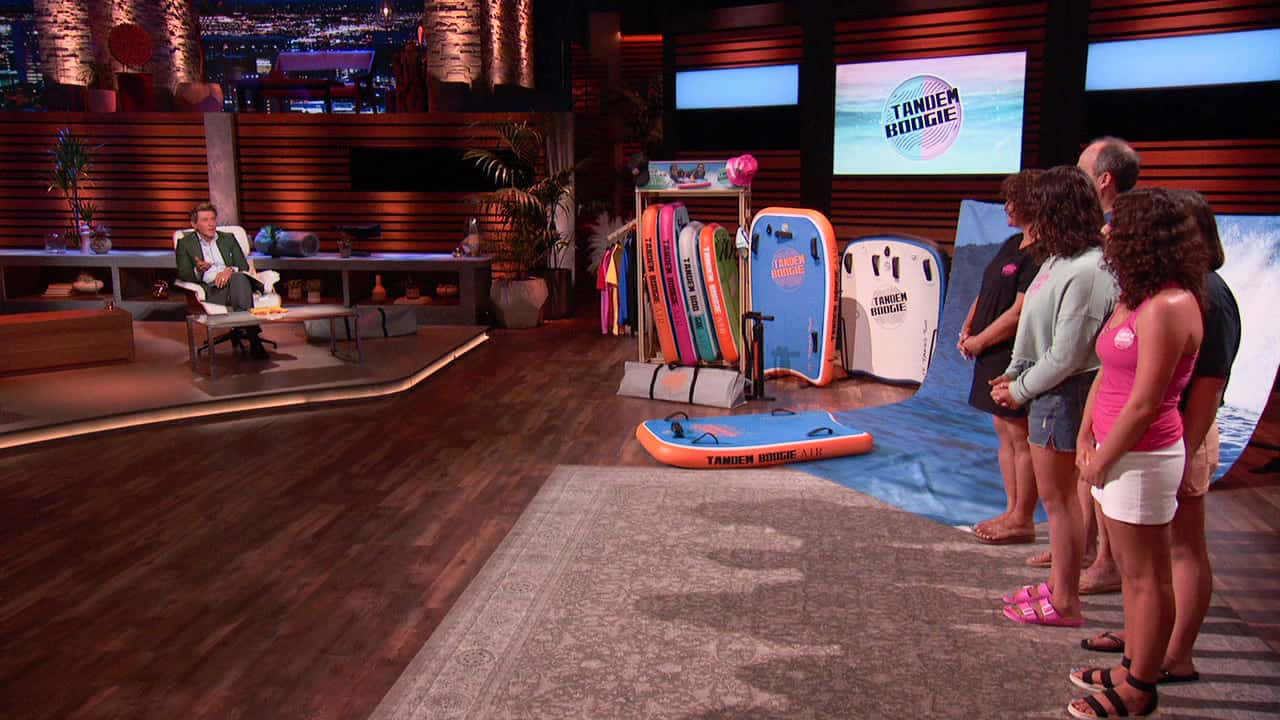 Pace University- Lubin School of Business alum John Clark had been working as the Vice President of sales at Infinite Storage Solutions and Modern Shelving for over two decades before he started out his company, Tandm, along with his family. With their unique professional backgrounds, John heads the production and operations division for Tandem Boogie, while Manya oversees marketing and product development.
Their daughters also play a part in the business, despite the fact that they are now finishing their studies. Juliette is working at Delta Consulting at Berkeley alongside being one of the founders of Tandm and community manager Alleanna is a student at the University of California, Berkeley. But, Lyla, the youngest, owns a clothing and goods business and is excited to pursue business and law in college.
Where is Tandm Surf Now?
Tandm Surf is essentially an inflatable bodyboard. Yet, with a breadth of 34′′ rather than the customary 21, it readily accommodates two persons instead of simply one. Tandem Boogie also differs from other bodyboards in that it is composed of military-grade, high-density PVC instead of polypropylene, among other materials. This makes it more comfortable and softer. Moreover, the material fights corrosion, so the board will keep its appearance and functionality even after being scratched or exposed to chemicals or elements.
The Tandm Surf features internal Dynamic AIR Design (DAD), a Clarks-original technology that utilizes a cross-woven fiber structure to offer each product the stiffness and responsiveness it promises. Each bodyboard also features a built-in camera attachment, robust yet flexible, easy-to-grip grips, and a tail shape that makes it possible to nearly effortlessly cut through waves. For added convenience for the consumers, all Tandm Surf products include a Dual Stage Pump, a backpack, and a maintenance kit.
As of now, for a discounted price of $59 from the previously priced $79, you can buy the Double Barrel Inflatable Bodyboard from the company's official website. Double Barrel Inflatable Bodyboard is a great user-friendly product that's perfect for learning to Ride waves while holding the board grips. They also offer a Tandm surf Tandem bodyboard at a slashed price of only $299. If you're in a bit more adventurous mood, you can try out the 2 Persons Sit+ Sup kayak along with the Stand up Paddleboard combo for the discounted price of $595, slashed from $995.
Customers can also grab the Tandem Surfboard- 9ft x 28 x 4 for hundred dollars less at only $595 from $695. Check out their website and get the best products on sale before summer hits and the products are all sold out. It is inspiring to witness the Clark family's incredible success, and we are confident that the company will grow further in the years to come.