Created by Lena Waithe, 'The Chi' is a Showtime drama series that sheds light on the lives, dreams, and aspirations of various residents of Southside Chicago. Violence has impacted the lives of almost all the characters, transforming them into the people they are now, for better or worse. In season 6 episode 5, titled 'One of Them Nights,' on the threshold of adulthood, the boys and girls face life-altering decisions that are bound to impact the rest of their lives. After a car is stolen, Emmett decides to question Douda's actions but is made aware of the reality of his circumstances rather quickly. Rashaad increasingly starts to realize that there is no escape for him from the life that landed him in prison in the first place. Here is everything you might want to know about the ending of 'The Chi' season 6 episode 5. SPOILERS AHEAD.
The Chi Season 6 Episode 5 Recap
With the day of the prom rapidly approaching, the younger characters prepare for it. Kevin goes out for suit shopping with Emmett and reveals he has received an offer to join a gaming house. However, to do this, he explains, he has to move to Los Angeles. Of all his friends, Kevin is the first to taste real success, and the move to Los Angeles will definitely take his career as a professional gamer to a new level, but his conversation with Emmett puts certain doubts about it in his mind. Kevin doesn't know anything beyond Chicago at this point in his life. If he relocates, he will be all alone in a strange city. Emmett asserts that Kevin must also consider his loyalty to Chicago. If everyone leaves Chicago, Emmett asks, what will happen to the city.
At Smokey's, Papa officially asks Kenya to the prom, and she happily agrees to accompany him. Meanwhile, Douda lends one of his cars to Bakari so the latter can go to prom with his girlfriend. Douda opens the trunk of the car, and there is the bag of weapons that he told Bakari to hide. He explains to Bakari that there will be consequences if he continues to fail him.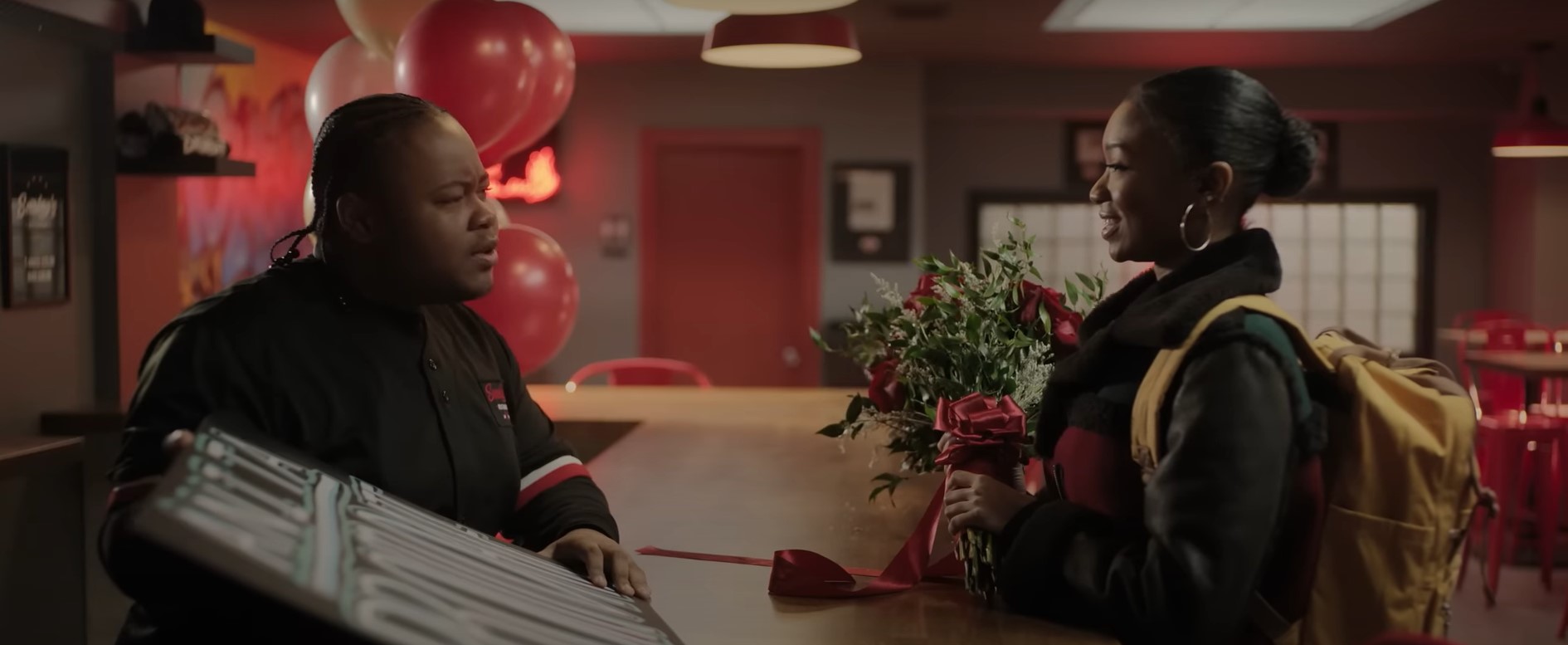 Tiffany visits Kyro for new supplies for her fledgling weed farm. Dante, who introduced Tiffany to Kyro, is also there. Suddenly, there is a loud sound outside. As the three venture out, they discover that someone has stolen Tiffany's car, the same one that Emmett gave her a few episodes earlier. Realizing where it is being taken, Dante asks Tiffany to get into his car and drives to Douda's shop. Soon after, Rob joins them. As terrified as Tiffany and Rob feel, they manage to get the car out. Later, when Emmett hears what happened, he comes to confront Douda, demanding to know why someone working for the older man stole Tiffany's car. To Douda, Emmett is a man he has invested his money in, nothing less and nothing more. Emmett's sudden outburst in front of Douda's employees prompts a violent reaction from the latter, who forcefully reminds the younger man of his place in his enterprise.
Kiesha loses her job as a teacher due to budget cuts and, after repeatedly arriving late to work, and justifiably blames Emmett for not performing his share of parental duties. She later speaks to Dre about her situation, prompting the latter to suggest a therapist.
The younger characters attend prom, marking an important moment in their lives. Victor confides to his chief-of-staff that he helped Douda hide Q's body. After the prom, Papa arrives at Kenya's home and sees a young boy. She reveals that the boy is her son when he asks Kenya if that is her brother.
The Chi Season 6 Episode 5 Ending: Will Kevin Leave Chicago?
Kevin has a tendency to make decisions that seem way too risky both to his peers and people older than him, but they tend to pay off. His career choice is a good example of this. After finding the money he saved, his mother and Dre thought he was dealing drugs. Similarly, Los Angeles is an amazing opportunity for him, even if someone like Emmett doesn't recognize it and tries to appeal to Kevin's emotions.
At the prom, Kevin consults his friends, who encourage him to make a decision that he feels best. He also speaks to his girlfriend, who candidly tells him she would move if a similar opportunity were presented. Having made his decision, Kevin contacts the related parties and lets them know that he has decided to accept their offer to join their gaming house in Los Angeles.
What happens to the Bag of Guns?
After threats from Douda, Bakari takes the guns and convinces Rashaad to keep them. Elsewhere, Kiesha finds the money that Douda's people left with Emmett. Toward the end of the episode, Bakari and Lynae are apprehended by the police with a car that must have been stolen. They are eventually released after their respective families arrive at the precinct,
However, there are bound to be consequences of happened. Jamal, Lynae's brother, made Bakari promise that he would keep Lynae out of trouble. As Bakari hasn't succeeded in doing that, Jamal will actively seek to split him from his sister. Moreover, Papa's family has been kind and loving to Bakari. His continuing association with Douda is bound to cause a rift between him and them.
Read More: The Chi Season 6 Episode 4 Recap and Ending, Explained