Prime Video's 'The Marvelous Mrs. Maisel' crosses the mid-mark of its final season with an uproarious series of events for its eponymous character. Giving us a peek into the future, this episode reveals the shocking fate of one of the main characters while strengthening the foundation of Midge and Susie's careers, the gist of which we've received in the previous episodes. From romance to her professional ambitions, Midge finds herself caught up in an endless cycle of continuously working for things and then making them all the more complicated for herself. Here's a look at everything that happens in this episode and what it means for Mrs. Maisel. SPOILERS AHEAD
The Marvelous Mrs. Maisel Season 5 Episode 5 Recap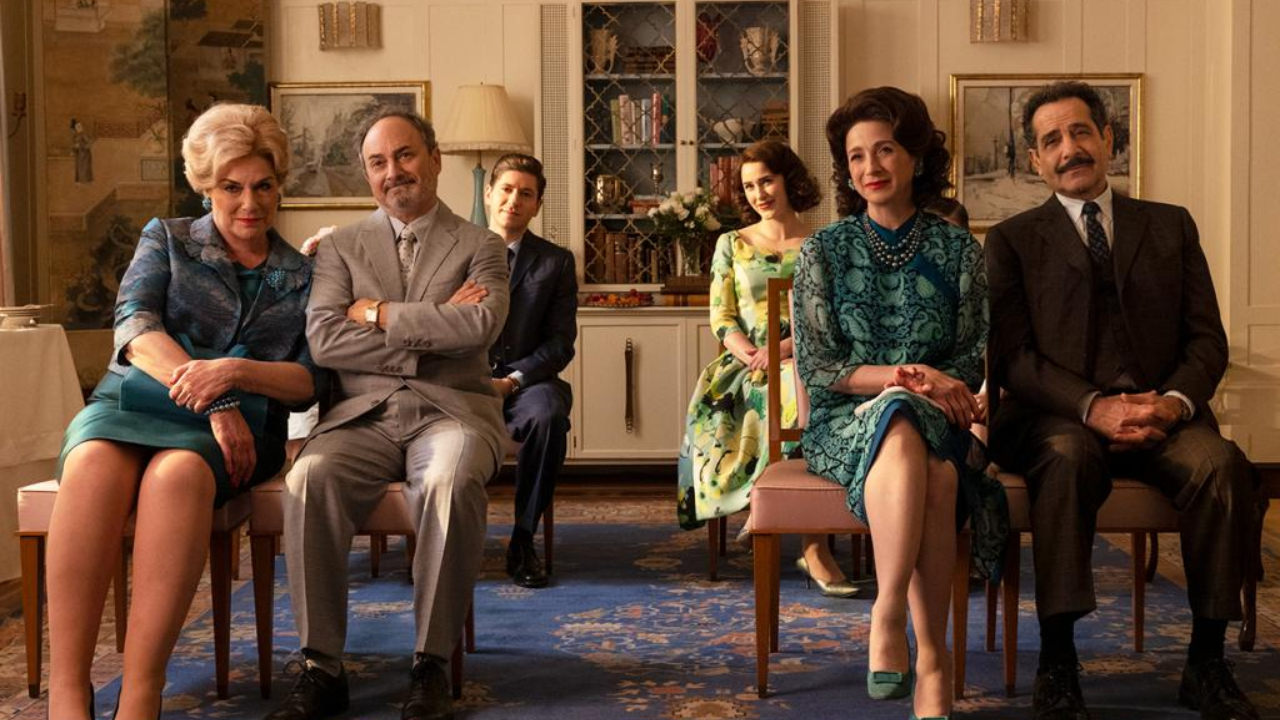 The future might be glorious for Susie and Midge, but it hasn't been very kind to Joel. The episode begins with Midge visiting him in prison, bringing her photos from her younger years to give to his cellmates. The good thing is that Joel doesn't seem to be serving time for a violent crime. His crime is more of a white-collar one, which means it has something to do with his business.
We'll have to wait a while to find out how Joel got caught up in such a mess in the future, but in the early 60s, things look good for him. He and Archie visit an old cathedral, which they intend to buy and turn into a new joint. While he is happy to have found a good place to start afresh, he worries about Susie's association with Frankie and Nicky. He doesn't want Midge to get wound up in something bad. His effort to save her from something like that might have been the thing that eventually landed him in prison.
Susie chases after a movie producer to get her client, James, another comic, a role in the movie. We see her in action, doggedly pursuing the opportunity for her client like she used to for Midge when they were starting out. A line of people outside her office, waiting for a moment of her time so she'll represent them, shows just how far Susie has come and how far she's to go. Meanwhile, Zelda gets married, and the Weissmans realize they are losing her for good.
The Marvelous Mrs. Maisel Season 5 Episode 5 Ending
Life is always happening for Midge Maisel, but things get particularly worked up in this episode. First, she discovers that Zelda will not work after she gets married, which means that Midge will be losing childcare. All this while, Midge and Joel were free to pursue their careers without worrying too much about their children. Zelda was always there to look after them, to feed them, and to bring them back and forth from school, among other things. Now that she is married, her husband intends to give her everything she needs so she doesn't have to return to work. Without her, Midge and Joel have another thing to figure out.
While the search for the next babysitter continues, Joel talks to Midge about Frankie and Nicky and how Susie's association with them might get her in trouble someday. Midge believes that her manager has settled everything and that Joel is worrying about nothing. Their banter gets heated up so much that they end up kissing each other. Does it mean anything?
Considering the on-and-off display of feelings between Midge and Joel over the years, this is probably not a sign of them getting back together. Joel has only recently broken up with Mei, and his affection for Midge isn't new. The kiss might lead them to re-explore their romance for a while, but considering what has already been revealed about Midge's love life in the future, their fling will not last long.
Speaking of Midge's romantic interests, Gordon Ford tries to take her out on a date once again. He finds her after one of her shows, and they have dinner together, but Midge clarifies that this dinner is not a date. When he broaches the subject of their dating, she lays it out clearly for him. She cannot date him for too many reasons. Being associated with him would reduce her to "Gordon's girl" rather than Midge Maisel, who worked hard to become the only female writer on the number-one show on TV. She isn't particularly interested in the sideway places and the snickers she'll be subject to.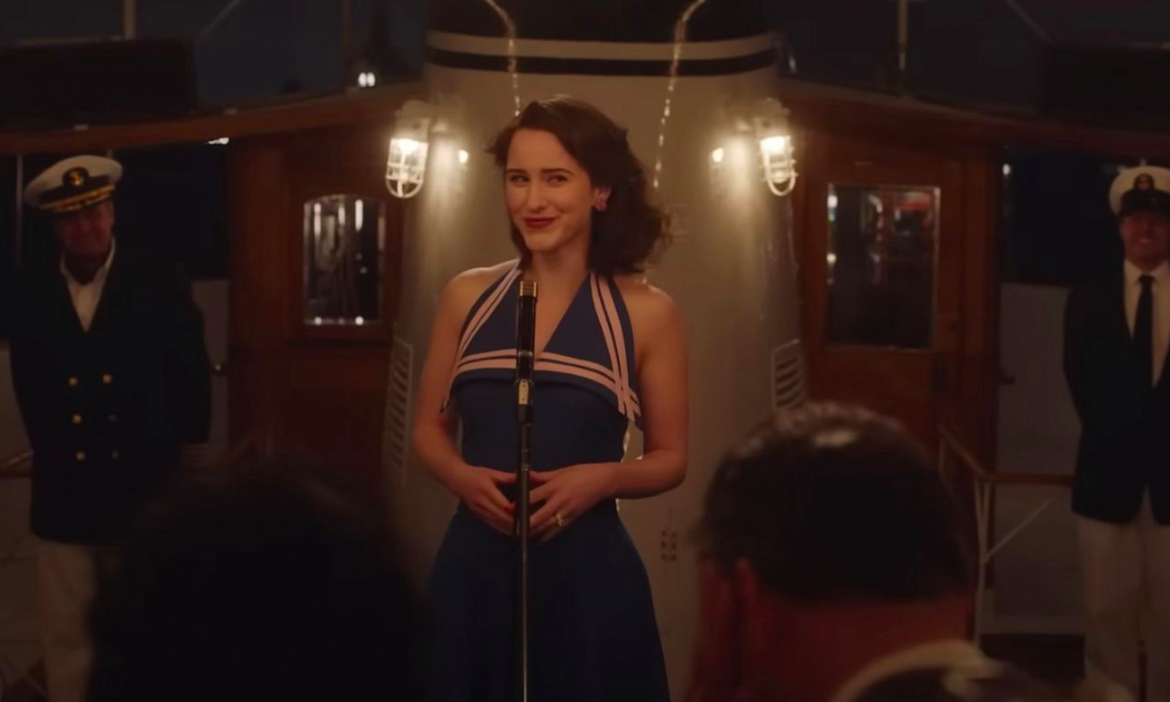 But the most important thing is when she gets on the show, she wants to know that she did it on her own merit, not because she is Gordon's girlfriend. She has worked too hard for it. And she continues to do so by jumping on every opportunity that comes her way. When Gordon refuses to entertain the sponsors of diaper cream on a boat, Midge offers to take his place. At first, George is skeptical, but then Midge delivers a great show, and he starts making more plans about her.
Just when it looks like Midge might have gotten another break, things go sideways. She catches a man bothering a waitress, who is clearly not interested in his advances. Midge saves the girl, but in teaching the man a lesson, she throws his jacket, which has his wallet, into the ocean. Because barely anyone witnessed what happened there, the man, who turns out to be one of the sponsors, has Midge arrested on the charge of aggravated assault, among other things. Because a wallet with money, i.e., treasure on international waters, was involved, Midge has technically indulged in the act of piracy. Mrs. Maisel is a pirate now.
Luckily for her, Gordon doesn't fire her, and he gets the network to get the charges dismissed. George, on the other hand, is furious. He thought Midge's show on the boat would turn things around, but now, Gordon is all the angrier with him for going forward with something he warned George against. Midge might've dodged a bullet this time, but she might have made an enemy in George, who asserts that this isn't over yet.
Read More: Why do Joel and Mei Break Up? Did Stephanie Hsu Leave The Marvelous Mrs. Maisel?