'The Mess You Leave Behind' is a Spanish mini-series directed by Carlos Montero. It landed on Netflix on December 11, 2020. The psychological thriller is an adaptation of Montero's award-winning novel of the same name. His directorial debut follows his work in the critically acclaimed Netflix Spanish hit, 'Elite' which he co-wrote. The lead cast features Inma Cuesta and Barbara Lennie as the protagonists Raquel and Viruca, respectively.
Other members of the ensemble include Tamar Novas, Roberto Enriquez, Aron Piper. The plot of the show takes the audience on a wild ride through multiple surprises and twists. It chronicles Raquel's efforts to unravel the truth behind what she thinks is cold-blooded murder. The finale leaves the audiences somewhat satisfied but baffled. We tried to dig deep into the ending, to definitively answer questions that might have been haunting you. SPOILERS AHEAD!
The Mess You Leave Behind Plot Synopsis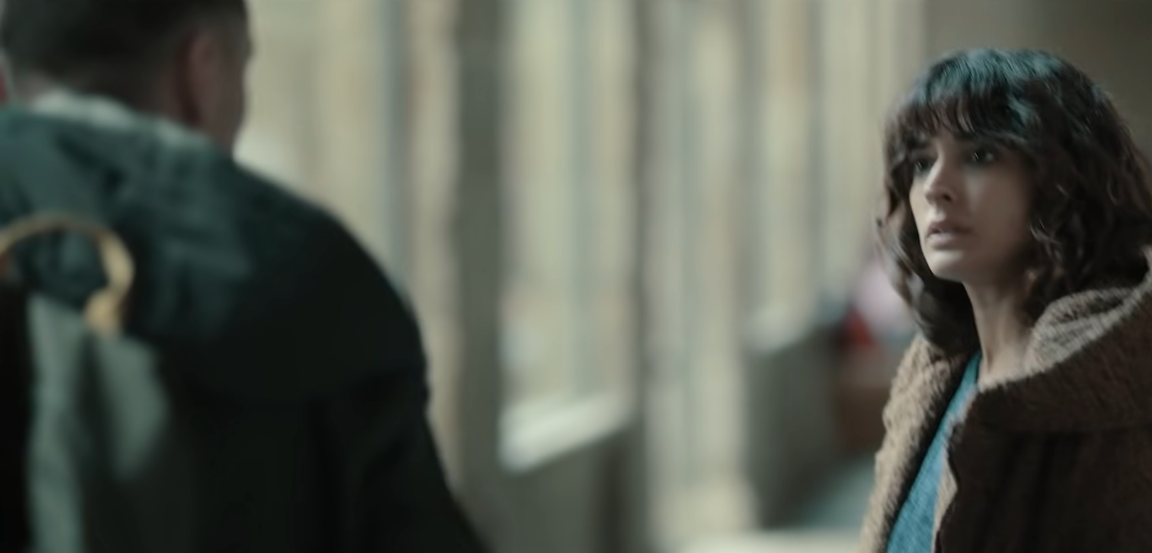 The mini-series begins with a scene that forecasts the murky nature of the show. Viruca's supposedly ex-husband, Mauro, is seen hassling at the door of her apartment as she tries to delete what looks like evidence. This particular piece of evidence is soon revealed to be related to her death. On the other hand, Raquel is preparing to shift to a new location with her husband and their dog, Nanook. She seems to have recurring hallucinations and nightmares, where she sees her dead mother.
On her arrival, Raquel's excitement towards her new job soon fades away when she learns about the untimely death of her predecessor, just three weeks prior. Based in rural Galicia, the series tries to juggle two timelines, each belonging to either of the protagonists. In an attempt to seek the truth behind Viruca's apparent suicide, Raquel finds herself entrapped within a devious plot designed to cover up a huge secret.
The Mess You Leave Behind Ending
The finale of the mini-series commences with Raquel finding out about Mauro and Viruca's ruse. The couple had feigned their marital problems as a part of their scam to steal money from Iago's father, Tomas (Alfonso Agra), to settle a huge debt incurred by both their parents. After Viruca comes upon a controversial video, handed to her by Iago himself, the couple decides to exploit it to blackmail Tomas. Mauro adds that he suspects Tomas to be Viruca's murderer since she had threatened him with the video. Despite appealing to the courts, Mauro had been declined because of Tomas' strong alibi.
Mauro further assures Raquel that he did not kill Viruca. However, he confesses to killing Raquel's dog and breaking into her house to find Viruca's phone that Raquel discovered in a previous episode. Mauro believes that the phone might contain evidence that can trace his wife's death back to Tomas. He also tells Raquel about Iago's increasing obsession with Viruca, which explains his aggressive behavior towards her once he found out about her and his father's affair. Back at home, in the past, Iago is questioned by his father about the video he leaked to Viruca.
Iago shows his father the video, and Tomas is seen rushing outside their house, probably on his way to kill Viruca, who now knows too much. Later in the episode, we see Raquel mirroring Viruca's deliberations on submitting the evidence against Tomas to the police. Both of them decide against it. After this, Raquel meets up with Iago offering him help because she knows he is innocent. The episode then travels back in time to show Iago confronting Viruca about the video he had given her. He tells her that the video was intended at revealing his father's true identity to her and was not meant for blackmailing purposes.
In the present timeline, Raquel gives Viruca's phone to Concha for safekeeping because she fears that she might meet the same fate as Viruca. Raquel then discovers the copy of the video Viruca had made by following a code left in her phone, which translated to the GPS coordinates of the precise location of the hard drive. Just as Raquel is about to watch the video, she is ushered away by Gabriel (Xose A. Tourinan), who tells her that German has tried to kill himself.
With Raquel in the car, Gabriel locks the doors and takes her to Tomas and Iago in an abandoned factory. The three of them then try to kill Raquel by force-feeding her sedative infused water to dress it up as a suicide. After she loses consciousness, they dump her in the trunk of their car to dispose of her body in the lake. The abduction and murdering process seems to be the exact reflection of how Viruca was killed, yet another instance of mirroring of the two characters.
However, Raquel manages to regain her consciousness. Iago's pent up guilty conscience implores him to help Raquel. He pushes the button in the car that opens the trunk, and Raquel jumps out. She is rescued by Concha and Mijail, who call an ambulance for her. Meanwhile, Iago, desperate and conflicted, purposely drives the car into a tree, injuring himself. Paramedics rush to the scene, and both Raquel and Iago are taken into medical care. The police promptly arrest Tomas and Gabriel, and Tomas' house is scoured for more evidence.
At the hospital, Raquel wakes up after three days to find Tere beside her. Soon, German informs her that Iago has confessed everything. The video Iago had given Viruca contained evidence of the extensive prostitution network that Tomas and Gabriel had established. Tomas had been prostituting his own son since he was a child. The episode also shows how Gabriel and Tomas had mercilessly killed Viruca by drugging her and then dumping her semi-conscious body in the lake.
What Happened to Iago in The End?
Iago's traumatic experiences seemed to have shaped his personality throughout the show. In the final episode, he recognizes his mistakes and apologizes to Raquel. He seems to have recovered entirely from the crash. The show sheds light on Iago's real personality through the eyes of both Roi (Roque Ruiz), his best friend who is clearly infatuated with him, and Viruca, who has seen him at his most vulnerable stance. However, the ending does not show if Iago was able to return to his normal life as a school student.
What Happened to Raquel and German?
Raquel is shown to return to her mother's apartment, where the show had first shown her. She tells German that she needs to live by herself to overcome her fear of being alone. The show had previously shown several issues in their marriage owing to German's drug addiction. In the end, Raquel finds herself rediscovering her love for literature, which she utilizes to write a book.
Her experiences through the eight episodes help her to face her inner demons and allow her the scope to redeem herself. She gives Nerea (Isabel Garrido) a book that is supposed to teach her how to forgive herself. The act is a portrayal of what Raquel seems to have learned recently. The last scene shows her talking to German over the phone as German gives her some feedback about her book.
Read More: Is The Mess You Leave Behind A True Story?