My earliest memory of Michael Keaton on screen was as the overly energetic idea man in Night Shift (1982), a popular Ron Howard comedy that starred Henry Winkler — though Keaton stole the film right from under his nose and was at once a rising star. From the moment he bursts into the morgue, his eyebrows bouncing, his eyes alight with joy, ready for anything, the movie was his. Announcing more than once he was an idea-man, he drove the narrative, no question. He did well with popular mainstream comedies, Mr. Mom (1983), Johnny Dangerously (1984) and Gung Ho (1986), and when challenged by a director or role displayed volcanic comedic chops that could single handedly walk away with the movie.
Tim Burton cast him in the horror comedy, Beetlejuice (1988) and he did just that, stealing the film from the entire cast and reminding we critics what a major talent he was. That same year he stunned audiences with a powerful dramatic performance as a recovering addict in Clean and Sober (1988) which rather shockingly won him Best Actor from the National Society of Film Critics.
And then there were howls of protest when Tim Burton cast Keaton as the Dark Knight/Bruce Wayne in the blockbuster Batman (1989). Even the producers of the film felt Keaton might not be the right choice, but with Jack Nicholson as the Joker how far off the path could they really go, so they trusted their director, the whiz kid of the moment. Though Batman fans grumbled for more than a year, no one could deny the excitement they had about the film, you could feel it with each preview of the movie, though they kept Keaton under wraps.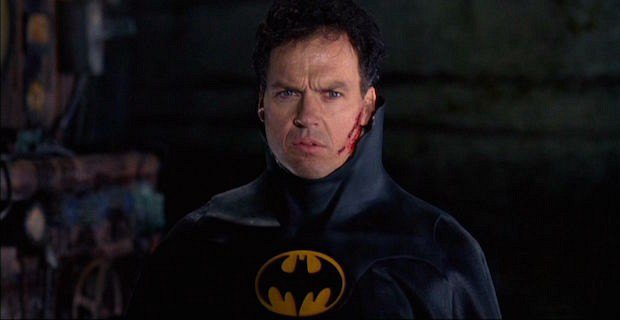 There was a lot of apologizing to be done when the film opened and critics got a look at Keaton as Batman; he was terrific. In fact, he was more than terrific; he was dynamite, though Burton let Nicholson run away with the film, he did allow Keaton to ground it. With a gravelly voice as Batman, he chose to portray the super hero as something of a nut, and it worked. The picture was a massive success, and Keaton signed on for the a sequel, provided Burton direct.
Batman Returns (1982) was even better than the first, this time with a sexy Michelle Pfeiffer as Catwoman, and Danny De Vito as Penguin, the film had something for everyone, and again Keaton was excellent, bringing something unique and dark to the role. He and Pfeiffer had a strong sexual chemistry that added immensely to the film, giving each something unique to play off. Believing he had done his time in the bat suit, feeling better roles would flood in now, his name bringing money he chose not to be part of the third film, Batman Forever (1995) yielding to Val Kilmer and director Joel Schumacher (the beginning of the end for the franchise) Keaton found good work hard to come by. Though the Batman films had made hundreds of millions, Hollywood did not feel Keaton's name could open a film.
Angered there was nothing coming his way in cinema, HBO was making a film about their live news coverage in Baghdad during a crisis and Keaton signed on. Live from Baghdad (1992) became the first great film made for HBO Films, and though Keaton earned rave reviews, the film was made for television, and however great, did not help him in the manner he had hoped.
He would work with Ron Howard again in The Paper (1994), and then land a plum in Jackie Browne (1997), special agent Ray Nicolette for Quentin Tarantino, a role he would repeat in Out of Sight (1998), a stylish caper film from Steven Soderbergh. Both films saw Keaton do solid work as an actor, yet it seemed he was jinxed, good roles dried up. Jack Frost (98) was terrible, a dead father speaking to his son through a snowman (yep) and First Daughter (2004) had him as the President taking orders from his daughter. From there it got worse, Keaton took a role in The Love Bug remake Herbie: Fully Loaded (2005) before lending his voice as Ken to the third and best Toy Story 3 (2010).
He must have thought he had sunk as low as he could go with an appearance in Robocop (2014) the remake, before being asked by Mexican director Alejandro Inarritu to appear as the lead in his new film Birdman (2014). Keaton would be cast as an actor, who had portrayed a superhero for years, made a fortune which he squandered and was not mounting a play on Broadway to remind people of his talent. Though it cut close to home, the actor took the part and found his life totally altered overnight.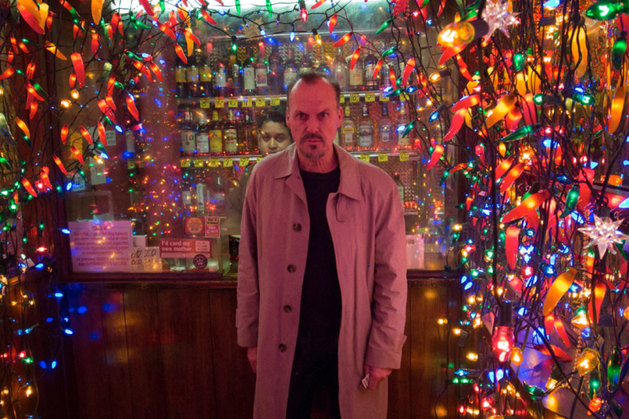 The gifted Inarritu found the right tone for the film, surrounded Keaton with some of the best actors he had worked with and the results were brilliant, Keaton was brilliant, Birdman (2014) was a massive critical hit. Keaton found himself nominated for the Golden Globe (which he won), the Screen Actors Guild and the Academy Award. The film won Oscars for Best Picture and Best Director, and overnight his world had changed.
Michael Keaton was being taken seriously again as an actor, hell more than serious, he was being revered.
Just when one thought it might be one of those one shot comebacks that never panned out, like Mickey Rourke, he was well cast in Spotlight as stubborn reporter Walter Robertson for the Boston Globe. Though very much part of a tight ensemble, Keaton anchors the film as the wily, whip smart reporter who digs into the stories about abuse within the Catholic Church. Critics championed his performance last September through December and it seemed he was headed for an Oscar nod for supporting actor. But then something crazy hapenned, the New York Film Critics Circle awarded Keaton their coveted Best Actor award, scattering the Oscar race, The film was on route to a Best Picture nod, but where would the actor land? Turned out not in the Oscar race, very odd considering how profoundly perfect his performance, the conscience of the film because of an event that transpired before the story began.
For the last two years Michael Keaton has been in the year's best films — no mean feat for any actor.
He is enjoying a second chapter to a career that seemed all but finished, doing the very best work of his career, and the best is yet to come. Though I believe he should have won for Birdman (2014), he will no doubt be in the Oscar race next year for his performance as McDonalds creator Ron Kroc in The Founder. Coming out this fall, the film offers the actor another chance at a remarkable performance, and potentially more attention from the Academy, and critics.
Welcome back, Mr. Keaton, your idea-man was missed.