The second season of Prime Video's 'The Summer I Turned Pretty' stirs up more drama for Belly Conklin, with just one more episode left in the season. This season started with Belly heartbroken about her break-up with Conrad, which was soon followed by the death of their beloved Susannah. She got a chance to reconnect with Jeremiah, who had broken off all contact with her following their break-up the previous summer when she discovered that Conrad had disappeared. Back at Cousins, they found that Julia was selling the house. In a week, Belly goes through a wave of emotions, revisiting her feelings for both Jeremiah and Conrad while trying to find a way to keep the house in the family. Here's what happens by the end of the penultimate episode and what it means for next week's finale. SPOILERS AHEAD
The Summer I Turned Pretty Season 2 Episode 7 Recap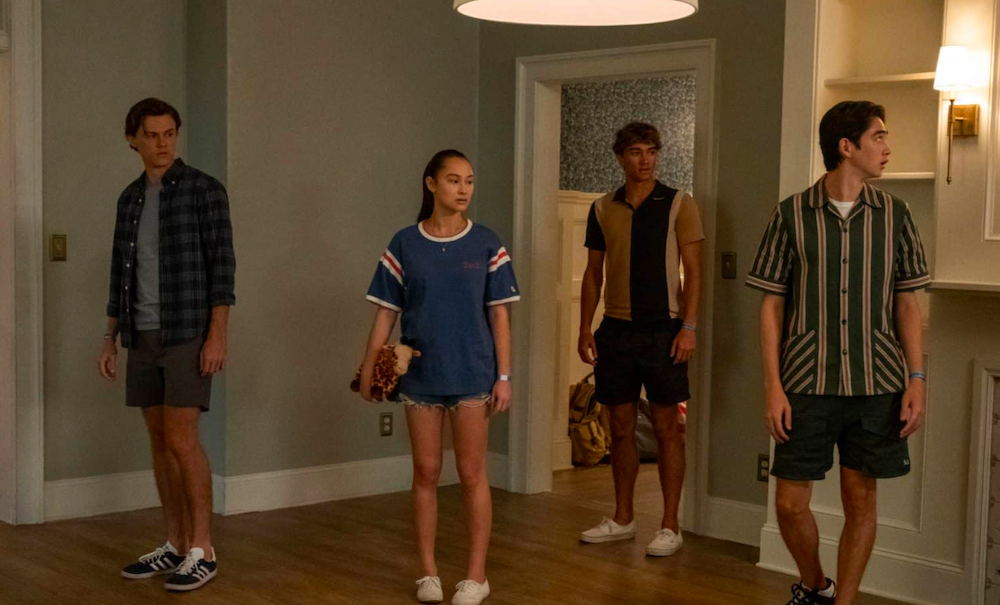 With Julia finalizing the deal, the Fisher boys and Belly lost all hope about keeping the house. They throw a party to celebrate their last night in it, but things get out of hand. Belly wakes up in the morning to find her mother, Laurel, angry with her and the kids for lying to her and shacking up at the beach house. Her anger dissipates when she discovers that the beach house is being sold by Julia.
It turns out that Laurel knew that after Susannah's death, the house would go to Julia. But she thought that the sisters had cleared things up with each other. She decides to intervene when she realizes how close they are to losing the house, which just might be the last thing connecting them to Susannah's memories.
The Summer I Turned Pretty Season 2 Episode 7 Ending: Does Laurel Change Julia's Mind?
The beach house meant a lot to the kids, but it also held a lot of meaning to Laurel. It harbored all the good times she spent with her best friend, and knew how important it was for the kids to return to the house. When she discovers that Julia has made all the arrangements to get rid of the house, she calls her back to Cousins and implores her to change her mind. The kids tried it before, but they couldn't reach Julia the way Laurel could. They didn't understand why Julia wanted to sell the house. They were caught up in their own grief and sorrow to try and understand Julia's point of view.
Laurel, however, knows precisely why Julia is so adamant about her decision. She is sympathetic to Julia and doesn't attack her for doing something no one wants her to do. It turns out that this is what Julia needed. She talks about her parent's divorce and why things were so bad for her at the beach house, while Susannah saw everything through a lens of perfection. Laurel agrees that her best friend didn't like to get into ugly things, and this is one of the reasons why the sisters never settled the matter of the house before Susannah's death.
The conversation with Laurel changes Julia's mind, and she realizes that while the house is not important and special to her, it is so to the boys. So, she decides to pull out of the deal. She still needs to sell the house, and once again, Laurel works her charm and convinces Conrad and Jeremiah's father to find a way to pay for the house so that Julia and the boys can get what they want.
Are Belly and Jeremiah Back Together?
With the house saved, everyone relaxes. Conrad and Jeremiah settle their grievances and agree not to hide anything from each other anymore. Conrad reveals that he got into Stanford but doesn't intend to leave Brown. Jeremiah convinces him to go to Stanford, considering it has been his dream for so long. For that to happen, Conrad has to ace his final exam, which is the next day. To help him prepare, Belly, Jeremiah, and Steven stay back at the house. The next day, Belly and Jeremiah go with him to Brown.
While Conrad is busy with the exam, Jeremiah and Belly take a trip to Finch. After her poor academic performance in the previous year, she was told that Finch was the only good prospect for her. Being there with Jeremiah makes her realize that this could be a reality, something she would like very much. All the feelings that had been churning inside her for the entirety of the week come crashing down, and she asks Jeremiah if he will give her another chance.
Even though Jeremiah is still in love with Belly, he doesn't want to have his heart broken one more time. He tells Belly that he cannot have her change her mind again. She assures him that it wouldn't happen as she is not the same person anymore. Until last summer, she dreamed about being with Conrad, but being with him made her realize that the relationship was much better in her head than in reality. With Jeremiah, however, things were different. They felt more real, and real is what she wants now.
Having confessed their feelings to each other, Belly and Jeremiah kiss each, and this is when Conrad arrives. This is quite a turning of the tables because now Conrad is in the same situation that Jeremiah was in the previous year. It is surely awkward for him, but something tells us that Conrad will give his blessing to his brother and his ex. He still has feelings for Belly, but he messed up when they were together. Conrad also wants to do right by his brother. When he wanted to be with Belly, Jeremiah gave him his blessing. It's time for Conrad to do the same for his brother. So, even though he might not like it, Conrad will have to make peace with the fact that Jeremiah and Belly are together now.
Read More: Will Conrad and Belly Get Back Together in The Summer I Turned Pretty? Theories