As a Selvamani Selvaraj-directed documentary series living up to its title in every way imaginable, Netflix's 'The Hunt for Veerappan' can only be described as equal parts baffling and haunting. That's because it incorporates not just archival audio-video footage but also exclusive interviews to really shine a light upon the way India's most prolific domestic terrorist was ultimately halted. Amongst those to thus feature here to help move the narrative along was actually police officer Tiger Ashok Kumar — so now, if you simply wish to learn more about him, we've got you covered.
Who is Tiger Ashok Kumar?
Although born in 1977 as Biddanda Bopanna Ashok Kumar in the small yet wondrous village of Parane, Virajpet, Karnataka, Ashok reportedly primarily grew up a mere 120 miles away in Hassan. The truth is his father was quite a well-established coffee estates manager, which is what enabled him to graduate from St. Joseph High School before enrolling at Hassan Government College. That's forsooth when the youngster realized his dream was to join the Indian Army, driving him to become an active part of the National Cadet Corps while still pursuing his Bachelor's in Science.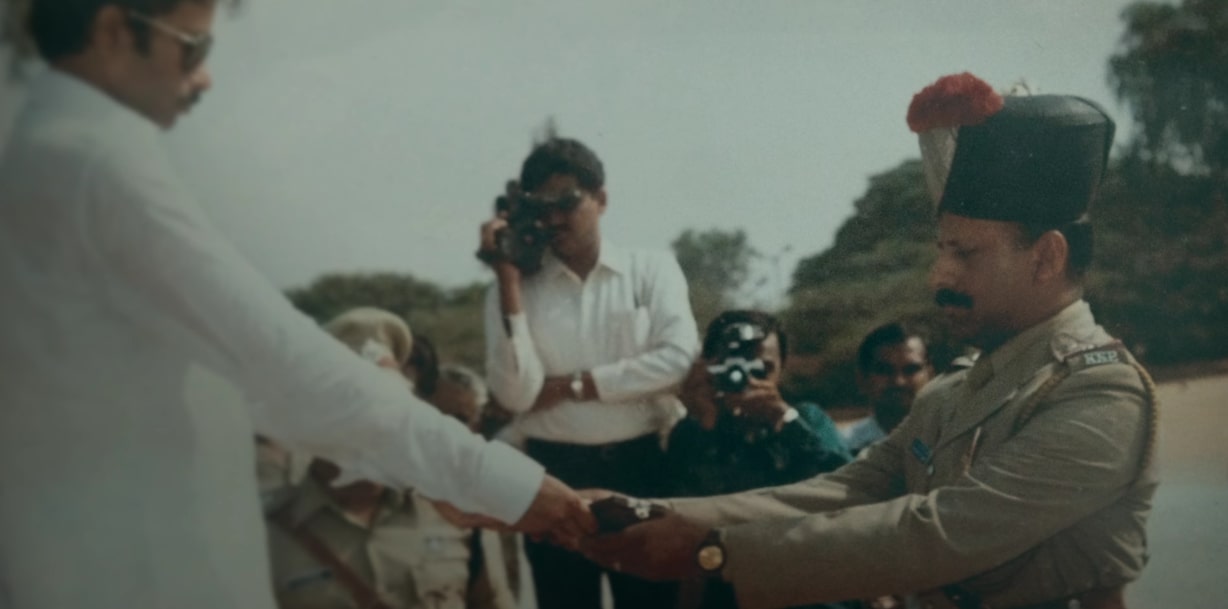 However, ostensibly due to some limitations, Ashok couldn't push above and hence proudly decided to protect his people as well as his nation by joining the Karnataka State Police Service in 1977. Though little did anyone know his passion, tenacity, and technical skill set for the job was such that he'd end up earning the nickname "Tiger" by the Home Minister a short seven years later in 1984. He then continued on this same path until he was called up to be a part of the new Karnataka Special Task Force (STF) in 1989, whose sole aim was to nab forest bandit turned heinous killer Veerappan.
"I was known for some toughness," Ashok candidly stated in the original series. "I detected very sensational murder cases in Bangalore City. I shot one notorious rowdy, an underworld don of Banglore City… So definitely, I thought I could finish this fellow, Veerappan." But alas, as time passed, he realized he might've been a bit overconfident since the criminal always managed to elude him in this expansive cat-and-mouse chase. Even the STF had purportedly assumed their mission would last a year or two maximum, yet it ended up spanning nearly two decades, that is, until his shooting death in 2004.
Where is Tiger Ashok Kumar Now?
While it's true Ashok wanted to be on the squad that ultimately brought Veerappan down, he just couldn't because he seemingly wasn't even in the STF anymore — he'd been promoted sometime around the early 2000s. Yet by this point, he'd already achieved some incredible wonders, like having singlehandedly slain 13 of the aforementioned delinquent's closest accomplices and having been involved in a total of 18 successful encounters. It thus comes as no surprise this official was also awarded the coveted President of India's Gold Medal three times; in 1986, in 1998, and then a few years later in 2006.
In the end, it was on July 31, 2012, that Tiger Ashok Kumar retired from service following a consistently positive 35 years while proudly holding the position of Assistant Commissioner of Police. From what we can tell, he has since settled down alongside his loving, supportive family in Bangalore, where he continues to take protective measures to this day. After all, records suggest he still faces serious threats from the criminal underworld on a daily basis owing to his previous work against them to ensure civilians' safety.
Read More: Muthulakshmi: Where is Veerappan's Wife Now?