Skiing is one of the most adventurous and fun outdoor activities out there that you could enjoy with your friends and family. People who love skiing and going on fun ski trips would know the hassle of carrying and starting out with plain old and boring skis. As the world moves towards new technologies and advancements, life truly gets easier. If you are a novice but have always dreamed of having fun in the snow without hurting yourself, Tngnt Ski Bikes are made just for you.
Tngnt Ski Bikes is a ski bike company that helps riders with ease, strength, and flexibility and is specially designed for users who are new to sporting activity. In season 14 episode 17 of 'Shark Tank,' entrepreneurs Scott Carr and Bill Pierce presented the Sharks with an alternative solution that would brilliantly revolutionize the process of skiing. Tngnt is an innovative product that makes skiing adventures easier. Now that we've caught your attention with such a useful product on display, let's delve in and trace the company's growth, shall we?
Tngnt:
Who Are They and What Do They Do?
Tngnt Ski Bikes is a company that makes ski bikes that provide riders with the power and flexibility they need to ride. With the aid of this Tngnt Carve All-Mountain Ski Bike, you can easily go between trees, jumps, chutes, and other obstacles in the snow. On this bike, a beginner who is starting the winter activity can easily master snow riding. This company was started by two school friends, Scott Carr and Bill Pierce, in 2014. Scott discovered several problems with ski bikes while he was working with one of the ski bike companies.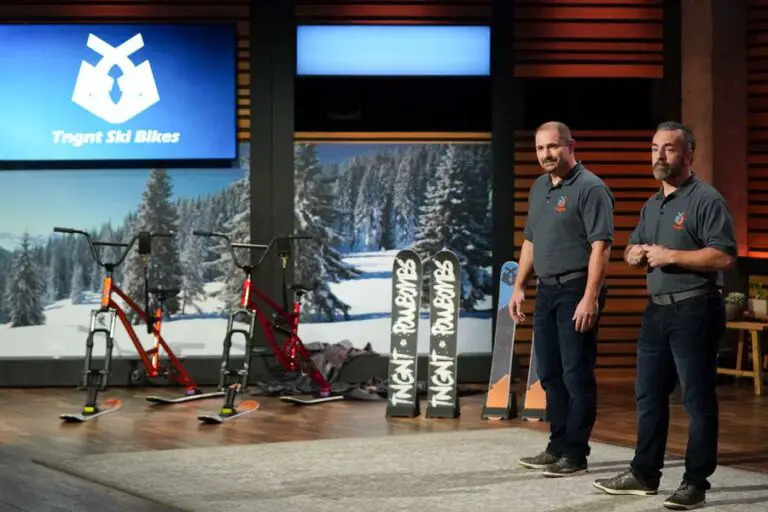 After consulting with Bill, the two friends began to design their own ski bikes. They both began working on the ski bikes' design and prototypes, and it took them two years to complete the final model. Scott is an expert on mountain and ski bikes, while Bill is a designer. The retention system was given considerable consideration when building the bike, and after extensive testing, Tngnt SRS was created in 2014. The company founders met in the dawn of Mountain-Biking in the early '80s.
Since then, the duo has participated in nearly every type of two-wheeled activity, including BMX, Downhill, Trials, and Dirt Jump. The Tngnt Ski Bike brand is motivated by their love of biking. The founders were prepared to provide their product to motorcyclists worldwide after two years of rigorous testing and research. However, the concept of ski bikes is not new. The history of the same goes back to Austrian ski manufacturer Engelbert Brenter who patented the Sit-Ski in 1949. Using only runners, he created a steerable sledge.
Brenter added crucial elements, such as a suspension system and actual skis in place of runners, to turn the bike into a legitimate leisure activity. Since then, many other entrepreneurs have attempted to come up with their own models and designs. Similarly, Scott and Bill attempted to get their hands on the product and give their own touch to the development of the Tngnt ski bikes. The founders are biking and asking enthusiasts, and naturally, they felt the need to create something which would make their passion easier and more fun to engage in.
Where is
Tngnt Now?
Tngnt Ski Bikes is a Bluefidley, Utah-based ski bike manufacturing company. The business retention system is used by this firm to create ski bikes. The purpose of this retention system is to provide the rider's legs with the greatest possible range of motion, strength, and flexibility while they are riding. Tngnt has 19 product patents. This manufacturer's three bike models are Drift, Carve 2.0, and Carve 2.0 Pro. They cost $999, $1,499, and $2,399, respectively. In addition to all of this, it offers ski bike accessories. The accessories include Leash 2.0 kit (Carabiner and Strap) at $19, Pow Bombs Skis at $449, Skiblox 2.0 at $12, and Tngnt Unisex Hoodie at $35 to $38.
Other accessories include Tngnt water steel water bottles for $30, long sleeves t-shirt for $27, short sleeves t-shirt for $25, a pom-pom beanie at $20, a trucker cap at $20, a neck gaiter at $18, and Samsung phone cases for $16, and others. The bike is shipped by the manufacturer to both Canada and the United States, and customers can get free shipping on orders of $1095 or more. They appeared on 'Shark tank' due to their creative product combination. They are ready for the next phase of expansion by asking the sharks for a heavy investment, which would help the company increase production and increase its footprint internationally.
Read More: Bee Sweet Lemonade Shark Tank Update: Where Are They Now?