While it's true that losing someone in any way, shape, or form is incredibly heartbreaking, the sheer pain of it only grows multifold when you don't really know precisely what transpired and why. This much is actually evidenced in Investigation Discovery's 'Disappeared: Trouble at Home,' which carefully explores the case of Tracie Bell as she vanished in 2018 without a trace left behind. So now, if you simply wish to learn more about the same — the events to have occurred, its ensuing investigations, as well as the overall ongoing aftereffects — we've got the details for you.
What Happened to Tracie Bell?
At the age of 54, Tracie was honestly leading a good life as a Secretary for the Cook County State Attorney's Office in Chicago, Illinois, when everything turned upside down in the blink of an eye. The truth is this single mother of one did have a couple of significant health issues — diabetes and rheumatoid arthritis, along with a recent bout with severe pneumonia — yet she was always reliable. Therefore, once she failed to show up at work without informing first for two days straight, her loved ones contacted the police to conduct a welfare check at her condominium in Richton Park.
It was March 6, 2018, when deputies first knocked on Tracie's front door, just for her to open up while appearing uninjured but disoriented — per official records, she was "in a right frame of mind." Nevertheless, local officers still called in paramedics to check her blood sugar levels as well as other vitals, leaving only once they were satisfied she would likely be okay without any supervision.
Yet alas, this became the last time anyone ever positively saw or heard from Tracie — the Secretary actually went missing in the ensuing 24 hours with ostensibly nothing but her cell phone in hand. After all, there was another request for a welfare check at the exact address the following day, and this time, no one answered or seemed to be inside — the dependable professional had disappeared.
Has Tracie Bell Been Found? Is She Alive or Dead?
According to reports, Tracie's case was initially classified as a potential walk-away as authorities were fairly certain no foul play was involved, yet others have since deemed her "endangered missing." That's because she needs medical aid in the form of injection shots every single week for her arthritis, and there's been no record of her receiving the same since the fateful Wednesday, March 7, 2018.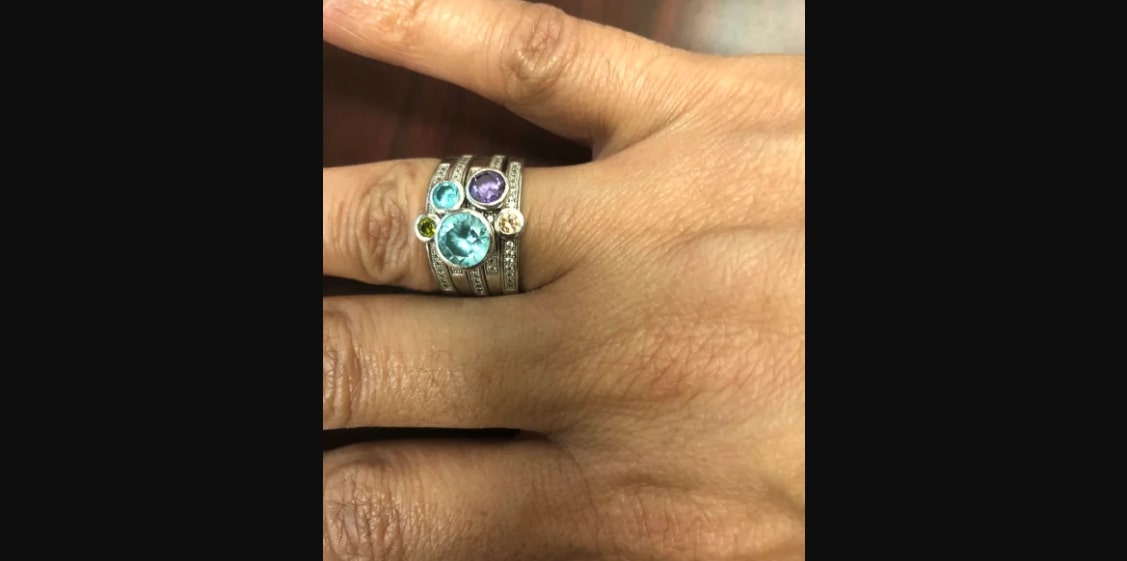 Moreover, there's the fact that although Tracie's phone was not at home while her car, cash, and clothes were, her number as well as bank accounts have seen no activity in the days, months, and years since. There's also the way a few of her relatives have now come forward to indicate there was trouble at her residence in the recent past — it's unclear precisely what it was, but it does relate to her daughter, son-in-law, as well as three grandchildren, who'd moved in with her for a brief time.
Tracie, standing at 5'8″ and weighing between 150 to 200lbs, was reportedly last seen wearing a dark hooded parka with dark pants that kind of matched her black/dark brown hair plus brown eyes. She was even known to often wear a beautiful set of "genuine sterling silver with semiprecious stones" rings, as seen above, which could be worn separately too without any awkward issues. As per the National Missing and Unidentified Persons System, these rings, "when not worn, would be kept on her person in her purse. Rings have not been located in Bell's personal belongings." So, if you have any information relating to what happened to this Secretary or her possible current whereabouts, please do not hesitate to contact Richton Park police at (708) 481-8956.
Read More: Rachel Good: Missing or Found? Is She Dead or Alive?