Apart from being a pretty fashionable look, tucking in one's shirt or top feels extremely comfortable and relaxing. However, with nothing to tuck their garments into, women mostly use their bras, which create a bulge at the waist and make movement pretty cumbersome. Entrepreneur Brooke Knaus attempts to solve this issue through her product, Tucky, an elastic belt that provides a proper tucked-in look without any of the bulge or discomfort. Moreover, interest in the product multiplied after Brooke presented it in the season finale of 'Shark Tank' season 14. Well, with viewers eager to know more, let's jump in and trace Tucky's growth, shall we?
Tucky: Who Are They And What Do They Do?
Brooke Knaus, the brains behind Tucky, prefers to keep her professional life under wraps. Asa result of which, not much is known about her previous employers. However, while Brooke hails from Charlotte, North Carolina, it seems like she used to work as a model and even won several pageants before stepping into the world of entrepreneurship. Thus, she already had a good grasp of fashion and design, which contributed significantly to Tucky's success.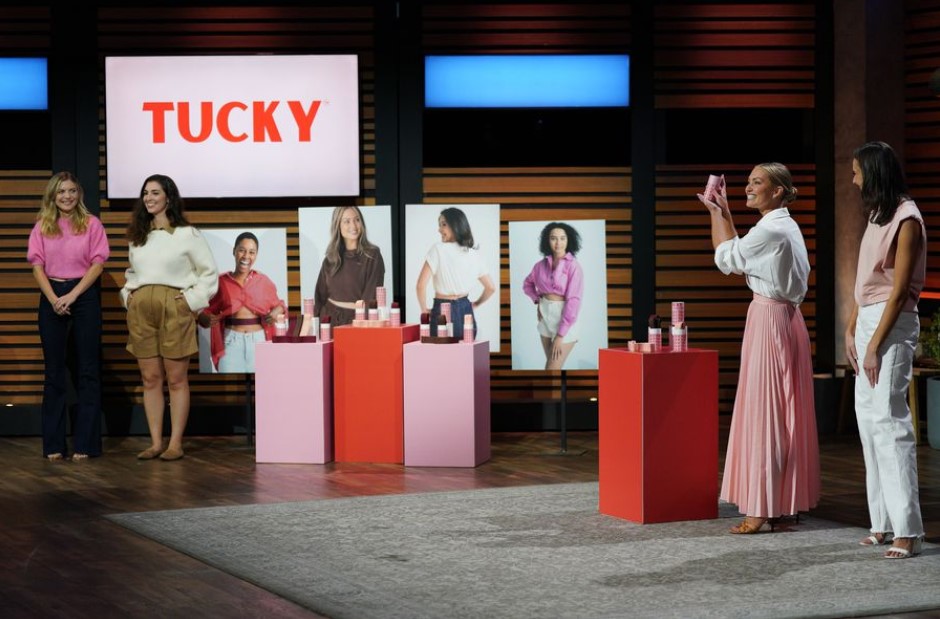 On the show, Brooke shared that during the COVID-19 pandemic, she was stuck at home and bored out of her wits. However, determined to get back a sense of the pre-pandemic world, she began experimenting with different fashion styles and designs. Being at home, Brooke mostly wore sweatshirts and loose tops, which did not provide a lot of scope for fashion experiments. However, she soon realized she could tuck her sweatshirt into her bra to create a fashionable and flattering look.
Unfortunately, tucking a sweatshirt into a bra isn't the most comfortable, and oftentimes Brooke noticed a bulge near her waist, which wasn't remotely flattering. Thus, determined to find another alternative, she dove into her wardrobe and came up with an elastic belt, which greatly improved the look. Still, the belt was too loose to be used effectively, and Brooke was surprised to discover that there was no available solution to her issue. Hence, using her modeling and fashion experience, Brooke went back to the drawing board and came up with the idea of the Tucky belt.
Although the final design took extensive research and numerous prototypes to come up with, the final product turned out to be quite a success. While the Tucky belt is just an adjustable belt at its core, it is manufactured from high-quality jacquard elastic and is lined with two silicone strips, which increases the grip and holds it in place. Moreover, the user is supposed to wear it as an undergarment before tucking in any shirt in order to turn it into a crop top. Brooke also mentioned that while her product accommodates tops of all sizes from 00 to 14, it is easy to maintain and can be cleaned in a washing machine.
Where Is Tucky Now?
After Brooke Knaus came up with the idea of the Tucky belt, she had to go through several prototypes in order to perfect the final product. Besides, she even hunted for a manufacturer all on her own before finding one that agreed to bring her design to life. However, even though Brooke initially created Tucky for herself, she soon discovered that the tucked-in look was trending on the internet. Thus, realizing a proper business potential, Brooke began selling the Tucky belt through periodical drops on Instagram.
Naturally, Tucky gained a lot of traction immediately after launch, and Brooke soon realized that periodical drops would not cut it. Hence, she increased manufacturing and made the product available online. Customers currently willing to get their hands on a Tucky belt can purchase it exclusively from its official website. Moreover, even though the belt comes in two sizes and three different colors, each unit will set one back by $30.
Additionally, Brooke also sells Breast Lift Tape and Long Sleeve Crop Tops for $22 and $58, respectively, while spending more than $50 unlocks free shipping all over the United States. It is honestly wonderful to witness the results of Brooke's hard work, and we are confident that she will face further success in the near future.
Read More: Tones of Melanin Shark Tank Update: Where Is Tones of Melanin Now?