Hosted by Fernanda Souza, Netflix's 'Stranded With My Mother-in-Law,' AKA 'Ilhados Com a Sogra,' certainly puts a new spin on the idea of strained family dynamics. The Brazilian reality show gives mothers and partners of their children a chance to mend their connection mainly due to the strain that the rift between them has caused those they both love. This could not be more evident than in the complicated dynamics that Vinícius, Felipe, and Socorro Sassone showcased during their time on the show. Naturally, people are curious about what the three are up to these days, something we are eager to explore as well.
Vinícius, Felipe, and Socorro Sassone's Stranded With My Mother-in-Law Journey
For Vinícius Sassone, the tense relationship between his husband, Felipe Sassone, and mother, Socorro Sassone, has long been a subject of grief. Despite Vinícius and Felipe being together for ten years, the rift between the in-laws did not seem to be healing. Hence, when it was revealed that it would be Felipe and Socorro who would be left behind together, stranded, they could not help but think that the whole situation would likely go up in flames.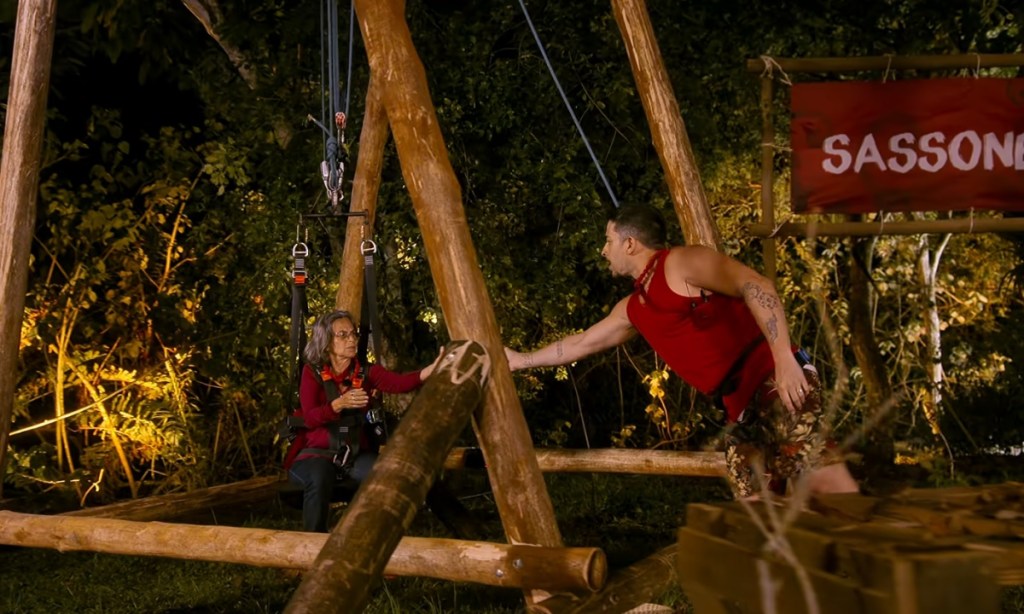 Not much later, during a session only involving mothers-in-law, Socorro admitted that she did love Felipe, especially given the happiness that he had brought into Vinícius' life. However, she did find her husband's son to be cold and non-affectionate. She stated that she would love to hug him and show him her affection, but Felipe never seemed open enough to receive it. Additionally, she admitted that her son-in-law's constant barbs, even as jokes, hurt her, especially when he called her names. Felipe, who was listening to it all, simply stated that he was not someone who liked being hugged.
During one of the tasks, when Felipe had to guess the three adjectives that Socorro had guessed herself, the former kept getting more and more upset as he continued to get wrong answers. While attempting the challenge, he often directed his barbs at Socorro, who seemed highly unsure and tried to soldier on. Felipe's actions earned him the ire of many, especially when, the very next day, Socorro broke down over everything. The rift between the two only continued to grow, with Vinícius getting highly upset over how his husband was treating his mother. However, Felipe did try to make amends by explaining to Socorro that he was not upset at her and it was his competitive nature that had led him to speak as he had.
Though their familial bond had solidified, the Sassones still had to beat other families to be a part of the competition. During the last challenge, with stakes being insanely high, Vinícius was far from happy that Felipe had apparently ranked last, which infuriated the latter, sparking an argument between the couple. Though they still had one shot to be in the finals, Felipe was unsure if his husband's presence would be helpful to the family's overall performance. Nevertheless, they did secure a position in the finals, but narrowly missed the position of winner to the Nerys.
Where Are Vinícius, Felipe and Socorro Sassone Now?
It seems like by the time the Netflix experiment ended, Felipe and Socorro Sassone were able to mend their relationship, much to the relief of Vinícius Sassone. After all, very few people tend to mention their mother-in-law or son-in-law in their Instagram bios, but both Felipe and Socorro have done so proudly. This suggests that they have not only come to terms with each other but have decided to fully embrace their connection for the world to see.
In fact, there are multiple pictures on their social media that suggest that the relationship between the three members of the Sassone family is better than ever. Felipe, who actually goes by the name Felipe Carvalheira, seems to have completely embraced the love that his mother-in-law was so eager to provide him, and the warm connection that they have seemingly formed has made many of their fans happy. We hope that their happiness continues to grow and that they never have the need to undergo such an extreme test ever again.