"As human beings, we all mature physically from childhood to adolescence and then into adulthood, but our emotions lag behind." – Bernard Sumner
This powerful quote not only applies to the lives of many people in real life but it pretty much sums up the premise of 'Violet Evergarden'. How do you learn to feel certain emotions? How exactly do you learn to fall in love? These are the questions that haunt the protagonist, Violet, throughout the story until she finally learns from her experiences. Written by Kana Akatsuki, 'Violet Evergarden' is adapted from an award-winning light novel series. But the first half of the anime approaches the story in a very different manner and almost comes off as an anime original. Though this was initially not accepted by most fans who had read the novel, the second half of the show changed everything.
With 'Clannad', 'Chuunibyou demo Koi ga Shitai!' and many other well-known anime, KyoAni has established itself as one of the greatest anime studios out there. The entire world setting of the anime has a classic European architectural setup that is full of lush sceneries and natural backgrounds that have the most vivid colors on their palette. KyoAni has previously produced some brilliant anime shows but this one here is by far their best work. The story itself is more than engaging, but in the end, it's the emotion that pours out of each of its visuals and designs that make all the difference. Overall, 'Violet Evergarden' is not just a story but a journey towards becoming a better human being by understanding the depth of one's emotion, and watching it will not only make you cry your eyes out but will also give you hope for a better future.
Summary of the Plot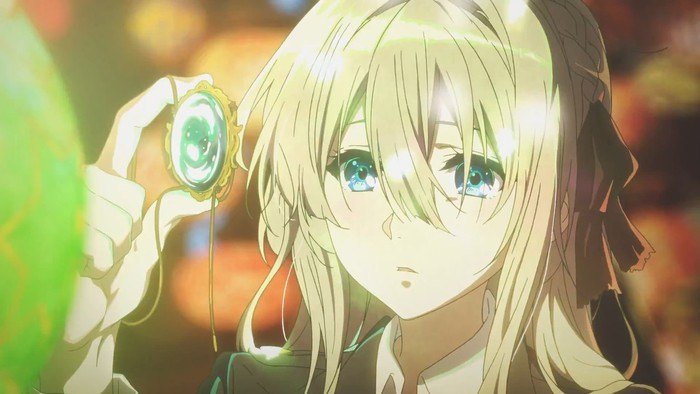 After 4 long years, the Great War has finally come to an end and the continent of Telesis is beginning to recover from all the loss that it faced through the years. Violet Evergarden wakes up in a hospital where both of her arms have been replaced with prosthetics. She was raised for the sole purpose of taking orders from her senior comrades and to destroy the enemies who crossed their path. But now that the war is over, Violet seems to lack a sense of purpose and the only thing she holds on to are Major Gilbert's last words — "Live… and be free. From the bottom of my heart, I love you." Determined to know what the words mean, she sets out on a journey to finally experience life like a normal person.
She starts working at the CH Postal Services and that's where, for the first time, she witnesses the work of an "Auto Memory Doll". Fascinated by the whole idea of expressing other people's feelings on letters, she decides to become an "Auto Memory Doll" herself. Due to her inability to understand human emotions, she initially fails to even clear the preliminary test required to become a Doll. But with the help of a friend that she ends up making at the Postal Service, she finally gets to experience a slight tinge of emotions for the first time and ends up writing a fairly decent letter that finally qualifies her for the job. What follows is her journey all across the continent where she ends up writing letters for several other people as an amanuensis. And with each letter that she writes, she gets closer to understanding her life's true calling.
A Journey Towards Understanding Human Emotion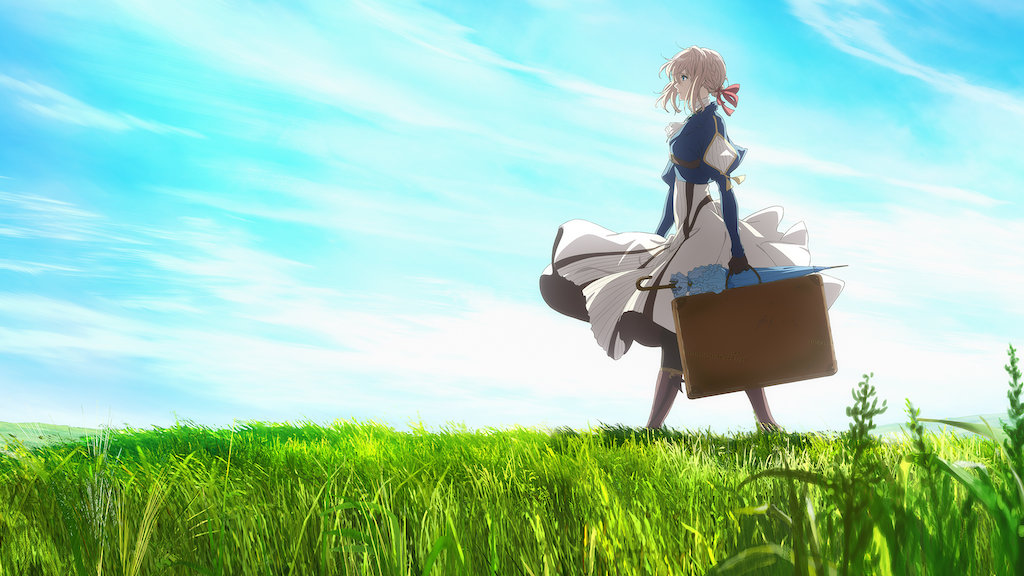 Not being familiar with the source material, I was initially convinced that Violet is a cyborg of some sort. But only when I started watching the show I realized that she is actually a human who lacks emotions because of her upbringing. The plot of 'Violet Evergarden' feels a little non-linear at times but it never really loses its focus from the main story. Violet's journey starts off with Gilbert's last words. After losing him, she does realize that something from her life is missing but she still fails to truly understand the feelings behind it.
When she first decides to join the postal services as an Auto Memories Doll, everyone is skeptical about her abilities because of her lack of understanding of the feelings that are involved in one's words. Erica is the only one who truly understands her and supports her there. Somehow convinced by this, Violet gets to be a part of the Doll Training Program and that's when it all begins.
The first time she experiences any kind of human emotions is when one of her co-workers, Luculia, takes her to the top of a bell tower and tells her how the war has crippled her brother. She tells her that her brother lives in deep guilt because he could not save their parents from dying in the war. Deeply moved by her story, Violet writes a concise letter that says: "To my brother, I'm happy that you're alive. Thank you!". This tiny little letter proves to be enough to convey Lucilia's feelings to her brother and this is how Violet gets to be a Doll but more importantly, she proves to herself that she's actually human.
Once she becomes a Doll, she is asked to assist Iris with her next assignment because of an injury on her hand. But when the two arrive at Iris's hometown, they realize that her parents had purposely arranged this setup to make sure that Iris celebrates her b'day at home. While writing invitation letters for the guides, Iris asks Violet to not write an invitation for a guest named Emonn. But she does it anyway and when Iris spots him at her birthday, she gets really distressed and rushes to her room. Later, she reveals it to Violet that Emonn had rejected her confession and since then, she has been heartbroken. This evokes a whole new range of emotions in Violet as she realizes the weight of Gilbert's feelings.
The show then introduces a side plot that is again somewhat linked to Violet's growth as a character. This part involves a princess who hires Violet to write love letters to Prince Damion. These letters hold a lot of significance as the relationship between the two will further cement the post-war peace treaty between the two nations. Everything goes as planned but when the princess feels dissatisfied, Violet arranges for them to write personal letters to each other without the help of a Doll. The focus of this part of the story may not really be on Violet but it very well portrays how she's starting to understand the value of having a deeper connection through direct contact. It indicates that her eyes are slowly opening up to the importance of the people around her and more than anything, she values her bond with Gilbert.
Violet may not have realized it but when she meets Leon for the first time and tells him that she has no blood relatives and is completely devoted to Gilbert, even as a viewer, it hits you that deep inside she's in love with him. In fact, her love for the Major inspires Leon so much that he himself decides to go look for his parents who had disappeared when he was a child. This part of the story may not really be an eye-opener for Violet but it is the first time when she slightly opens up about her feelings for Gilbert.
In the next part of the story, Violet finally wraps her head around the whole idea of death. After meeting Oscar, a playwriter who still seems to be in denial after his daughter's death, Violet looks back at all the people she killed during the war. It's easy to judge a person based on their past but what truly matters is who they are in the present. Violet realizes that she was someone else during the war and she has come a long way from being a ruthless killer. But even then, somewhere deep down, she still struggles to accept Gilbert's death.
The events that follow take her down to more of a depressing route where she even tries to kill herself. For a person who has never experienced emotions before, the mere realization that she has lost the only person she loved is downright heartbreaking. But only when she receives letters from her co-workers later she realizes the joy a simple piece of paper can bring to someone. This further leads her into believing that her sins during the war cannot be undone but similarly, even the good that she has done recently will leave a mark and she must now learn to appreciate the present.
Things take a serious turn after this and Violet still struggles to convince Gilbert's elder brother, Dietfried, that she tried to save Gilbert and it was Gilbert's choice to let her go. But a series of events make Dietfried realize that despite her grim past, she is still a human and stops blaming her for the death of her brother. She even meets the major's mother and that's when she finally learns to accept his death. This not only makes her feel better but also liberates her from the idea that she's still obligated to follow Dietfried's orders. The moment when she thankfully bends in front of Dietfried is the true display of her liberation from her past life.
The Ending: Is Gibert Still Alive?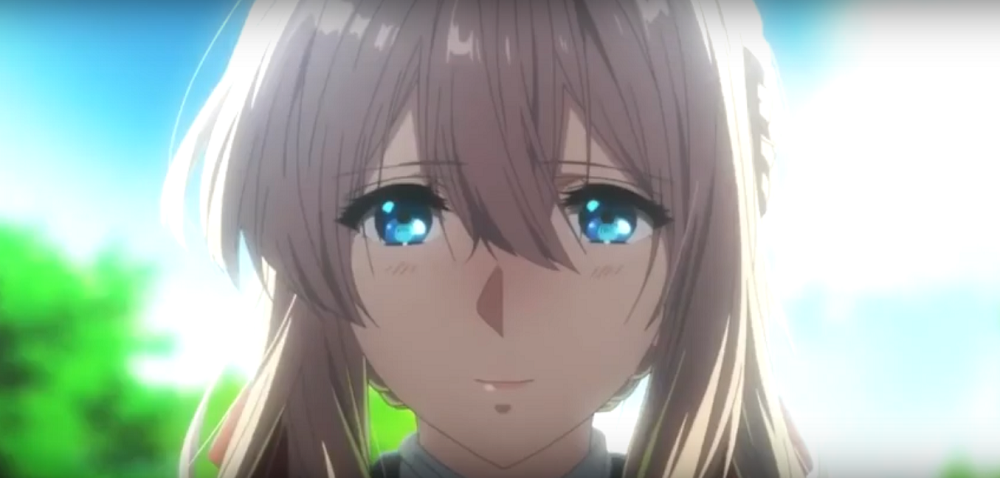 The show comes to an end with a peace treaty being signed between the conflicting nations and to honor this event, the postal services decide to have an Air Show where an aircraft will shower down letters on the country. And this is when Violet finally expresses her true feelings for Gilbert through a letter. It's almost like all the lessons that she learned from the beginning have all lead to the final moments of the anime. This involves everything from understanding the value of letting go to realizing the value of letters and then to finally knowing what falling in love truly feels like. She writes a heartfelt letter to Gilbert wherein she expresses how she now understands the true meaning of his final words.
Her letter says: "At first, I couldn't understand. I couldn't understand anything about how you felt. But within this new life, you gave me, I've begun to feel the same way as you, if only a little, through ghostwriting and through the people I've met along the way." This clearly conveys that she has now learnt to accept her love for him and has also realized that he still lives in her heart. These last moments of the show can make even a stone-hearted person cry.
However, the anime ends with a major cliffhanger where Violet arrives at the doorstep of her next client and greets by introducing herself. Just when she raises her head to look up, a faint smile appears on her face and she starts to blush. While many believe that Gilbert is still alive and it is him at the door, I personally feel that her reaction would have been a lot more pronounced if it was Gilbert. But we cannot say anything for sure as of now.
If you look back, it was earlier mentioned that Gilbert, though shot multiple times, was very well alive when Violet left him. Later, Dietfried even mentions that Gilbert was declared dead but his body was never found after the war and that only his dog tags were recovered from the battlefield. With no proper evidence that he's dead, we might just see more of him in the next season.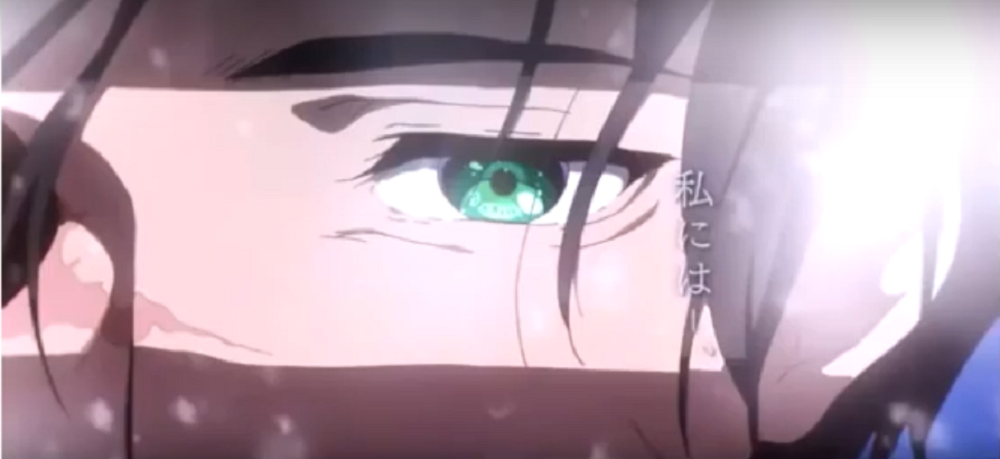 Also, if you watch the first trailer of 'Violet Evergarden' again, you'll notice one frame that reveals Gilbert with an eyepatch. His eye color, which is exactly the same as the brooch he had given to Violet, gives away his identity in this tiny frame. So it is very likely that Gilbert will be coming back in the next season. To know more about it, you should definitely check out our preview article.
Read More in Explainers: True Detective Season 3 | Attack on Titan Season 3