'Virgin River' is the new Netflix series that is bound to pull at your heartstrings with the kind of romance and relationships depicted. While it is certainly a Hallmark-like shift for the streaming platform, the change in direction is understood, considering that a good love story is always a crowd puller, in terms of viewers.
The basic premise of the show is centered on a woman who heads to the small town of Virgin River in California, answering an employment opportunity for a nurse practitioner. She believes the change of pace will be perfect for her, as she can escape the trauma of her past and start afresh. However, small-town living is more difficult than imagined, for this urbanite, and she realizes that she has a lot of self-healing to go through before she can call Virgin River her home.
The plot sounds plausible enough and is grounded in reality. We often decide to start afresh and move away, to achieve this goal. Therefore, you might be wondering whether 'Virgin River' is based on a true story or not. We have got you covered in that regard.
Is Virgin River a True Story or Not?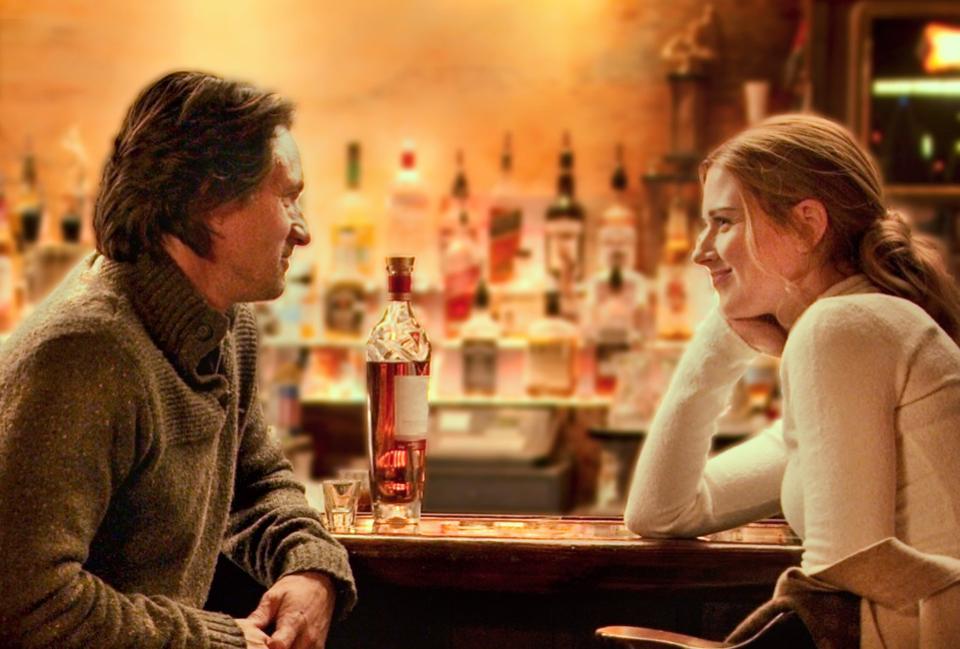 Firstly, it is essential to know that 'Virgin River' is based on the 'Virgin River' novels by Robyn Carr. Although the show is just based on the first book in the series, Carr has written 21 such novels, all of which document the love lives of various residents in Virgin River. Obviously, the Netflix series has plenty of material to work with, but you must be asking yourself if the stories are true.
Well, the stories are grounded in reality and deal with normal people and the problems they might face. We see a woman named Melinda Monroe, who leads a happy life with her husband in Los Angeles. Although she cannot get pregnant, they are young and in love. Life is good for them until the husband gets killed in a store robbery. The grief of loss is enough to drive Melinda to a new life, which she believes she will have in Virgin River.
The desire for a change of scenery after suffering losses is quite normal, and there have been plenty of instances where people have changed cities and jobs after heartbreaks. However, once Melinda goes to Virgin River, she realizes the town is not what she expected to be. There is a very realistic portrayal of how rustic life can be difficult to adjust to for an urbanite. Eventually, she starts to become a part of the small community, which is compounded when someone leaves a baby at the doctor's door, forcing Melinda to care for it until social services arrive. Her plan to stay back is cemented thanks to Jack Sheridan.
While the story could have portrayed Melinda to have had a bad first marriage, to show Jack and her romance as something magical, it chooses to remain realistic. The message we get is that Melinda is a victim of circumstance, and would have been just as happy in her previous life, as she has a chance to be, with Jack.
The bonding between Melinda and the baby is also quite natural because as someone who could not get pregnant, it is obvious for the woman to form an attachment. Perhaps Jack's character could have been drawn a little better since he comes across as a man beyond reproach, an alpha male with a soft side. That being said, his interactions with Melinda are realistic enough for us to overlook a minor overdoing in a character portrayal.
It is not just the story that tries to remain real, but the characters are also drawn with a degree of nuance so that they are relatable to us. They have their good and bad bits, but always try to be nice to each other. When Carr was asked about her stories being used as sociological studies of utopian societies, she was genuinely surprised. The author commented that she merely drew people who were nice to each other. However, in the same interview, she went on to say how a lot of people believed Virgin River to be a real place and wondered how to get there. Carr gently reminds us that the place exists only in our minds and hearts.
In conclusion, there is no doubt that 'Virgin River' is based on a work of fiction. However, the story is such that it could happen to anyone. In terms of relatability, and the possibility of being a part of the story, the series can be called true — even if the story might not be real. The problems and the people are real enough to make the setting and the entire story feel true to viewers.
Read More: Best Movies Based on Novels