Created by Michael Fraser, 'Glow Up: Britain's Next Make-Up Star,' or 'Glow Up' is a British reality competition series in which aspiring makeup artists face a series of challenges to demonstrate their creativity, skills, and ability to adapt. In the fifth season, under the mentorship of celebrity judges like Val Garland and Dominic Skinner, the contestants strived to claim the title of 'Glow Up' champion as they delved into the world of makeup artistry. This season has also been praised for its positive portrayal of the makeup industry and its focus on diversity and inclusion.
As season 5 premiered on Netflix on September 12, 2023, Wezley Webber immediately captured the attention of viewers and quickly became a fan favorite. His enigmatic presence on screen had a magnetic quality that charmed the audience, and they found themselves wholeheartedly rooting for him throughout the show's run. Given his newfound popularity, it's no surprise that fans would be eager to learn more about their favorite makeup artist. Well, don't worry, because we've got you covered, and we'll go deeper into Wezley Webber's fascinating journey!
Wezley Webber's Glow Up Journey
Born on February 22, 2003, in Weston-super-Mare to Louise Webber, Wezley Webber exhibited artistic flair from a young age, finding immense joy in activities like drawing and painting. Growing up alongside his brother, Dan Saunders, he honed his creative skills. Wezley completed his education at Hans Price Academy, where his passion for the arts continued to flourish. In a candid interview, he revealed, "I was always very fascinated by beauty, and strong femininity. As I got older, the meaning behind it all really resonated with me."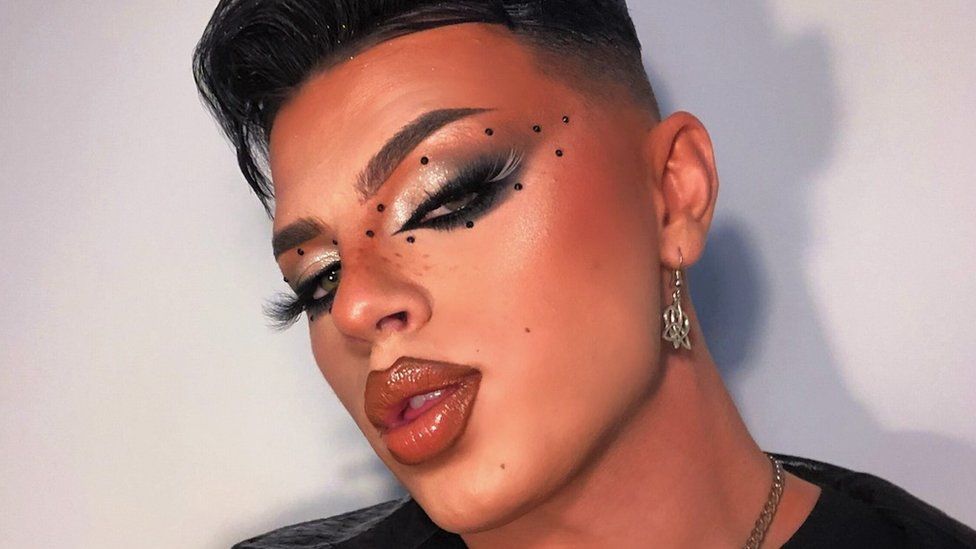 As Wezley recognized the potential of turning his fascination with art and makeup into a full-fledged career, he took a significant step by enrolling at Weston College to study hair, makeup, and special effects. Graduating in 2020, he was poised to embark on his professional journey and soon joined a team of freelancers, honing his skills and gaining valuable experience in the field. It was during this time that his partner, Jack Kennedy, encouraged him to take a chance and apply for the reality show 'Glow Up.'
Initially apprehensive, Wezley eventually mustered the courage to audition, and once he secured a spot on the show, the experience proved to be nothing short of unbelievable for him, catapulting his career to new heights. Wezley Webber's time on the show proved to be a transformative and enriching experience. Throughout the competition, he had the privilege of learning from industry experts, an opportunity that significantly contributed to his growth as a makeup artist.
Among the many memorable moments on the show, Wezley's favorite was during a competition where the challenge was to create a makeup look inspired by Old Hollywood Glamour. This particular round marked a turning point for him, as it led to him securing an industry win, even though he didn't make it to the finals. This achievement opened doors for him, and as a result, he had the incredible opportunity to assist the renowned makeup artist Daniela Alves in creating Cat Burns' makeup when she was opening for Sam Smith on their Gloria Tour.
Where is Wezley Webber Now?
Despite leaving the show in episode 5, Wezley Webber's journey was far from over. His time on 'Glow Up' had garnered the attention of new brands eager to collaborate with him. While he continues to serve his existing clients as a freelancer and conduct masterclasses and workshops, he harbors aspirations of becoming a brand ambassador for prominent companies in the beauty industry. Looking ahead, his ultimate goal is to launch his own makeup line, with a vision of making high-quality beauty products accessible to everyone.
Wezley also performs as a drag act Nicole Grande and is sometimes joined by his long-time partner, Jack Kennedy aka Paris Grande. He is also quite close to his mother and spends significant time with her. He said jokingly, "I said to my mum years ago, she was awful at doing her own makeup, So I taught her how to do it. It's never too late to learn." We can be assured that his artistic expertise would benefit a wide range of people. Wezley's journey will be filled with promise and the potential to make a significant mark in the world of cosmetics.
Read More: Taisha: Where is Glow Up Season 5 Contestant Now?