'Lincoln Rhyme: Hunt for the Bone Collector' is a serial killer centric police procedural drama that takes inspiration from the 1997 crime thriller written by Jeffrey Deaver.
The NBC show follows retired NYPD detective and forensic expert, Lincoln Rhyme after he teams up with young profiling genius Amelia Sachs as they embark on a wild cat and mouse chase to catch the dreaded "bone collector", who has appeared after three years. The quadriplegic Rhyme holds a personal grudge against the serial killer and together, they need to trace down a genius psychopath.
The chunk of the entire series mostly follows Sachs across the city as she serves as the eyes and ears of Rhyme who is immobile after his last encounter with the bone collector. And knowing Seth Gordon, who serves as the director for the pilot episode and has an obsession with New York City, the major part of the drama unfolds in the metropolis. Hence, it is no surprise that most of the scenes are filmed in its various streets, subways, corners, and prime hotspots.
Lincoln Rhyme: Hunt for the Bone Collector Filming Locations
Apart from NYC, which serves as the primary shooting spot, other locations include Morristown, IZOD Center (East Rutherford), Newark, Jersey City, Kearny, Bergen County Community College in Paramus, Passaic, Paterson, Wayne, and Woodland Park — all located in New Jersey, USA
Meadowlands Arena in East Rutherford, N.J
Meadowlands Arena, which used to be the grounds for professional basketball and hockey games, was recently renovated in 2015 to serve as a soundstage for NBC prime-time dramas. And 'Lincoln Rhyme: Hunt for the Bone Collector' commenced its filming here itself in September 2019.
The film 'Joker' and HBO's 'Succession' are some other projects filmed in the state. According to the NY Times, "For 'Lincoln Rhyme', luxury boxes overlooking the arena floor were turned into offices for production assistants, accounting, props, and other departments."
The Nets locker room is the costume headquarters. Replacing the previous jerseys and high-top sneakers, the stalls are now packed with an ensemble of leather boots, women's sweaters, and a 5-month-old black Pomeranian (owned by the show's costume designer). The article further added, "In front of thousands of empty plum-colored seats, the arena floor was transformed into sets replicating Upper West Side brownstones. There was even a forensics evidence room complete with biohazard infectious waste containers and a DNA sequencer."
Below, you can see how a portion of the filming stage in Meadowlands Arena is transformed into a bedroom set that is showcased in the pilot episode itself.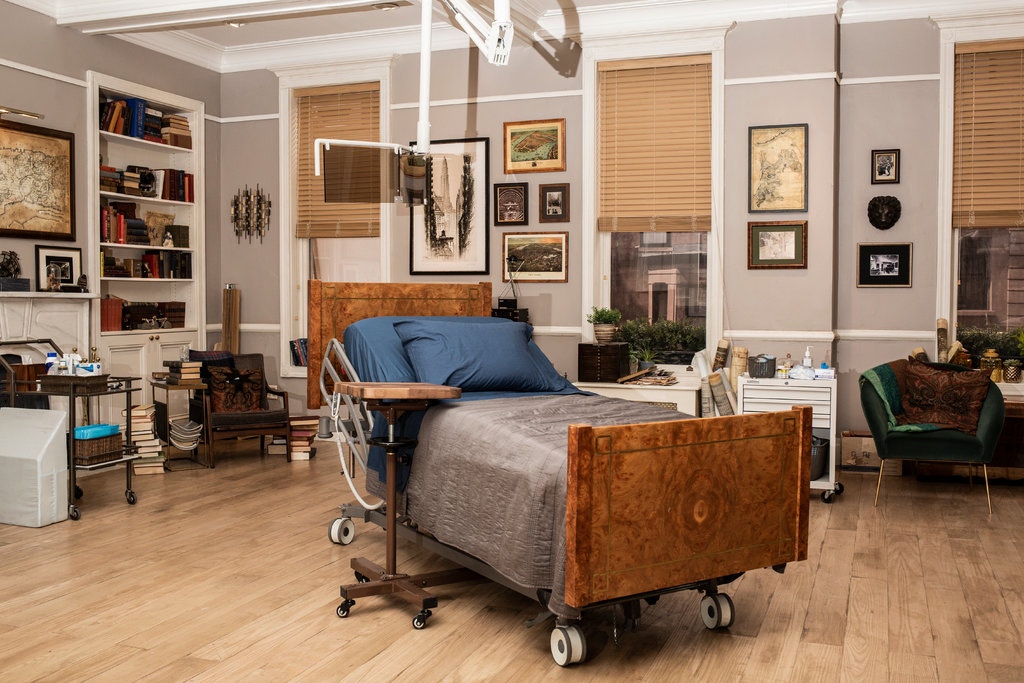 New York Subway
In one particular scene, we can see Sachs frozen as she stands before a fast-approaching subway train. Actress Arielle Kebbel, who enacts the role, explained: "We actually filmed on a real New York subway. It was St. Patrick's Day and the track next to us was still running, so we had a lot of fun surprises with people coming and going. But it was terrifying." She further added, "And in fact, none of that was scripted. All of the screaming … they let me improv as what felt right for me at the time."
In fact, Kebbel and Russell Hornsby (Lincoln Rhyme) stated how it was a dream come true for them to shoot the series in NYC. According to them, NYC is the best supporting character in any show or movie. The unique places, descriptive locales, people, voices, and energy cannot be found anywhere else.
Check out how the show's official Twitter handle had also offered homage to New York City in one of their tweets:
"New York is a special city, there's no other place like it. And Jeffrey Deaver wrote it into the novels, and to not include it would have done the show a disservice." – @russellhornsby #LincolnRhyme #NYCC

— Lincoln Rhyme: Hunt for the Bone Collector (@NBCLincolnRhyme) October 5, 2019
Well, get the NYC map ready in front of your eyes. 'Lincoln Rhyme: Hunt for the Bone Collector' is already airing on NBC. Give it a watch and get a whole new glimpse of your very own city!