As a documentary movie exploring the scandalous rise and fall of none other than once-football star Johnathan "Johnny" Manziel, Netflix's 'Untold: Johnny Football' truly breaks all bounds. That's because it incorporates details of not just his career but also his substance use, mental health issues, alleged assaults, as well as a suicide attempt to really give us an insight into his actuality. Yet, for now, if you simply wish to learn more about the 2015-2016 domestic violence allegations against him, especially since Colleen Crowley was at the center, we have got you covered.
What Happened Between Johnny and Colleen?
It was reportedly back in the early summer of 2014 when Johnny Manziel came across Colleen Crowley for the first time, just for them to soon fall head over heels despite the former's extreme partying ways. The truth is this duo also hailed from different areas — the Kerrville quarterback had recently left Texas A&M to turn pro, whereas the Houston native was still attending Texas Christian University. However, they still managed to make things work; well, that is, until the fall of 2015, when it ostensibly came to light the athlete had been utterly unfaithful throughout their 14 months together.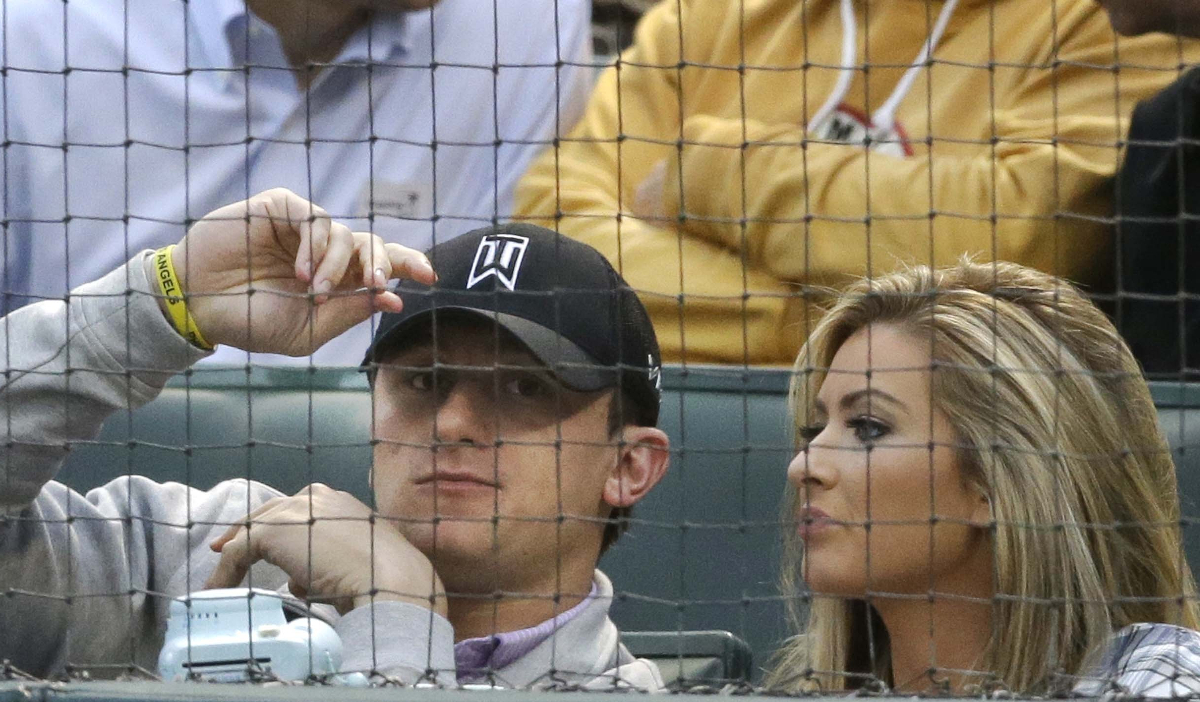 According to records, the young couple was driving on Interstate 90, near Avon, Ohio, on the day Johnny first raised his hands on Colleen before shoving her head into a window during an argument. But alas, despite being pulled over by the police and carefully questioned, the 23-year-old simply couldn't press charges against her on-again, off-again boyfriend as her "protective instincts" kicked in. Though little did she realize this would not be a singular incident of physical abuse — the subsequent (and final) heated quarrel turned beating came around three months later in January 2016.
As per Colleen's own account, she'd broken up with Johnny for good following months of intense instability, only for him to soon request she meet him at Hotel ZaZa in Dallas for a party. The things she did show up at this event alongside a few friends at roughly 2 am since they were already on a night out, yet he wouldn't let her leave when the time came to say goodbye. Instead, he allegedly suddenly restrained and led her downstairs prior to forcing her into his vehicle, from where he quickly made his way to the nearby bar her car was parked to switch their positions.
Colleen thus felt like she had no choice but to jump out, just for him to snatch her by the hair and throw her back into the vehicle before hitting "me with his open hand on my left ear." According to the young victim, this blow left her "completely deaf in one ear for three and a half months," yet she barely noticed at the time because she was too worried about Johnny's behavior. After all, while rushing to her apartment, he maniacally threatened to kill them both — he was apparently laughing, crying, and driving simultaneously in such a deep-rooted manner she was genuinely petrified.
Johnny's argument with Colleen seemingly continued even upon the clock struck 5 am, that is, until he discovered she was trying to call her parents and lost control again, driving her to grab a knife. This is the moment the quarterback fled the apartment, ultimately resulting in his ex-girlfriend filing a report that led to a 2-year restraining order, indirect booting from his NFL team, plus charges of misdemeanor assault. However, the latter was dismissed in November 2017 once Johnny completed much-needed anger-management classes as well as participated in the league's substance-abuse program.
Colleen had actually supported Johnny when he went into rehab in 2015 but could do nothing as he slipped back into a dark place following a few good months; in fact, they were both intoxicated during the Ohio incident. "People thought I was this party girl — crazy," she once said. "I read things about me that were just not true." The now moved-on 30-year-old added that although she was "addicted" to her then-beau, she noticed all the terrifying ways he lost his temper whenever they clashed. "I would have to [lock] myself in a closet or a room or a bathroom just to get him away from me. I felt like I didn't have control over my own body. It was aggressive." Yet, we should mention even Johnny has since moved on to be in a much better place.
Read More: Where is Johnny Manziel Now?