Created by Dick Wolf and Derek Haas, 'FBI: International' is the third entry in the 'FBI' franchise. The plot revolves around the members of the FBI's "Fly Team," an elite group of agents who serve beyond the US border. Headquartered in Budapest, Hungary, the team is primarily tasked with protecting the American interest in Europe. If an American is involved in a criminal occurrence in the continent, the Fly Team often helps with the investigation.
In 'FBI: International,' Tank is often referred to as a Schitzhund (a German word that translates to "protection dog"). In the first season of the series, the Fly Team leader Scott Forrester (Luke Kleintank) is rarely seen without Tank beside him. However, the dog's appearance has become much more limited in season 2. If you are wondering about the reasons for it, we got you covered. SPOILERS AHEAD.
What Happened to Tank?
Let us start by assuring you, dear readers, that Tank is perfectly fine in 'FBI: International,' just as Green (the Giant Schnauzer that portrays Tank) is in real life. Regarded as the team's "secret" weapon," Tank used to be an FBI cadaver dog. After a couple of years of service, when the FBI sought to retire the animal, just as it does with other dogs, Forrester stepped in, believing Tank didn't want to stop working. The two of them have been together since.
In an interview with TV Insider, Kleintank reflected on his character's relationship with Tank. "Everybody loves Tank. We all love him on set so much," he said. "He's a sweetheart, but he's a baby. I don't know if people know this. He's only a three-year-old pup and his name is Green. We all love him to death. He's not going anywhere, I'll tell you that. He's always gonna be around. He's supposed to be older in the show, and I think Scott worries about him a lot, just because he is his boy and he's had him since he was younger."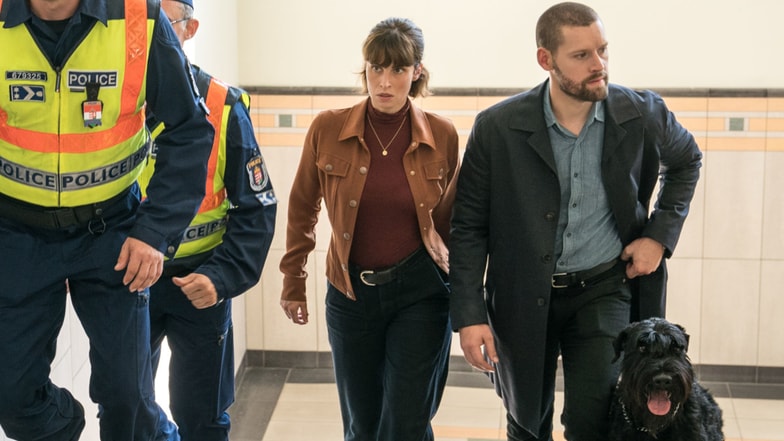 In season 2, Tank's appearances are largely limited to the scenes where the dog and Forrester interact with Zsólt, the son of Forrester's neighbor. The boy looks after Tank whenever Forrester has to leave the city for work. In November 2021, showrunner Derek Haas explained how they balanced their desire to put the dog in more scenes with the need of the narrative. " Tank's going to have some issues of his own coming up," he told TV Insider. "But as far as how much we use him, we just play it by ear with what the script dictates each episode. We're not trying to force him into scenes that he shouldn't be a part of. But yeah, that dog is super lovable and we just liked the idea that Forrester's a little bit of a lost dog himself, so of course he would bond with this lost dog."
Tank briefly appears in season 2 episode 18, as Forrester goes into hiding after learning that a Russian assassin seeks vendetta against him. Moreover, according to a report from TVLine, the dog will return to the screen in the season 2 finale, so the viewers don't have to wait that long to see Tank again.
Read More: Is Miklós Bányai's Ben Erdos Leaving FBI: International?