Directed by Tom Harper, 'Heart of Stone' is a spy action thriller movie written by Greg Rucka and Allison Schroeder. It features Gal Gadot, Jamie Dornan, Alia Bhatt, Sophie Okonedo, and Matthias Schweighöfer in the lead roles. The film follows Rachel Stone (Gadot), an intelligence agent working for the Charter, a mysterious and top-secret spy organization. However, when the Charter's greatest weapon risks falling into the wrong hands, Stone is forced to fight and save the day. The film features plenty of high-octane and explosive action sequences, including an enthralling motorcycle scene featuring Gadot's Rachel Stone. If you are wondering what motorcycle Gadot rides in these scenes, here is everything you need to know! SPOILERS AHEAD!
What Motorcycle Does Gal Gadot Ride?
In 'Heart of Stone,' Gal Gadot plays the role of Rachel Stone, an agent of the spy organization Charter. Stone is on a mission to stop her former teammate Parker (Jamie Dornan) and hacker Keya Dhawan (Alia Bhatt), who target the Heart, an all-powerful AI tool. During the movie's climax, Stone travels to Reykjavík, Iceland, where she must stop Parker from using the Heart to destroy the Charter. The climactic sequence features Stone riding a motorcycle into the heat of the action as she arrives at a University only to be led into a trap.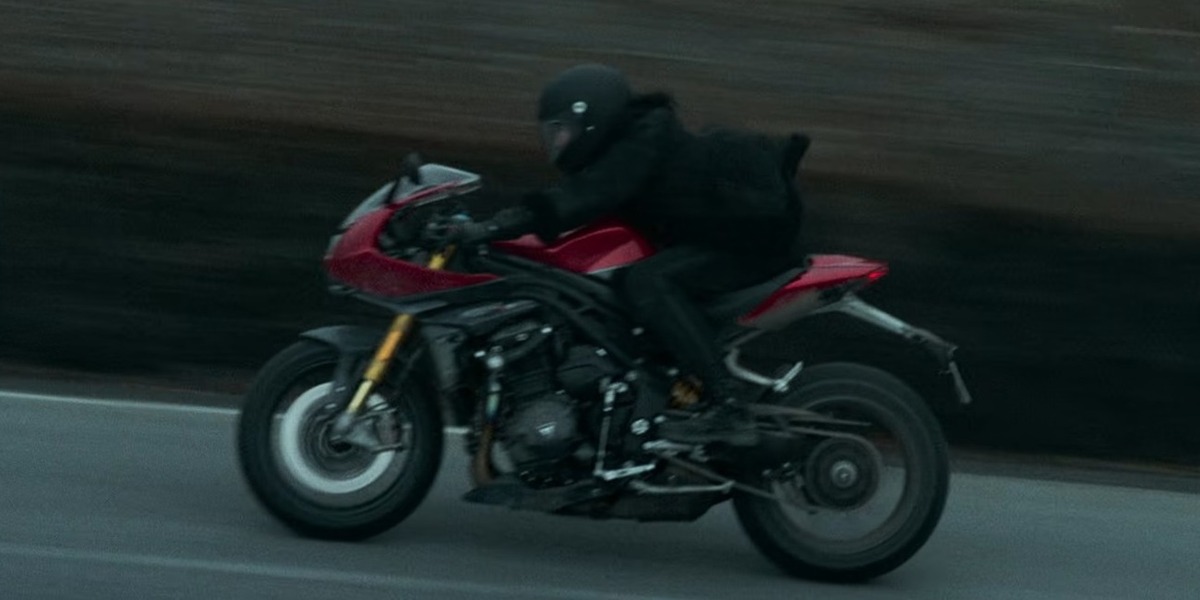 The bike Gadot rides during the climax of 'Heart of Stone' is a Triumph Speed Triple 1200 RR. It is manufactured by Triumph Motorcycles Ltd, one of the largest motorcycle brands in the United Kingdom. The company was established in 1983 by John Bloor, and the Triumph Speed Triple 1200 RR is one of the company's flagship models. The model Gadot's character rides in the film is the Red Hopper/Storm Grey version. It also comes in a Storm Grey/Crystal White variation. The Triumph Speed Triple 1200 RR model was first launched in 2022.
The modern performance sports bike is a successor of the Speed Triple models of the 1990s. The bike was developed with the learnings from the Moto2 racing program and comes with an 1160 cc Triple Engine. The engine results in 147.9 horsepower at 10,500 rpm. The Triumph Speed Triple 1200 RR comes at a starting price of $20,950. The slick and exquisite-looking bike makes a worthy companion for Gal Gadot's Rachel Stone during the movie's exhilarating climax. The scenes featuring Gadot on a Triumph Speed Triple 1200 RR set the tone for the explosive finale with a motorcycle chase, allowing Gadot to flex her motorcycle riding skills.