As a documentary that delves deep into the inspiring tale of two brothers as they run a hospital dedicated to rescuing injured birds of all kinds, HBO Max's 'All That Breathes' is simply unforgettable. After all, this Hindi-language Academy Award-Nominated Shaunak Sen original is an intricately layered exploration of humankind's overall connection to not just wildlife but also climate change. So now, if you wish to learn more about these brothers — Nadeem Shehzad and Mohammad Saud — whether in terms of their roots, experiences, or purpose, we've got the details for you.
Who Are Nadeem Shehzad and Mohammad Saud?
It was back when Nadeem and Mohammad were mere teenagers in the 1990s that they first came across the way birds can fall prey to even the littlest things in their hometown of Delhi, India. That's because they had found an injured common Kite entangled in a synthetic metal or glass-coated kite-flying string called "manja," only to be turned away by every possible local veterinarian. The truth is this was owing to both the latter being unwilling to treat the pure carnivore raptors based on religious stipulations around meat as well as a lack of actual bird hospitals in the region.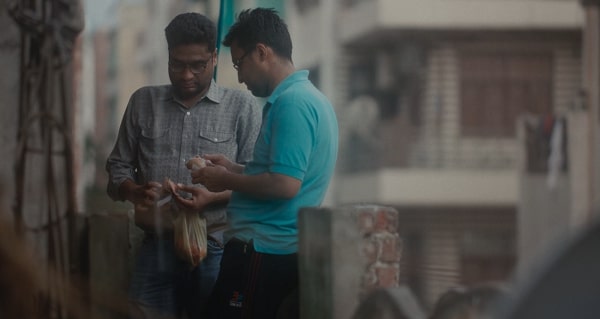 However, by the time 2003 rolled around, Nadeem and Mohammad realized they had to intervene as they couldn't just hope for the best while leaving the maimed beings on the roadside every time. The former bodybuilders thus found a way to have them treated by a known veterinarian before taking care of them in their own home till the point they had to convert their roof into an enclosure.
"Over time, the number of birds increased to the extent that we needed to buy a cage," Nadeem, the elder of the two, once said. "We released the birds on the rooftop during the day and put them in the cage after dark. Our neighbors appreciated our efforts and started pitching in to help… We rescued almost 400 birds, including owls, hawks, water hens, and egrets, between 2003 and 2010."
That's when the brothers decided to establish Wildlife Rescue as an NGO to help their cause, enabling them to receive calls for aid from locals, animal hospitals, and governmental bodies alike. According to their own estimates, they have since managed to save nearly 25,000 birds from more than 100 species, which is saying a lot once you consider their initial lack of any medical training.
We say "initial" because Nadeem and Muhammad not only sought the help of local veterinarians during the early days, but they also often travel to the US to attend workshops on wildlife rescue. This is despite the fact they had to quit their formal education in 1997 as high schoolers/ graduates owing to their family's financial situation, which meant they even had to revive their family business.
"Wildlife rescue is entirely different from biology, and there is no formal course in India that addresses it," Muhammad once admitted. "The US is one of the most advanced places and is known for its commendable work in bird rescue. We learn new techniques and train ourselves with help from experts at various wildlife centres across the country." It thus comes as no surprise their dedication attracted the attention of filmmaker, video artist, and film scholar Shaunak Sen in 2018.
Where Are Nadeem Shehzad and Muhammad Saud Today?
From what we can tell, Nadeem and Muhammad are still doing their best to serve as rescuers, all the while being Partners in their Challenger Industries appliance manufacturing business. While the former holds the titles of Co-Founder and Secretary at Wildlife Rescue, the latter, with his passion alongside past volunteer work at other local shelters, is Co-Founder, Managing Trustee, as well as President.
The truth is although the brothers' organization caters to nearly a dozen birds each day with the help of part-time veterinarians and caretakers, they work for the social cause in their free time. The primary reason for this is monetary capital, yet the Delhi natives are taking steps to ensure they can one day establish a bird hospital, as made evident by the fact they now have a rented clinic.
"We have been receiving donations for the past five years," Muhammad recently said. "These partly support our cause. Otherwise, it is challenging to manage all the expenses from our earnings. We have also registered an NGO, Raptor Rescue and Research Inc, to raise funds in the US and help our cause in India… We run on a limited budget. Many bird rescue calls coming from far corners of Delhi go unanswered. We do not have an ambulance and cannot travel far to rescue birds…"
Nevertheless, Muhammad does admit that if they can reach the birds in distant areas, they can definitely "manage other daily issues and challenges at our end… Talks are also underway to receive a piece of land from the government for the hospital." Coming to his and Nadeem's personal standings, their social media platforms actually make it evident that the 40-something-year-olds are as close as ever and even have families of their own.
Read More: Best Animal Documentaries on Netflix