Damn it, who done it again!? Murder mystery is one of the most beloved genres of fiction. If you disagree, you can join the long list of suspects that do not enjoy the art of storytelling, you naïve, lowly idiot. If you're not a suspect (which still makes you a suspect because everyone is a suspect), you will have surely heard of Agatha Christie, her massive contribution to the genre and how the whodunnit has been quietly making a comeback with the author still very much at the center.
'Murder on the Orient Express' was an indication of its popularity while 'Knives Out' ensured that the quality of such stories is not dipping any time soon with its satirization and multiple odes to Christie. 'Agatha Raisin' is a murder mystery comedy television series that also pays homage to the mystery writer.
The show is based on a series of novels of the same name by M. C. Beaton. It follows a forthright but flawed woman who retires to a stunning village and ends up becoming an amateur detective there. The series does not bore one by limiting itself to a procedural investigation but employs tons of humor to remain fresh. I do not really need to explain how the story references Agatha Christie (the most obvious clue might be wrong, but not this time: Check. Title.).
Agatha Raisin Filming Locations

'Agatha Raisin' is a murder mystery that takes place in a fictional village, Carsley which serves to be the story's intrigue-filled small town. It is depicted to be idyllic and picturesque with lush surroundings. The town is shown to be located in the Cotswolds region: an area in South Central and South-West England that is known for its villages populated by stone buildings, historic towns and large gardens. 'Agatha Raisin' has done a stupendous job at capturing the fictional place's beauty by filming it in real villages in the Cotswolds.
'Agatha Raisin' is predominantly filmed in the Wiltshire county which is a part of the Cotswold region in South West England. Several villages and parishes located in Wiltshire have been utilized as locations for filming 'Agatha Raisin.' However, the show often mixes and matches shots from various places to masquerade as a single town and sometimes other fictional ones.
Biddestone, England
Biddestone is a village in northwest Wiltshire. It serves as the primary location for the fictional town of Carsely. Most of the exterior shots that depict lush, natural surroundings have been filmed almost entirely at Biddestone. The show's pilot which was aired as a television movie, 'Agatha Raisin and the Quiche of Death' has been predominantly filmed in Biddestone.
South Wraxall, England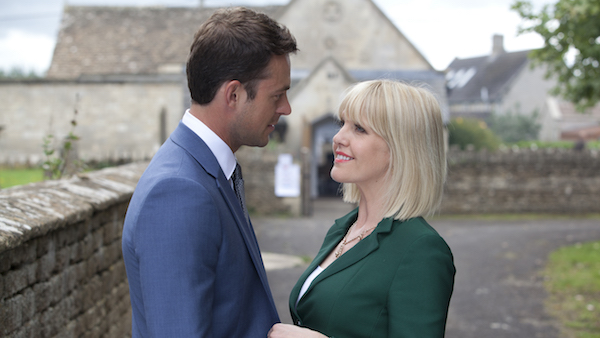 Most notably, scenes shot in South Wraxall appeared in the third episode of its first season, 'The Wellspring of Death.' The episode needed to be shot at a small town with a pub, church, village hall and narrow lanes. Hence, South Wraxall served to be the ideal place. The village has some truly gorgeous and really old buildings belonging to the 17th and 18th century. Built entirely out of stone, these buildings significantly add to the village's aesthetic making it the perfect spot to be passed off as Carsley's neighboring village, Ancombe.
A water spring at Upper Wraxall near Marshfield was of prime importance when it came to filming the episode since it focuses on a large corporation that wants to commercialize a naturally occurring spring. Moreover, the town's village hall and pub also appear in the episode along with a few street shots.
Corsham, England
The latest season of 'Agatha Raisin' was also filmed at the historic market town of Corsham which is also in Wiltshire. The village has several historic locations like the country house, Corsham Court. In April 2019, the crew of 'Agatha Raisin' had been spotted by local reporters at High Street near an antiques shop. The antiques shop, Table Gallery had been renamed to Bladon Antiques during the filming.
Bristol, England
Bristol is a city in Southwest England and has been one of the principal filming locations for Agatha Raisin. While most of the exterior shots of Carsley have been filmed at Biddestone, the scenes depicting actual streets and buildings in the fictional town have been shot in Bristol. Places like Ashton Court, The Clifton Club, Colston Hall and Cumberland Basin have been some of the locations that were shown in 'Agatha Raisin.' Moreover, local reports also suggest that the crew of the series is often based in Bristol even when they are filming in other areas. They also make use of the logistical support provided by the city apart from local filming crews as well.