If there's one thing absolutely nobody can deny, it's that the McKamey Manor is an interactive survival horror attraction unlike any other since it actually breaks all bounds to involve extremities. After all, as carefully profiled in Hulu's 'Monster Inside: America's Most Extreme Haunted House,' its willing participants are genuinely subjected to physical and psychological torture during the tours. Yet for now, if you simply wish to learn more about this "scariest" space's founder, Russ McKamey — with a focus on his background, experiences, as well as present standing — here's what we know.
Who is Russ McKamey?
Russ was reportedly just a young boy growing up in California when he first developed an interest in haunt while trick-or-treating with his father, only for it to continue expanding as the years passed. The truth is it was a makeshift cardboard maze on someone else's lawn that had propelled him down this path owing to all the enigmatic possibilities it offered, leading to his passion for the arts as well. It thus comes as no surprise he primarily focused on acting, filmmaking, and music throughout his high school/college years, all of which are now rather evident aspects in the theatrics of his Manor.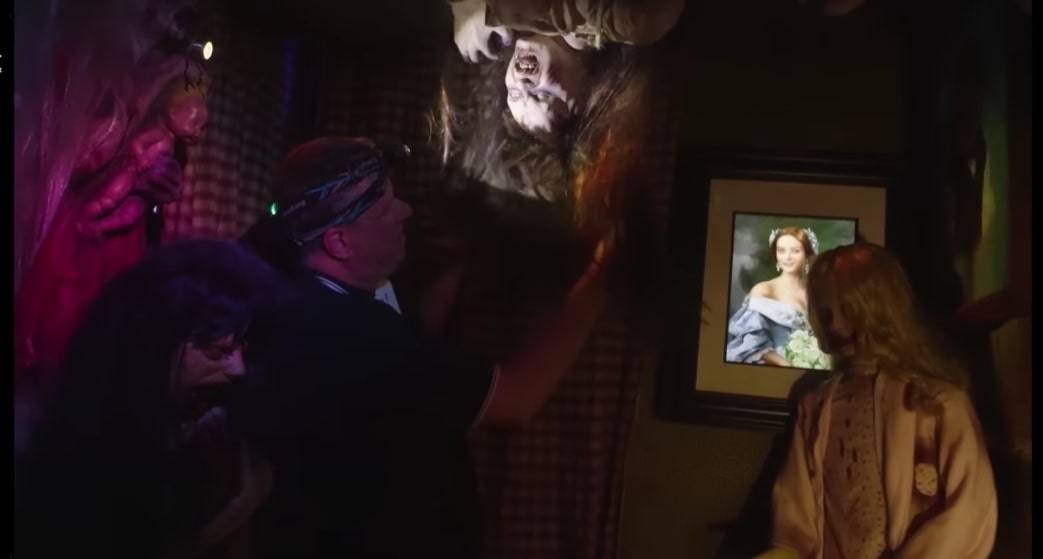 However, Russ ended up enrolling in the United States Navy shortly upon graduation, where he proudly served for the ensuing 22 years — 17 of which were reportedly as Command Career Counselor. Yet his passion for horror never waivered; instead, he produced events on board at sea whenever possible, enabling him to garner enough experience to build a commercial one following his discharge. It was actually in 2001 that he launched McKamey Manors in San Diego, California, alongside lifelong best friend and partner Carol Schultz, just for it to quickly gain a cult-like devoted online following.
This business was located on Russ' Rancho Peñasquitos property itself, but once neighbors began extensively complaining of the racket their "extreme haunt" experience caused, they had to move. That's because they were starting to gain a bad reputation despite the fact their goal of designing the craziest, most entertaining, full-contact shows for diehard, intense horror fans had remained the same. The couple's initial plan was hence to set up shop in Illinois, only for things to not pan out in the way they'd hoped for the better as they soon found a perfect facility near Nashville, Tennessee, in 2017.
Thus began Russ' rise to the top as a coveted but controversial haunted house owner, especially as reports of what really transpired during his McKamey Manor tours began coming to light. It turns out they do not kid when they mean physical and psychological torture since there are allegedly full-on assaults plus various forms of torment until a clear safeword or safety signal is used.
Therefore, of course, the Manor has age, insurance, and medical eligibility criteria; plus, they make participants sign a 40-page waiver to make it explicit they won't be responsible if anything happens. We should also mention Russ actually promises a $20,000 prize to anyone who makes it through the full 10-hour endeavor, yet it has never been done — the most a person has endured is 6 hours.
Where is Russ McKamey Now?
From what we can tell, it appears as if Russ continues to reside in Summertown, Tennessee, to this day, where he not only proudly operates his Manor but also publicly defends it with passion. He and Carol might not have changed their base, but they have since launched their attraction in Alamaba too, where they still solely accept dog food as donations and nothing more — there's no fee.
Russ, who has actually been called a "master of horror" as well as a "manipulative abuser" in the Hulu series, recently told The Sun: "I will say that I had absolutely nothing to do with that show, and it's nothing but hate. They didn't even try to talk to anyone who supports me or the Manor. Also, all the footage you're seeing is from my movies and personal Facebook pages. The only original is the hate interviews. It's just one-sided hate propaganda from people that actually know better but are looking for their 15 minutes of fame. They truly are obsessed with me."
Russ added, "It's very misleading. I hope people realize this. It's not even about McKamey Manor, it's all about me, trying to make me look bad. That was their agenda… I know the people involved and I've seen all the messages between the creators of the project and the hate groups. They have been working on this for a long time." As for why he didn't agree to be interviewed by these creators, he stated, "It's nothing but a hit job. I'm not going to give them anything they could use." He just believes he's good at being "able to get inside somebody's noggin… I can make folks believe whatever I want them to believe," and that's why the Manor works.