Bringing back the 112 year old character of Anne Shirley on-screen screams sweet nostalgia, especially for those of us who grew up reading Lucy Maud Montgomery's Anne of Green Gables. Emmy Award winning Moira Walley-Beckett with her latest adaptation of the novel, 'Anne with an E', manages to offer us just that. But the Canadian series is also so much more as it stands brilliantly well on its own.
The primary reason for this is that 'Anne with an E' is an adaptation for our times. Set in the late 19th century, it brings to us the 13-year old red-haired orphan girl, Anne, played by the very talented Amybeth McNulty, and her adventures at Green Gables, as she tries her hardest to belong. The series is a whole lot darker and more complex than the original, but that's also what makes all its warmth shine even brighter. Despite the differences, it stays true to Anne Shirley, all that she was and stood for, making it one of the best adaptations of the novel in the recent past.
Just like the novel it adapts, the series is a treat for all ages, whether or not one has grown up reading the novel. At its core both Montgomery's novel, and its adaptation are a coming of age story about Anne, who has endured an abusive childhood, and is then mistakenly sent to live with Marilla and Matthew Cuthbert on Prince Edward Island. But 'Anne with an E' stands well on its own, and takes several artistic liberties in order to retain its honesty.
The series is also perhaps the most stylish adaptation of Montgomery's work, and also the most visually stunning with its luscious, vibrant green landscapes. The reason for this is also the fact that parts of the series were actually filmed in the original Green Gables, in all its beauty and glory. Here's everything we know about it.
Filming Locations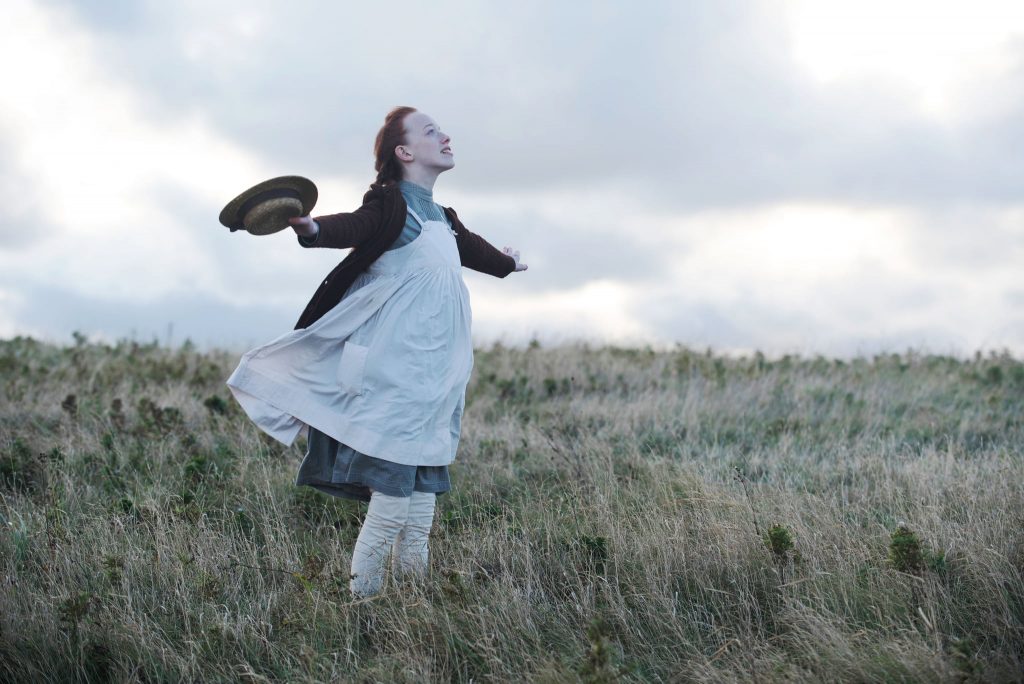 'Anne with an E' instantly brings to mind Montgomery's descriptions of Green Gables with its rolling green hills, lush fields, white sand beaches, and of course the "shimmering lake of lights". This is because the series was partly filmed on Prince Edward Island, which has Montgomery's Green Gables, and of course the town of Avonlea. But due to reasons related to both budget and practicality, it was majorly filmed in Ontario
Prince Edward Island, Canada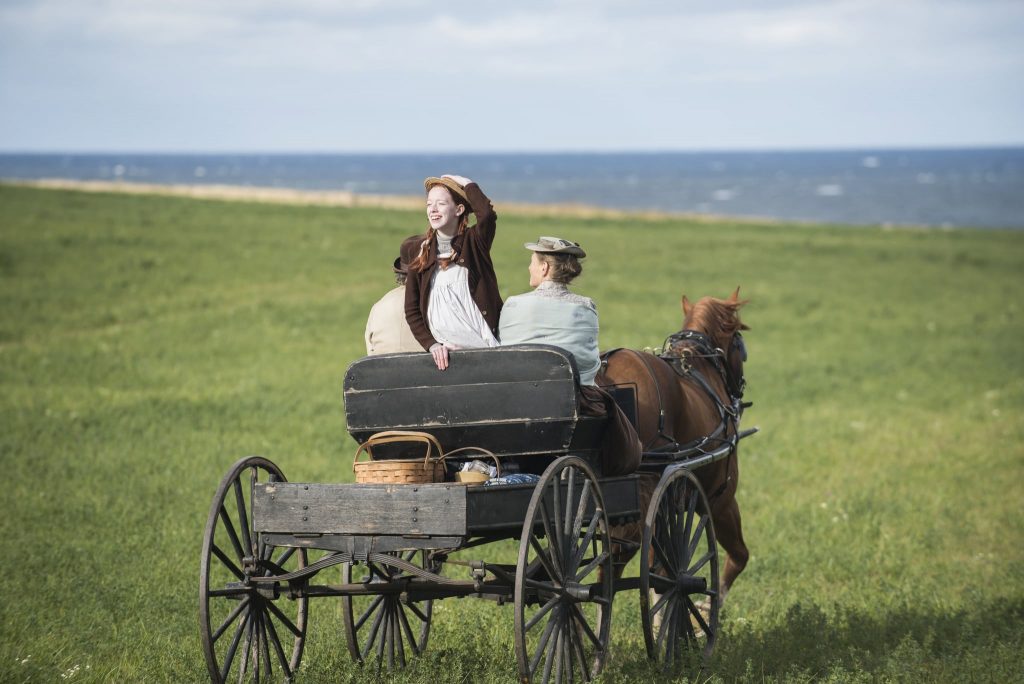 Several of 'Anne with an E"s outdoor scenes were in fact filmed in Prince Edward Island, the location that served as the central inspiration to Montgomery's children's classic. The Island attracts fans from all over the world and has become a literary landmark in its own right. Interestingly, it is actually owned by Montgomery's cousins, the MacNeil family, and she drew inspiration from the spaces there from her own experiences of spending her summers there.
The crew of 'Anne' spent some wonderful days shooting these outdoor scenes, especially around the Island's shorelines and its famous red roads. The show's executive producer, Miranda de Pencier stated that it was an extraordinary experience for the show's authenticity. The team also employed around 25 islanders, along with people with from Nova Scotia and New Brunswick as part of the crew.
But due to logistical difficulties, a major chunk of the series was filmed in Ontario instead. This was primarily because it was cost-wise impractical to bring their cast and crew of over 200 people as well as the filming equipments to the island. Peter Edward Island also lacked the amount of space that was required for production. Despite this, shooting at the island that inspired the original Green Gables was essential for the show's realism and authenticity. In an interview with CBC, Walley Beckett spoke of Amybeth McNulty instantly fell in love with the Island on her visit, and how it was important for the cast and crew to connect to the location:
"It was really wonderful to be able to feed the Island into the souls of our actors and our key crew so that we could bring that knowledge to the production every day here in Ontario."
Ontario, Canada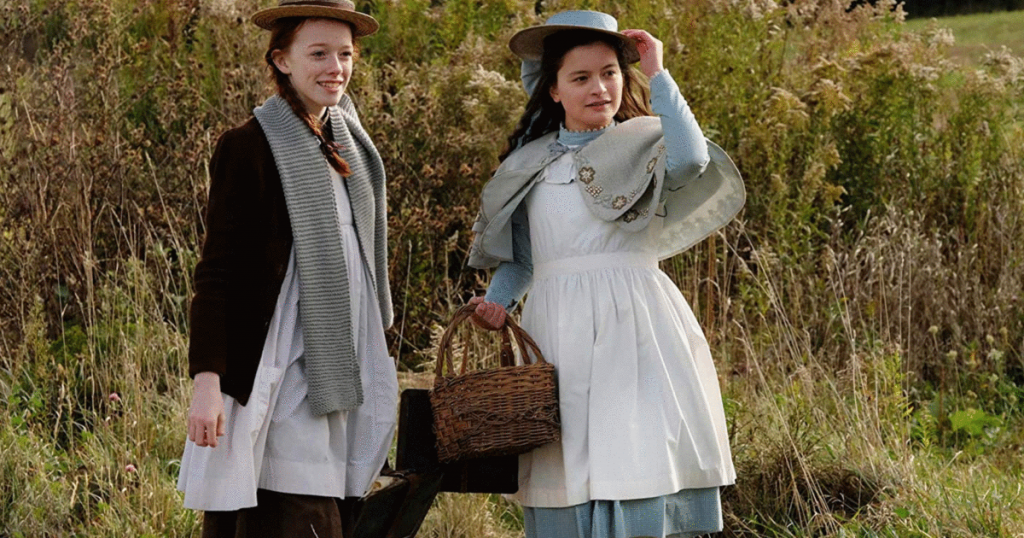 The primary aim of the production was to be as authentic as possible while recreating the fictional town of Avonlea and the Green Gables farm from the 1890s. According to de Pencier, the team was striving for a "documentary level of realism…not a teacups and doilies version" for the series and its portrayal of both the times, and the nostalgic fictional (but also very real) setting of Montgomery's novel.
This proved to be challenging as the team had to recreate their sets in Ontario, even when they shot on location. A major difficulty in this was getting the original red roads of Peter Edward Island wherever they decided to film in Ontario. This eventually led the team to crush hundreds of red bricks and carry it with them wherever they shot, transforming each location to the Island, and Avonlea, as described by Montgomery.
The production team also filmed at a farmhouse in Pickering in Southern Ontario because it strikingly resembled the Green Gables farm. But they did have to make certain changes, and renewed the roof of the farmhouse for it look as authentic to the original farm as possible. Along with these locations, the series was also filmed at Castle Kilbride in Baden, Black Creek Pioneer Village, Doon Pioneer Village, Hamilton, Millbrook, among some other places in Canada.
'Anne with an E' clearly manages to achieve what its team originally set out to achieve as it beautifully and realistically portrays the places Montgomery so vividly created and depicted. With the third season being its final one, this new year marks one of the last times we will get to revisit Anne in Green Gables, at least for a while. Make sure you don't miss it, as the season promises to be full of delicate surprises.
Read More: Shows Like Anne With an E