When we first heard the title track of 'Friends' little did we know that it was meant for us. The sitcom, with its six oddball friends, has always been there for us, especially when we're stuck in second gear. It has been a breath of relief, and sometimes the silver lining, after a bad day or even a week, when we just knew we could curl up in our blankets, and revisit Joey, Rachel, Chandler, Ross, Monica and Phoebe at their apartments, or perhaps catch up with them at Central Perk.
Let me just go ahead and say this, whether or not you like it, 'Friends' is THE most iconic show of our times. The series with its ten year run has been a pop culture phenomenon, and has had all of us dreaming, at some point or another, of sitting on that orange couch in Manhattan. The show has such an immense binge-watch potential, that one always finds themselves going back to it, either on TV or Netflix, for those easy laughs and warmth.
It wouldn't be an overstatement to say that there's no other American sitcom that has made us love and crave New York City as much as 'Friends' has. There's just something about the city that never sleeps, the concrete jungle where dreams are made of. But with 'Friends' and the charming relationship the six share with the spaces, the sitcom becomes a celebration of the city. Interestingly, it was hardly even filmed there. If you, like me, wish to revisit some of your favourite places from 'Friends' and celebrate the beloved sitcom, you are definitely at the right place. Here's everything we know.
Friends Filming Locations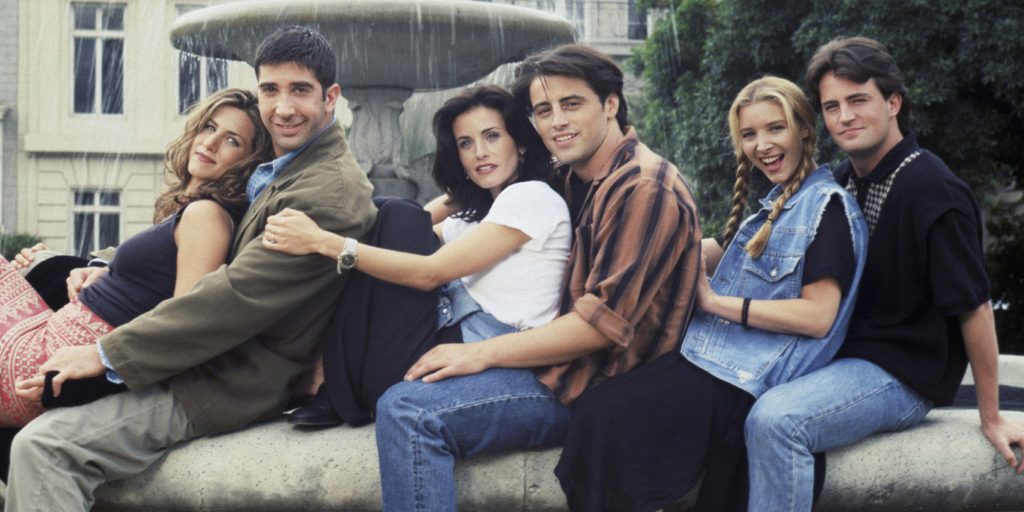 From the iconic fountain in the opening credits to the Manhattan apartments to Central Perk cafe, to Joey's romantic affair with pizza, 'Friends' in many ways, defined the pop-culture of 90s and early 2000s, and had such an impact that we still can't stop gushing over it. The sitcom can be definitely be treated as a celebration of New York City, from its architecture to its food. But the show actually only made use of some of the exterior shots from the city. 'Friends' is a traditional studio-based sitcom, and though set in Manhattan, it was filmed across the country in Los Angeles.
Los Angeles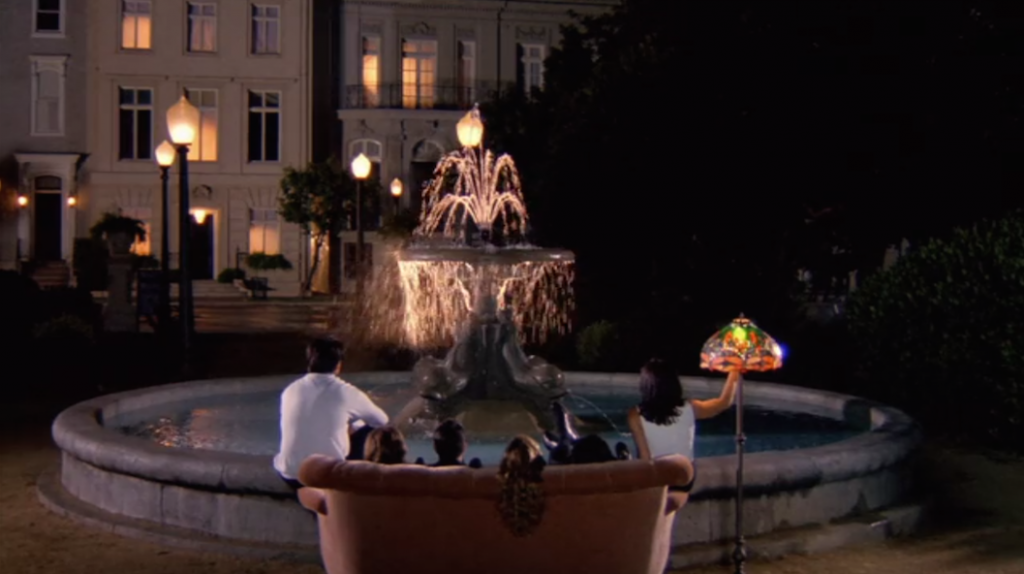 Interestingly, almost everything we see in 'Friends' was filmed at Warner Brothers Ranch in Burbank, California. The first season of the sitcom was filmed almost entirely on Stage Five of Warner Bros. Studio. These include the interiors of the apartments and Central Perk, among several other spaces.
The iconic fountain in the opening credits has been long presumed to be in New York, with fans often mistaking the Pulitzer in Grand Army Plaza or Cherry Hill in Central for it. However, the opening sequence of 'Friends' with "I will be there for you" playing, was actually filmed at Warner Brothers Ranch, and on a lot called Park Boulevard, that supposedly resembles Boston. The fountain from the sequence is actually present there, but since it's a private property, it makes difficult to see it in real life.
From the second season of 'Friends' to its last, the filming moved to the bigger Stage 24 in Warner Bros. Studios. The stage actually came to be known as "The Friends Stage" after the show ended, and one can even see the Central Perk set here. In case you didn't already know, Central Perk is purely fictional and didn't really exist, at least not until 2014.
Other locations around California include Vasquez Rocks. The episode in Season 5 which is set in Las Vegas was shot here. The rocks served as the Vegas filming location for 'Shutter Speed', Joey's big break. Another famous location used in the series is the Leo Carrillo State Park in Malibu, which is where the opening episode of Season 4 of 'Friends' is filmed, which has the group at the beach with Monica getting stung by a jellyfish.
New York City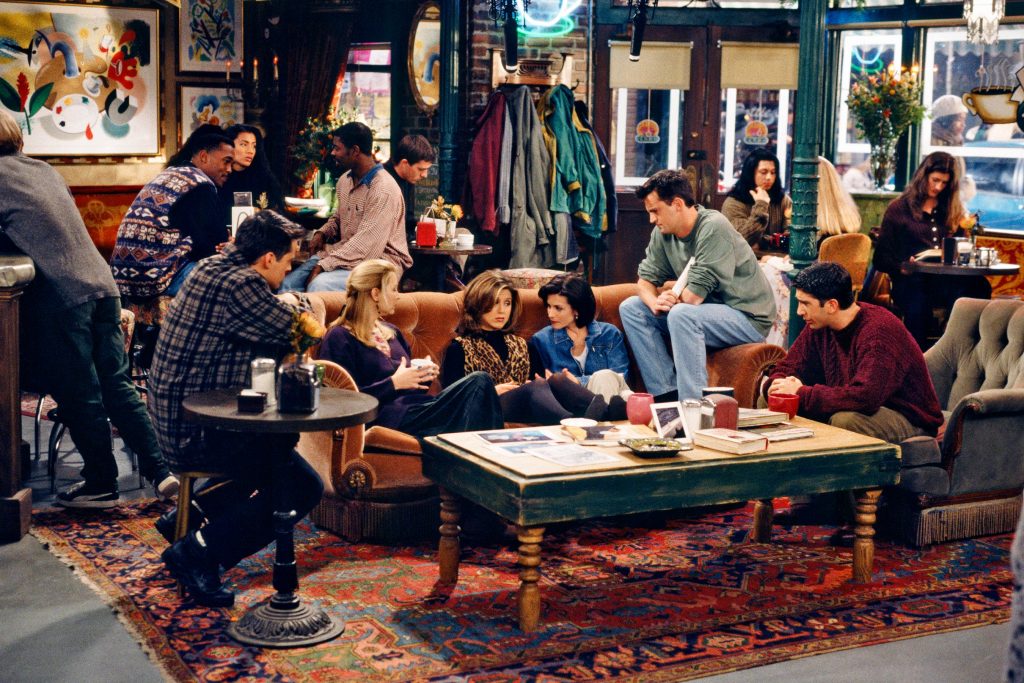 As the sitcom is set in Manhattan, New York City, it makes use of several establishing shots that were shot on location in the city. Though the interiors of Monica's apartment is filmed in Los Angeles, the exteriors were filmed in Greenwich Village. In fact, the building which serves as Monica's apartment is 90 Bedford Street, at the corner of Grove Street in Greenwich Village. Interestingly, though Central Perk doesn't exist below the apartment, a real-life cafe called "Little Owl" does, and it may have served for the fictional cafe.
Similarly, the establishing shot of the exterior of Chandler's office is filmed in Solow Building on West 57th Street in New York City, and is known for being featuring in 'Sex and the City' and 'Zoolander'. Around the area, on West 58th Street lies The Plaza Hotel where the group celebrate Monica and Chandler's engagement in Season 7. Another real-life location used for an establishing shot is the Lucille Lortel Theatre, which is a functioning off-Broadway there. It here that we see that Joey acted in a play in Season 3. Another interesting location used in New York is exteriors of The Moondance Diner, the place where Monica once worked. But sadly, the real place shut down in 2012 after moving to Wyoming in 2007.
London
London, baby!
Though most of 'Friends' was shot in Los Angeles, with establishing shots filmed in New York, the season finale of Season 4 was actually shot on location in London. In an interview with Boston Globe, director and producer Kevin Bright stated, "We were the only TV show I know of that shot a show in a foreign country …the reception there made me realise that 'Friends' was an international thing."
For the season finale of Season 4, and for Ross' wedding, the group travels all the way to London. The episode was filmed on location in the London Marriott Hotel in Grosvenor Square, Westminster Abbey, Buckingham Palace, and on top of a bus that Joey and Chandler cross Tower Bridge. Ross and Emily's wedding was mostly filmed at the Fountain Studios in Wembley, but the exterior of the building was St. John's Church in Wapping.
Read More: Shows Like Friends