Hulu's 'The Drop' is an intentional cringe comedy fest that zooms into the life of a married couple who is planning to have a baby. Lex (Anna Konkle) and Mani (Jermaine Fowler) are attending their friend's destination wedding. The pair decides to conceive at the beautiful destination. However, Lex drops her friend's baby, and now they need to circle back to the thought of having a baby in the first place. What lies ahead is a heap of passive-aggressive remarks, past mistakes, and judgments from people.
Director Sarah Adina Smith aces the whole human experience of shame, guilt, and trauma through a comedic lens. A fundamental aspect of the movie which contributed to its tonality was the choice of location. Apart from the unique subject matter, it received appreciation for the visuals that unfold in a dreamy town with tropical landscapes. If you are tempted to learn about the filming location of 'The Drop', we've got just the right details for you, along with some interesting trivia.
The Drop Filming Locations
'The Drop' was filmed in Mexico, precisely in a small coastal town called Sayulita. The production of the comedy film took place for reportedly three weeks in the first half of 2021 in the Mexican town. Let's explore why the filmmakers chose this place for filming and learn more about the experiences of the cast and crew on the sets of 'The Drop.'
Sayulita, Mexico
'The Drop' was primarily filmed in Sayulita, a picturesque and charming fishing village in the southern end of Nayarit state and north of Banderas Bay. Located on Mexico's Pacific Coast, Sayulita is deemed as a Pueblo Mágico, which translates to a "Magic Town," for its vibrant color-popping architecture, bohemian vibes, and surfing culture. The tropical paradise is where you can go for a vacation to party, take surfing lessons, enjoy authentic Mexican seafood, spot whales and dolphins, and shop at artistic hippie markets.
With all such aesthetic places readily available in a town, the filmmakers were tempted to seize the beauty of this place in their movie. They not only filmed at the Sayulita beaches but also shot a few sequences in the middle of the ocean, where Jermaine Fowler had to dive into supposedly jelly-fish infested water. Another movie filmed a couple of shots at Sayulita is 'Beverly Hills Chihuahua.' Even the second season of 'Bachelor in Paradise' was entirely filmed at this specific location.
Shaheen Sheth, the cinematographer and the husband of director Sarah Adina Smith, took to Instagram to describe his experience at this tropical paradise. He mentioned how the cast and crew woke up to the sounds of the ocean and chachalacas (a local bird). In an interview with Breezway productions at the Tribeca premiere, actor Utkarsh Ambudkar had wonderful things to say about Sayulita. He said, "I just wanted to work with the people and go to Mexico for free, and I got to bring my family, and we were there in Sayulita, and it was gorgeous, and they need to make a movie about how this movie was made."
Interestingly, the director was in her third trimester during the shooting, and actor Anna Konkle had become a mother only three months ago. The two embraced motherhood and chose to be productive for a movie that voices out questions about the feelings and thoughts which engulfed them before and during pregnancy. Anna was quite appreciative of her director's efforts when she said: "Sarah was eight months pregnant when she was directing, and she was incredible." Moreover, the star cast and filming crew all expressed their admiration for the dedication of their director.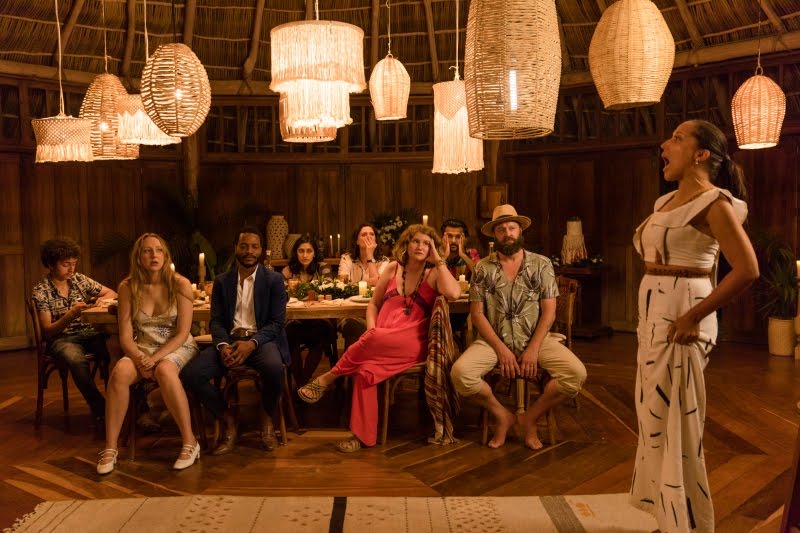 Even the production process of this movie is an empowering story for women from all walks of life and is a punch to all the orthodox beliefs about women discarding their professional lives after childbirth. One can always take up creative projects like 'The Drop' and fly away to a heavenly town like Sayulita to create an improvised dark comedy about a relatable situation, which is exactly what Sarah did!
Read More: Best Black Comedy Movies Of All Time