Created by Dick Wolf and Derek Haas, CBS' 'FBI: International' is the third entry in the sprawling 'FBI' franchise. This police procedural series revolves around the members of the FBI's international "Fly Team," an elite group of special agents tasked to protect American interests and deal with any possible threats to them. Headquartered in Budapest, Hungary, they are predominantly active in Europe, getting involved in investigations whenever an American is involved. Benedek "Ben" Erdos is a lieutenant in the Hungarian police force and is posted in Budapest. Here is everything you need to know about him. SPOILERS AHEAD.
Who is Ben Erdos?
Ben is introduced in 'FBI: International' season 2 episode 13, 'Indefensible.' At the start of the episode, Special Agent Jamie Kellett (Heida Reed) holds a session with officers of Rendőrség, the national civil law enforcement agency of Hungary. At the firing range, she offers them instructions on how to handle a gun before moving to the gym, where she begins teaching how to take down an attacker when they have come for you from behind and have you in a chokehold. Ben is the officer that volunteers to be Jamie's partner as she demonstrates the move.
However, Jamie ends up hurting Ben, and she tries to apologize. He brushes it off and even jokes to other Rendőrség officers that this is why one should always be on guard. Later in the episode, Jamie runs into Ben again as her team arrives to investigate the death of an American in a car explosion and discovers that his hand is in a sling. Noticing that she looks horrified about what she has done, Ben tries to assure her by calling the incident an "occupational hazard."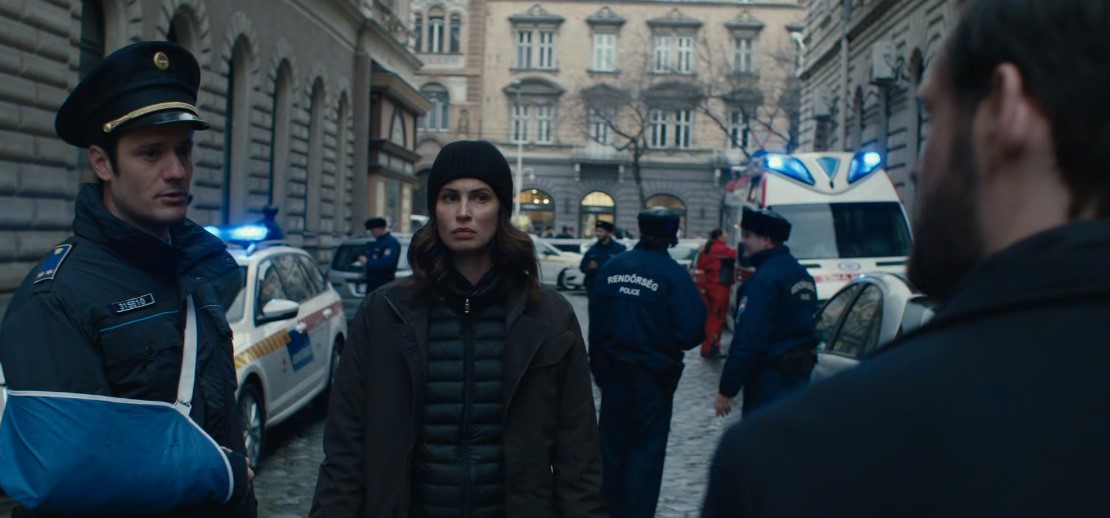 Ben reveals that the victim of the bombing, an attorney named Neil Cobb, called the police, claiming that he was being harassed. Because he was a prominent American living in Budapest, Neil's claim was taken seriously and investigated, but nothing substantial was found. Cobb also accused the police of scheming against him, which, according to Ben, made him seem paranoid. Jamie points out that the man was assassinated, so he just might have been perceptive.
When they are alone, Ben tells Jamie his hand is fine, and the sling is there just as a precaution, but Jamie insists that they should speak to a doctor about this. Ben acquiesces and tells her to call him Ben, cheekily citing a Hungarian tradition where you have to call people by their names if you break their arms.
Jamie later visits Ben's office to ask for a favor; when he invents another Hungarian tradition to have her ask him out for a beer, she leaves her number on his cast. The presence of the cast indicates that his arm was indeed broken. After the killer is caught, Jamie keeps her promise. She buys Ben a beer and then takes him to the hospital to see how the girl injured in the explosion is faring. Ben can only marvel at this different aspect of Jamie's character. As the episode ends, Jamie and Ben go on a proper date. Jamie and Forrester were previously in a relationship. Her fledgling romance with Ben might add an interesting dynamic to the show's overarching narrative.
Who Plays Ben Erdos?
Hungarian actor Miklós Bányai portrays Ben Erdos in 'FBI: International.' Born in 1985 in Budapest, Bányai attended Kaposvár University, from where he graduated with an acting degree in 2006. He joined the Gárdonyi Géza Theater in Eger the same year and was involved with them until 2011.
Bányai later relocated to Mexico and then to Los Angeles, California. The actor made his screen debut in the 2001 Hungarian TV movie 'Mikor síel az oroszlán?.' In 2012, he appeared in 14 episodes of the drama series 'Marslakók.' He also appears in one episode of NBC's short-lived 'Emerald City.' In 2009, Bányai made his cinematic debut in 'Polygamy.' He is set to star in the upcoming Estonian film 'Free Money.'
Read More: Who is Zoey McKenna in FBI International? Who Plays Her?