Netflix's 'Agent Elvis' imagines a different version of Elvis Presley, one where he moonlights as a crime-fighting vigilante. This leads a secret agency to recruit him as their undercover agent. While his music takes the world by storm, Elvis gets deeper and deeper into the world of espionage, discovers some startling truths about the agency he works for, and finds his own history entangled in it. While the world loves Elvis, someone has been trying to kill him. More than that, this villain is also adamant about using a dangerous weapon that can make people do terrible things. His identity is revealed in the last episode. If you want to find out more about him, we've got you covered. SPOILERS AHEAD
Is Gabriel Wolf Based on a Real Person?
No, Gabriel Wolf in 'Agent Elvis' is not based on a real person. The villain who wants to use the mind control device on people and turn them into mindless zombies is an original creation of the show's writers. While the mind control aspect of the story might seem far-fetched, the plot featuring assassination attempts on Elvis is not pulled out of thin air.
Allegedly, Elvis was once threatened with kidnapping and murder. Chris Hutchins, known for writing biographies like 'Diana on the Edge' and 'Elvis Meets the Beatles,' revealed that an anonymous caller once warned the FBI about a potential kidnapping plot. Elvis' agent Colonel Tom Parker also received a call advising him: "to treat the kidnapping as a matter of urgency." Hutchins revealed that Parker didn't panic as much as one would have expected him.
By the third warning, the kidnapping plot had evolved to murder. The caller claimed that "Elvis would be shot on stage." Despite the threats, Elvis decided to go forward with the concert. He even took a gun with him on stage, and it was believed that "if anyone fired at him, he intended to shoot back." Hutchins added: "In the event that he was killed, he had ordered his bodyguards to shoot the assassin before the police moved in. 'I don't want anyone to become famous for shooting Elvis Presley,' he said."
In another case, Jerry Lee Lewis once showed up at Elvis' Graceland. He had a gun while being extremely drunk and high on drugs. He threatened Elvis to come out and "find out who's King." He was arrested and then released on a $250 bail. His intoxicated state was considered the reason behind his actions. The TV show doesn't include this incident in the story, but with people like Gabriel Wolf out to get Elvis, the Netflix series makes a good case for itself, giving more ground to Elvis and his misadventures while trying to save the world.
Why Does Gabriel Wolf Want to Kill Elvis?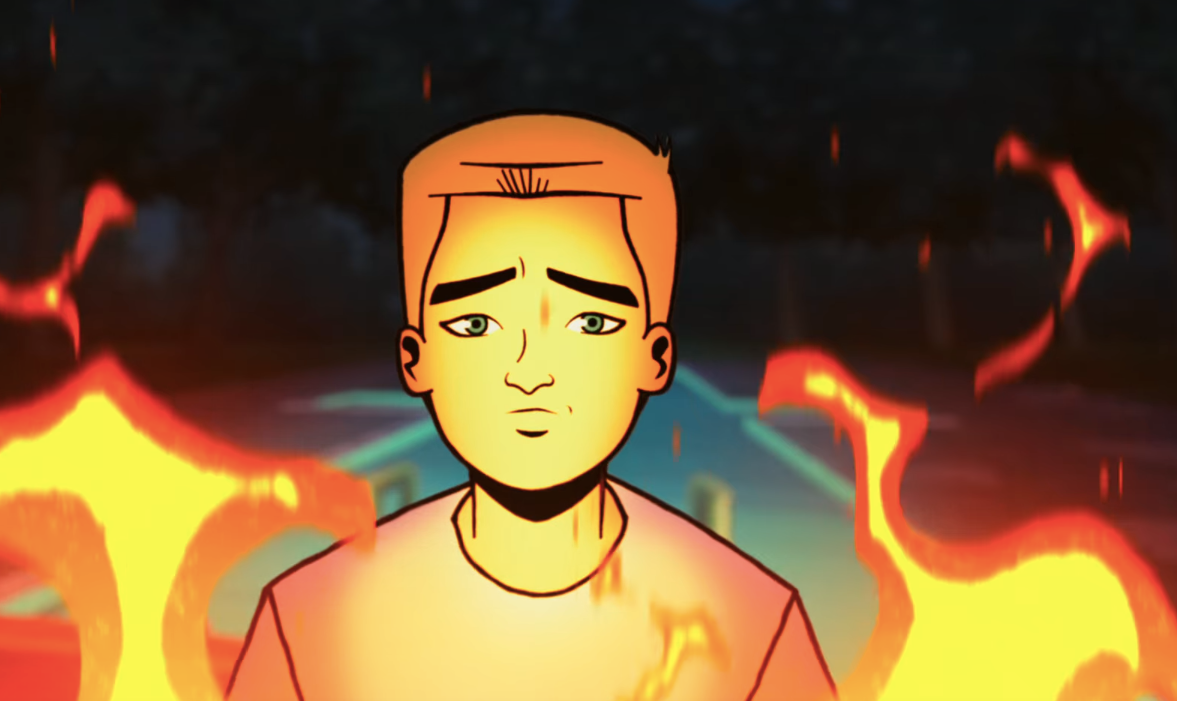 When the TCB hires Elvis, he is charged with recovering the dangerous mind-control sonic device. He notices that they are pitted against one organization. Its minions carry an "M" symbol. Later, the Commander reveals that they managed to capture one of their men, and he gave them one word, "Malus." While no further explanation is given about what it might mean, the show gives us a clear face behind this mysterious evil organization.
The eighth episode begins with the story of a boy who loves Elvis Presley. He is the son of a preacher who considers rock music Satan's work. When he catches his son listening to Elvis, he is so outraged that he burns the album. However, when his polyester suit also catches fire, and to save himself, he ends up setting the whole house on fire. Gabriel watches his entire life go to flames in front of him. His father and dead, and his house is gone. He realizes that his father had been right about the Satan music. He blames Elvis for ruining his life and vows to have his revenge.
Years later, we find that Gabriel has turned his life around. He is the owner of a company called Wolf World Communications. Its symbol is "W," inverted M, the symbol of the organization plotting to use the mind-control sonic device. It looks like Gabriel has dedicated his life to not just killing Elvis but ruining his image as well. He plans to use the device on the same day that Elvis's concert will be broadcast via satellite worldwide.
Gabriel reveals that he had tried to get the broadcast rights, hoping it would make his work easier. When that didn't happen, he took control of the satellite. Once the concert is broadcast, millions of people who hear it would turn violent, and the world would blame Elvis for it. He would be reviled and loathed for causing the death of so many people, and that would be the worst fate to befall the rockstar.
Read More: Is Agent Elvis Based on a True Story?