Matt James became a celebrity overnight in June 2020 after ABC announced him as the first Black lead in 'The Bachelor's 25-season long history. The 28-year-old real estate broker founded ABC Food Tours and was originally lined up for Clare Crawley and Tayshia Adams' season of 'The Bachelorette.' But the global pandemic allowed him to interact with the show's producers at length, who were so charmed by his personality that it was unanimously decided that "he would make a perfect Bachelor."
Matt's athletic physique vouches for the fact that he played football during his University days. After his brief stint as the NFL's wide receiver ended, he moved to New York and pursued his passion to provide for the "underserved" children. The generous man also has a Cameo account, the profits from which are directed towards charity. After coming across his distinguished profile, his fans have been curious to know more about his personal life. Here is everything about his family that you should know.
Matt James: Parents
A cursory glance at Matt James' social media accounts is sufficient to tell his fans that he is extremely close to his mum, Patty Cuculo James. Except for revealing that he is the son of a biracial couple, the North Carolina native does not talk about his father. Raised by a single mother, Matt has grown up wishing for a settled life in all its glory, and so does his mom, whom he frequently addresses as Ms. Patty. She struggled financially while raising her son but vowed to be his biggest support irrespective of the trying times.
Happy Fathers Day Mom 🐼🤞🏽❤️ pic.twitter.com/sG0YVcXQNQ

— Matt James (@mattjames919) June 21, 2020
Matt, an economics major, dedicates all that he has achieved in life to his mother, who continues to be his greatest source of inspiration and "the most faithful person" he has ever known. During the 'The Bachelor: The Greatest Seasons — Ever!,' the ABC star adorably admitted to Chris Harrison how his mother cannot wait to be a grandmother and thus see "a basketball team" of her own running around the house.
Matt's best bud, Tyler Cameron, could not help but compliment Ms. Patty saying, "His mother is one of the sweetest ladies: very lovely, very willing to help and serve others in the community, and someone that's ready to get on the ground and change the world."
Matt James: Siblings
Despite not having any siblings by blood, Matt James has never found himself miserably alone in his life. His strong family values reflect in the everlasting friendships he has formed with the people he has crossed paths with. Matt and Tyler Cameron, 'The Bachelorette' alumni, attended Wake Forest University together and remain best of friends to date. Interestingly, Cameron's late mother nominated Matt to seek entry into ABC's hit dating reality TV series.
Lots of excitement and energy! Workout #1 in the books – blessed & honored 🙌🏽 @TylerJCameron3 pic.twitter.com/JlR2mnGVFc

— Matt James (@mattjames919) June 12, 2020
The reality star often featured in the much-publicized TikTok videos posted by Cameron and his "Quarantine Crew," which included Hannah Brown. Matt, the Pause Cafe owner, is also tight with his team players from his days of playing football at Wake Forest University in Winston-Salem, North Carolina. The students of Public School 188, also known as the Island School, look up to Matt as a "big brother," and he takes them on food tours around NYC once in a while.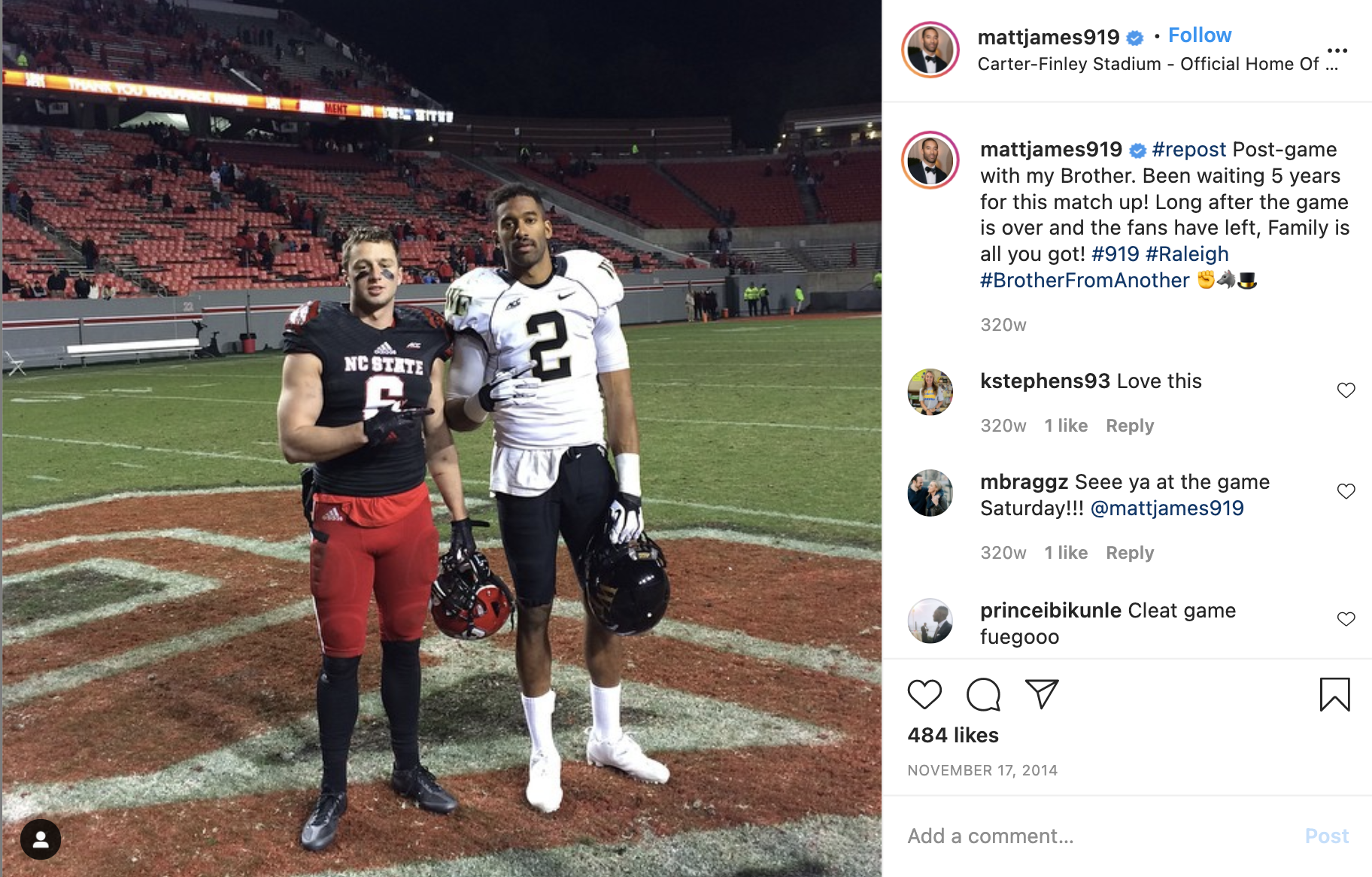 Read More: Are Clare and Dale From The Bachelorette Still Together?