With MGM+'s 'Murf the Surf: Jewels, Jesus, and Mayhem' living up to its title in every way imaginable, we get a deep insight into every aspect of infamous jewel thief Jack Murphy's tumultuous life. Thus, of course, his accomplices Allan Kuhn and Roger Clark are a significant part of this original production as well, especially considering the role they played at each stage of the offense. So now, if you wish to learn more about them — with details regarding their past, their penalties, as well as the way they handled themselves in the aftermath of it all — we've got you covered.
Who Were Allan Kuhn and Roger Clark?
Although Allan's athletic physique and shining personality were his stand-out qualities ever since he was a teen, he could've never imagined they would lead him down the path they did. After all, following a gritty single-parent upbringing, his first arrest for robbery at 15, and his graduating from Marion High School with many accolades in 1957, he served in the Navy until 1962. It thus wasn't until the Missouri native later relocated to Miami Beach in the hopes of leading a new life that he came across Jack Murphy while on the job as a luxurious hotel's swimming instructor.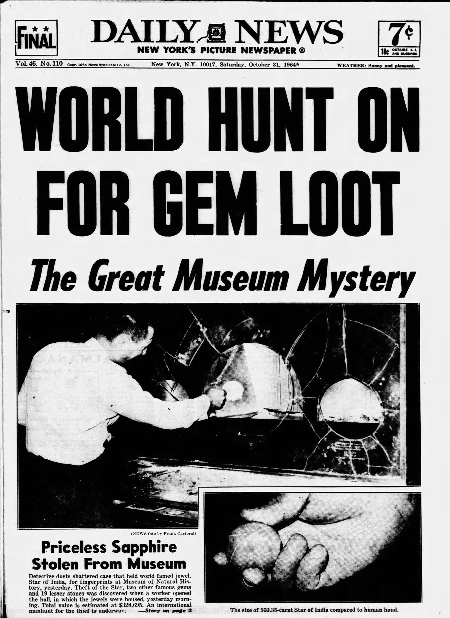 It turns out Allan and Jack were like two peas in a pod in terms of their desire to leave the door open for adventure before courting thrill, driving them to begin financially preying on wealthy tourists. The only difference was that while the former didn't believe in using weapons to steal from their victims or even confront them at any given moment, the latter reportedly had no such qualms. However, they still grew both with their routine in a few years despite the easy cash flow and hence decided to hit the American Museum of Natural History in New York City on October 29, 1964.
Allan and Jack knew then they needed reinforcements, which led them to Meriden, Connecticut, native turned high school lifeguard turned Navy official turned athletic jack of all trades, Roger Clark. He'd purportedly left a nine-to-five chemical factory job in Connecticut to move to Miami, where he just got caught up in the need for money and the mess of it all — he wasn't a professional. In fact, while 26-year-old Allan as well as 27-year-old Jack actually committed the robbery, 29-year-old Robert was merely standing guard outside owing to his "real quiet, real cool, very calm" nature.
Are Allan Kuhn and Roger Clark Dead or Alive?
Even though Allan, Jack, and Roger had put in a lot of effort to ensure a successful heist, they were all apprehended within 48 hours thanks to their wild spending and the latter easily caving. They were subsequently indicted on charges of first-degree burglary plus possession of burglary tools, only to go free on a low bail — this enabled the former duo to continue in their criminal ways. It hence took their arrest for an unrelated robbery in early 1965 for them to decide it would best to accept responsibility, resulting in all three of them pleading guilty in exchange for three years in April.
From what we can tell, Allan, Jack, and Roger (aka the Beach Boys) were all released from Rikers Island a year later, following which the latter parted ways to establish different, better life. Roger actually settled down in a town near Mt. Snow in Vermont, where he spent over 15 years as a bartender in a French restaurant called Le Petit Chef — he never broke another law again. He also gradually evolved into a professional golfer/instructor, but alas, on July 13, 2007, the 71-year-old Wilmington resident sadly passed away after years of suffering from heart disease.
As for Allan, he returned to Miami alongside Jack, only to soon find himself relocating to Los Angeles, Califonia, and then getting convicted in connection to another unrelated matter. It's imperative to note he has never been tied to the homicides committed by Jack — the reason he served a mere year in federal prison on the charge of conspiring to receive and transport stolen securities. Upon release, it seems like Allan changed his ways for good by working as a movie prop master in The City of Angels before launching a topsoil and landscaping business in Missouri.
Yet we should mention once Allan's wife Susan died of Multiple Sclerosis in 2001, he sold off their farm and moved to Alaska in the hopes of establishing himself as a gold miner. He reportedly stayed in this northern state for a few years, that is, until he grew worried about his elderly father and chose to return to California, where he remained until his own demise in 2017. Allan, who ran a completely legal as well as lucrative medical marijuana supplying business following a prescription to actually grow his own back in 2007 for insomnia, passed peacefully in his Hayfork home on June 17, 2017. He was 79 at the time.
Read More: Jack Roland Murphy's Net Worth at the Time of His Death